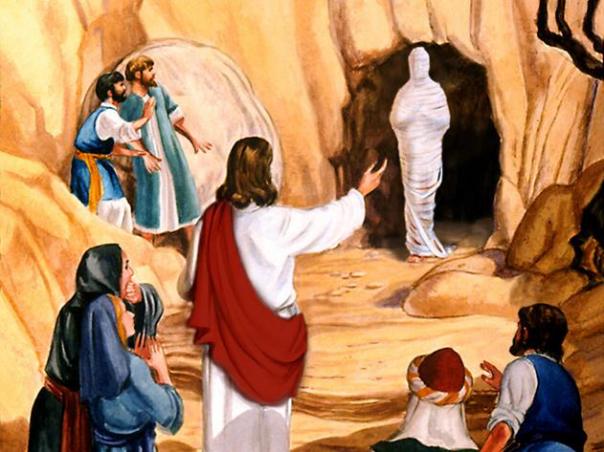 THE RAISING OF LAZARUS.
"Now a certain man was sick named Lazarus, of Bethany, the town of Mary and her sister Martha.
(It was that Mary which anointed the Lord with ointment, and wiped his feet with her hair, whose brother Lazarus was sick.) Therefore his sister sent unto him, saying, Lord, behold, he whom thou lovest is sick.
When Jesus heard that, he said, This sickness is not unto death, but for the glory of God, that the Son of God might be glorified thereby. Now Jesus loved Martha, and her sister, and Lazarus. When he heard therefore that he was sick, he abode two days still in the same place where he was. Then after that saith he to his disciples, Let us go into Judea again. His disciples said unto him, Master, the Jews of late sought to stone thee; and goest thou thither again? Jesus answered, Are there not twelve hours in the day? If any man walk in the day, he stumbleth not, because he seeth the light of this world. But if a man walk in the night, he stumbleth, because there is no light in him. These things said he; and after that, he said unto them, Our friend Lazarus sleepeth, but I go, that I may awake him out of sleep. Then said his disciples, Lord, if he sleep, he shall do well. Howbeit, Jesus spake of his death; but they thought that he had spoken of taking of rest in sleep. Then said Jesus unto them plainly, Lazarus is dead. And I am glad for your sakes that I was not there; to the intent ye may believe; nevertheless let us go unto him.
Then said Thomas, which is called Didymus, unto his fellow disciples, Let us also go, that we may die with him. Then when Jesus came, he found that he had lain in the grave four days already. Now Bethany was nigh unto Jerusalem, about fifteen furlongs off; and many of the Jews came to Martha and Mary, to comfort them concerning their brother. Then Martha, as soon as she heard that Jesus was coming, went and met him; but Mary sat still in the house.
Then said Martha unto Jesus, Lord, if thou hadst been here, my brother had not died. But I know, that even now, whatsoever thou wilt ask of God, God will give it thee. Jesus said unto her, Thy brother shall rise again. Martha said unto him, I know that he shall rise again in the resurrection at the last day.
Jesus said unto her, I am the resurrection, and the life: he that believeth in me, though he were dead, yet shall he live; and whosoever liveth and believeth in me shall never die. Believest thou this? She said unto him, Yea, Lord, I believe that thou art the Christ, the Son of God, which should come into the world. And when she had so said, she went her way, and called Mary her sister secretly, saying, The Master is come, and calleth for thee. As soon as she heard that, she arose quickly, and came unto him. Now Jesus was not yet come into the town, but was in that place where Martha met him. The Jews then which were with her in the house, and comforted her, when they saw Mary, that she rose up hastily and went out, followed her, saying, She goeth unto the grave to weep there. Then when Mary was come where Jesus was, and saw him, she fell down at his feet, saying unto him, Lord, if thou hadst been here, my brother had not died. When Jesus therefore saw her weeping, and the Jews also weeping which came with her, he groaned in the spirit, and was troubled, and said, Where have ye laid him? They said unto him, Lord, come and see.
Jesus wept.
Then said the Jews, Behold how he loved him! And some of them said, Could not this man, which, opened the eyes of the blind, have caused that even this man should not have died! Jesus, therefore, again groaning in himself, cometh to the grave. It was a cave, and a stone lay upon it. Jesus said, Take ye away the stone. Martha, the sister of him that was dead, said unto him, Lord, by this time he stinketh; for he has been dead four days. Jesus said unto her, Said I not unto thee, that, if thou wouldst believe, thou shouldest see the glory of God?
"Then they took away the atone from the place where the dead was laid. And Jesus lifted up his eyes, and said, Father, I thank thee that thou hast heard me. And I know that thou hearest me always;
but because of the people which stand by I said it, that they may believe that thou hast sent me. And when he thus had spoken, he cried with a loud voice, Lazarus, come forth. And he that was dead came forth, bound hand and foot with grave clothes; and his face was bound about with a napkin. Jesus said unto them, Loose him, and let him go.
BETHANY.
BETHANY is a small town, or village, on the eastern slope of the Mount of Olives, fifteen furlongs (two Roman miles) from Jerusalem. It is near the point where the road to Jericho begins to descend more steeply to the Jordan valley. The following description of the little town, given by Mr. Porter in his
"Giant-Cities of Bashan and Syria's Holy Places" is the most pleasant and interesting we have read:-
"What particularly struck me in all my visits to Bethany was its solitude. It looks as if it were shut out from the whole world. No town, village, or human habitation is visible from it. The wilderness appears in front through an opening in the rocky glen; and the steep side of Olivet rises close behind.
When Jesus retired from Jerusalem to Bethany, no sound of the busy world followed him-no noisy crowd broke in upon his meditation. In the quiet home of Martha, or in some lonely recess of Bethany's secluded dell, he rested, and taught, and prayed.
"How delighted I was one evening, when seated on a rocky bank beside the village, reading the story of Lazarus, to hear a passing villager say, There is the tomb of Lazarus, and yonder is the house of Martha!'
Most probably they are not the real places; but this is Bethany, and the miracle wrought there still dwells in the memory of its inhabitants. And when the unvarying features of nature are there too,-the cliffs, the secluded glen, the Mount of Olives,-few will think of traditional holy places.' From the place where I sat, I saw--as Martha and Mary had seen from their house-top--those blue mountains beyond Jordan, where Jesus was abiding when they sent unto him saying, 'Lord, behold, he whom thou lovest is sick.' John
10:40; 11:3. I also saw the road from Jerusalem to Jericho' winding past the village, and away down the rocky declivities into the wilderness. By that road Jesus was expected; and one can fancy with what earnest, longing eyes the sisters looked along it-ever and anon returning and looking, from the first dawn till waning twilight. And when at last he did come, and Martha heard the news, one can picture the touching scene,-how she ran along that road, and with streaming eyes and with quivering lips uttered
the half-reproachful and still half-hopeful cry, Lord, if thou hadst been here, my brother had not died.'
"Bethany is now, and apparently always was, a small, poor, mountain hamlet, with nothing to charm except its seclusion, and nothing to interest save its associations. It is a remarkable fact that Christ's great miracle has conferred upon it a new name. It is now called El-Azariyeh, which may be interpreted, The Place of Lazarus.' The Palms' are all gone which gave it its old name
Bethany, House of Dates;' but the crags around, and the terraced slopes above it are dotted yet with venerable fig trees, as if to show that its sister village, Bethphage, House of Figs,' is not forgotten, though its site is lost. The houses of Bethany are of alone, massive and rude in style.
Over them, on the top of a scarped rock, rises a fragment of heavy ancient masonry-perhaps a portion of an old watchtower. The reputed tomb of Lazarus is a deep narrow vault, apparently of no great antiquity."