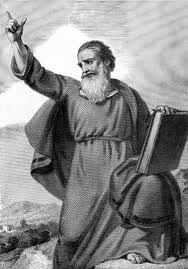 PAUL DRIVEN FROM DAMASCUS
AND FROM JERUSALEM.
NOT long after his conversion, Paul went to Arabia, where he no doubt preached the glorious gospel of salvation through Christ, and told the story of that wonderful vision in which he saw the person of Jesus, and had a commission from the very lips of the Son of God. How long Paul remained in Arabia, the Bible does not tell us, but it was probably not very long.
On returning to Damascus, he resumed his work there with his accustomed zeal. From the time of his conversion to his final departure from Damascus, must have been about three years, as may be seen from
Galatians 1:17, 18.
As Paul was preaching in the synagogues at Damascus, the Jews who heard him were amazed, and said,
"Is not this he that destroyed them who called on this name in Jerusalem, and came hither for that intent, that he might bring them bound unto the chief priests?" But the more Paul was opposed, the more he increased in strength, and the force of his argument was such as to thoroughly confound the Jews of Damascus, and prove that Jesus was indeed the Messiah.
But Paul's arguments, instead of convincing the Jews, only enraged them; and after a time they began to lay plans for taking his life. Paul and his brethren knew their intentions, and how they watched
the gates of the city both day and night, that they might lay hold on him if he should attempt to escape.
Finally, the disciples became so alarmed for Paul's safety that they let him down in the night from the wall of the city in a basket, and so he made his escape.
Paul, having a strong desire to see Peter, now went to Jerusalem, where he tried to join himself to the disciples of that place; but they, knowing what a cruel enemy he had been, were afraid of him, and would not believe that he was a true disciple of their Lord. Then Barnabas took him, and brought him before the apostles, and told them how the Lord had appeared in a vision to Paul as he was on his way to Damascus, and had spoken to him, and how Paul had been preaching boldly in the name of Jesus. After having this assurance, the disciples received him, and he immediately began to preach Christ with all boldness in Jerusalem, and to dispute with the Grecians, as Stephen had formerly done. But they met him with the same spirit that had been manifested toward the noble martyr whom Paul had helped to destroy three years before. The Lord, however, had a work for Paul to do; and so, when he went one day into the temple for prayer, he had a trance, and the Lord, appearing to him again, said, "Make haste, and get thee quickly out of Jerusalem; for they will not receive thy testimony concerning me." Yet Paul was unwilling to go. He thought they would surely be convinced when they saw what Jesus had done, for him; for, said he, "Lord, they know that I imprisoned and beat in every synagogue them that believed on thee; and when the blood of thy martyr Stephen was shed, I also was standing by, and consenting unto his death, and kept the raiment of them that slew him." But Jesus said to him, "Depart; for I will send thee far hence unto the Gentiles." The disciples at Jerusalem had become very anxious about Paul, fearing that he would share the fate of Stephen, and he was now willing to let them take him down to Caesarea, whence he continued his journey to Tarsus, in the province of Cilicia,
where he was born. This place was noted for its philosophers and men of learning, and it is highly probable that Paul disputed with them, as he did afterwards with the philosophers of Athens. It seems certain that he must have proclaimed to his relatives and neighbors the glad news of salvation through Christ, the long-expected Messiah, who had now really come in the person of Jesus the crucified.
Of a period supposed to have begun about this time, it is said, "Then had the churches rest throughout all Judea, and Galilee, and Samaria, and were edified;
and walking in the fear of the Lord, and in the comfort of the Holy Ghost, were multiplied." It is thought that this period of rest for the churches must have been occasioned by the troubles and persecutions which the Jews suffered under the Emperor Caligula; for at such a time they would scarcely have leisure to persecute others. Caligula, the successor of Tiberius, began his reign in the early part of A. D. 37, and was murdered in A. D. 41. Now if Paul was converted in A. D. 35, as marked in the margin of our Bibles, it must have been in A. D. 37 or 38 that he took his journey to Tarsus, for he remained in Jerusalem only fifteen days. Although it is not possible to fix definitely the chronology of many of the events of those times, it seems quite probable that it was after Paul had taken his northern journey, and during the period when the churches had rest, that Peter "passed through all quarters," and came down to the saints that dwelt at Lydda. Here he found a man by the name of Eneas, who was sick of the palsy, and had kept his bed eight years. But Peter said to him, "Eneas, Jesus Christ maketh thee whole: arise, and make thy bed." At this, the sick man immediately arose, and the people of Lydda and Saron, who saw him, were amazed, and turned to the Lord.