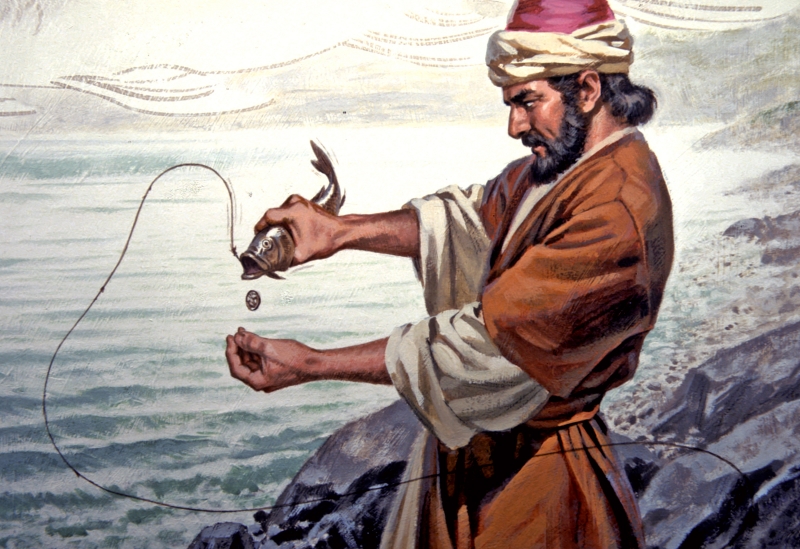 MONEY IN THE FISH
WHEN Jesus and his disciples had come to Capernaum, the men who gathered money for the temple service, came to Peter, and said, "Doth not your Master pay tribute?" Peter said, " Yes; " and was about to pay the tax, when Jesus told him to go to the sea, and cast in a hook, and that the first fish he caught should have a piece of money in its mouth.
With this piece of money Peter was to pay the tribute for his Master and for himself.
When Jesus and his disciples had come into a house, he asked them what they had been disputing about while they were on the way. The disciples were ashamed to answer him, for they had been contending about who should be greatest in the kingdom of heaven. Then the Master sat down, and called the twelve about him, and said, "If any man desire to be first, the same shall be last of all, and servant of all." "And Jesus called a little child unto him, and set him in the midst of them, and said, Verily I say unto you, except ye be converted, and become as little children, ye shall not enter into the kingdom of heaven. Whosoever, therefore, shall humble himself as this little child, the same is greatest in the kingdom of heaven. And whoso shall receive one such little child in my name, receiveth me."
The disciples saw a man casting out devils in the name of Jesus, and they forbade him, because he did not go along with the company that followed Jesus.
When John told his Master of this, Jesus said, "Forbid him not; for there is no man that shall do a miracle in my name that can lightly speak evil of me.
For he that is not against us is on our part." He also told them that if any one should give his disciples even as much as a cup of cold water, because they belonged to Christ, he should be rewarded for it.
Furthermore, he taught them to be careful not to give offense, or to do anything that might turn any of his disciples out of the right way. He showed that we ought to give up anything, no matter how dear, if it causes us to do wrong. This he explained by a figure, saying that it would be better to cut off the hand, or pluck out the eye, than to lose eternal life by keeping it.
Our dear Lord then taught that we should not despise those who are weak and easily led astray, but that we should rather go out of our way to help them, and lead them back. This he made plain by the following beautiful parable: "How think ye? If a man have a hundred sheep, and one of them be gone astray, doth he not leave the ninety and nine, and go into the mountains, and seek that which is gone astray? And if so be that he find it, verily I say unto you, he rejoiceth more of that sheep than of the ninety and nine that went not astray. Even so it is not the will of your Father which is in heaven that one of these little ones should perish." From this it appears that when we see any one doing wrong, it is our first duty to try to persuade him to turn from the wrong and do right. If the one we are trying to help will not be won by us, our Lord teaches that we should take one or two of his friends with us, hoping that they may enable him to see his error, and persuade him to reform. How much better this would be than to talk to others about his faults, and cause them to despise him.
After this, our Lord went on to give encouragement for meeting together to pray. If we unite in asking for anything that would really be a blessing to us, we may be sure of receiving it. Our Lord says, "For where two or three are gathered together in my name, there am I in the midst of them.