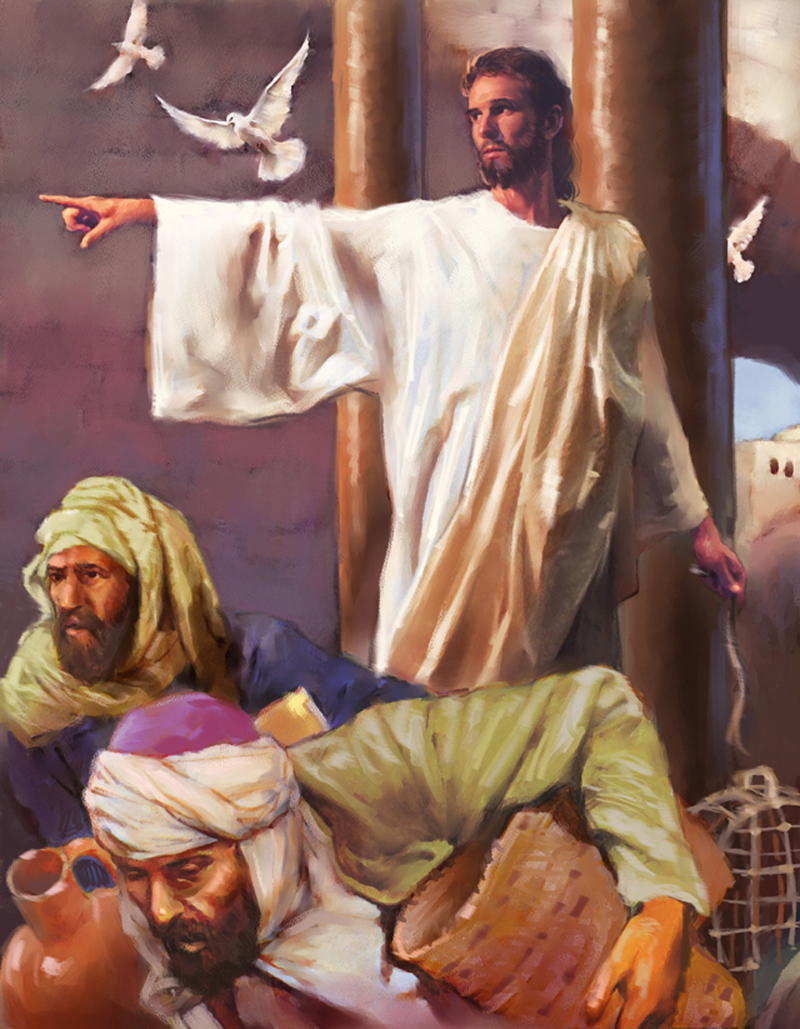 THE TEMPLE CLEANSED.
JESUS went into the temple, and looked about upon all the things, but when evening came on, he went out with his disciples to Bethany. On the next day, as they were coming from Bethany to Jerusalem, early in the morning, Jesus was hungry; and seeing a fig tree afar off, he went to it, hoping to find some ripe fruit. On coming up to it, however, he found nothing but leaves, and said to the tree, "No man eat fruit of thee hereafter, forever."
When they had come to Jerusalem, Jesus went into the temple. Here he found a scene of confusion, for men were buying and selling in the temple, changing money, and carrying on business very much as they would in a place that was not held sacred. But Jesus began to cast out them that had bought and sold in the temple, overthrowing the tables of the moneychangers, and the seats of them that sold doves, and saying, "Is it not written, My house shall be called of all nations the house of prayer but ye have made it a den of thieves. "The scribes and chief priests were only made angry by these words, and were the more determined to kill him. The common people, however, had confidence in him, and brought the blind and the lame to him in the temple, and he healed them.
"And when the chief priests and scribes saw the wonderful things that he did, and the children crying in the temple, and saying, Hosanna to the son of David, they were sore displeased, and said unto him, Hearest thou what these say? And Jesus saith unto them, Yea; have ye never read, Out of the mouth of babes and sucklings thou hast perfected praise." At evening Jesus went out over the Mount of Olives to Bethany, and lodged there as he did the night before.
On the morning of the next day, Tuesday, as they were returning to Jerusalem, the disciples noticed that the fig tree which Jesus had cursed the day before was dried up from the roots. And Peter said, "Master, behold the fig tree, which thou cursedst is withered away." After this Jesus encouraged his Disciples to have faith in prayer, but told them plainly that if they would have their sins forgiven, they must from the heart forgive others.
"And they come again to Jerusalem; and as he was walking in the temple, there come to him the chief priests, and the scribes, and the elders, and say unto him, By what authority doest thou these things? And who gave thee this authority to do these things"?
And Jesus answered and said unto them, I will also ask of you one question, and answer me, and I will tell you by what authority I do these things?
The baptism of John, was it from heaven, or of men? Answer me. And they reasoned with themselves, saying, If we shall say, From heaven, he will say, Why then did ye not believe him?
But if we shall say, of men; they feared the people, for all men counted John, that he was a prophet indeed. And they answered and said unto Jesus, We cannot tell. And Jesus answering saith unto them, Neither do I tell you by what authority I do these things."
THE PRAYER OF JESUS FOR HIS DISCIPLES.
"THESE words spake Jesus, and lifted up his eyes to heaven, and said, Father, the hour is come; glorify thy Son, that thy Son also may glorify thee; as thou hast given him power over all flesh, that he should give eternal life to as many as thou hast given him.
And this is life eternal, that they might know thee the only true God, and Jesus Christ whom thou hast sent. I have glorified thee on the earth; I have finished the work which thou gavest me to do. And now, O Father, glorify thou me with thine own self, with the glory, which I had with thee before the world was. I have manifested thy name unto the men which thou gavest me out of the world; thine they were, and thou gavest them me; and they have kept thy word.
Now they have known that all things whatsoever thou hast given me are of thee; for I have given unto them the words which thou gavest me; and they have received them, and have known surely that I came out from thee, and they have believed that thou didst send me. I pray for them; I pray not for the world, but for them which thou hest given me; for they are thine.
And all mine are thine, and thine are mine; and I am glorified in them.
"And now I am no more in the world, but these are in the world, and I come to thee. Holy Father, keep through thine own name those whom thou hast given me, that they may be one, as we are. While I was with them in the world, I kept them in thy name; those that thou gavest me I have kept, and none of them is lost, but the son of perdition; that the scripture might be fulfilled. And now come I to thee, and these things I speak in the world, that they might have my joy fulfilled in themselves. I have given them thy word; and the world hath hated them, because they are not of the world, even as I am not of the world. I pray not that thou shouldest take them out of the world, but that thou shouldest keep them from the evil. They are not of the world, even as I am not of the world. Sanctify them through thy truth; thy word is truth. As thou hest sent me into the world, even so have I also sent them into the world. And for their sakes I sanctify myself, that they also might be sanctified through the truth.
"Neither pray I for these alone; but for them also which shall believe on me through their word; that they all may be one; as thou, Father, art in me, and I in thee, that they also may be one in us; that the world may believe that thou hast sent me. And the glory which thou gayest me, I have given them; that they may be one, even as we are one; I in them, and thou in me, that they may be made perfect in one; and that the world may know that thou hast sent me, and hast loved them as thou hest loved me. Father, I will that they also whom thou hast given me be with me where I am; that they may behold my glory which thou hast given me; for thou lovedst me before the foundation of the world. O righteous Father, the world hath not known thee; but I have known thee; and these have known that thou hast sent me. And I have declared unto them thy name and will declare it; that the love wherewith thou hast loved me, may be in them, and I in them."