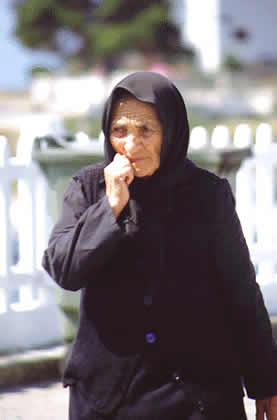 "BE COURTEOUS."
NOT long since, while crossing the river to
Jersey City, I noticed an old lady, neatly but humbly dressed, who was attended by a young gentlewoman.
That she was, though her dress indicated one who could scarcely be in comfortable circumstances in life. The younger woman carried a basket of considerable size, while the elder had a bundle and a cane. She was quite lame and walked slowly. The thought crossed my mind as I glanced at them, "That woman is blessed with a kind and loving daughter or niece."
I passed from the boat in advance of them, and took my seat in a horse-car. Presently the couple came to the same car, and after comfortably seating the elder lady and disposing of her basket, the younger bade her a kind good-by and went away. The old lady's eyes were full, and her heart too. Turning to me she said, "That's what I call Christian courtesy. That girl is an entire stranger to me, yet has come all the way from the Eighth Avenue cars with me to carry my basket, and would not even let me pay her fare." I then recalled her quiet, happy expression. I believe I should know her again, here or hereafter, and I most strongly believe that if she lives to old age, she will not be comfortless or cheerless.