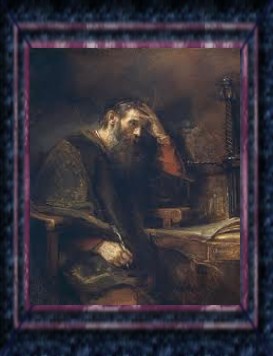 PAUL'S FIRST EPISTLES.
SOME have supposed that Paul's epistles to the Thessalonians were written from Athens, but it seems much more probable that they were written during his long stay in Corinth, and while he was suffering under the fierce persecutions that were brought upon him there. Paul's love for the brethren at Thessalonica was very ardent. In speaking of his labors among them, he says "We were willing to have imparted unto you, not the gospel of God only, but also our own souls, because ye were dear unto us." Again, they were among some of the fiercest persecutors that the apostle had met, and his anxiety for them was the greater on that account. He had greatly desired to see them, and more than once had purposed to make them a visit; but to use his own words, "Satan hindered." Finding that he could not go himself, he sent Timothy to establish and comfort them. When Timothy returned, he gave such a good report of their faith and charity, and of their desire to see Paul, that, although he was in the midst of affliction and distress, he was greatly comforted. He says: "For now we live, if ye stand fast in the Lord." It seems that Paul's heart was so drawn out toward them, that he felt constrained to talk to them by letter, since he could not be with them in person. He wanted to express his love and gratitude for their constancy under afflictions and tribulation; he wanted to encourage them to persevere in well-doing; and, furthermore, he wished to correct some errors of doctrine into which they were falling.
In opening his letter, he associates with himself Silvanus and Timothy. First, he invokes the blessing of God upon them, and assures them that their work of faith, their labor of love, and their patient hope in the Lord Jesus, is constantly borne in mind; that he remembers them in his prayers, and thanks God for giving him such good fruit of his labor. He reminds them how the power of God attended his preaching when he was among them, praises them for receiving the truth under affliction, and for being an example to all about them. He says: "For you sounded out the Word of the Lord, not only in Macedonia and Achaia, but also in every place your faith to God ward is spread abroad." He says it had not been necessary for him to speak of his own work among them; for all the people about them bore witness of their turning from their idols to serve the living and true God, and that they were waiting for his Son from heaven, even Jesus Christ, who has been raised from the dead. Paul then calls attention to the circumstances under which he came among them. Although he and Silas had just been imprisoned at Philippi, they were none the less bold in speaking the gospel at Thessalonica; neither did they modify the truth, or speak flattering words for the sake of pleasing men and thus escaping persecution. He says: "Nor of men sought we glory, neither of you, nor yet of others; but we were gentle among you, even as a nurse cherisheth her children." After further calling them to witness to the meekness and faithfulness with which he and Silas had labored among them, he praises God that they received the truth as coming from God himself. He says that in their endurance under persecution, they have imitated the example of the churches of God in Judea. He tells them that they have suffered from their own countrymen the same things that the churches in Judea have suffered from the Jews.
In speaking of the unbelieving Jews, he says that they please not God, and are contrary to all men; that they have killed not only their own prophets, but even the Lord Jesus; and that they have persecuted himself and Silas, even forbidding them to speak the word of truth to the Gentiles that they might be saved. He admonishes them not to be moved by the afflictions they have to suffer, and reminds them that he had plainly told them beforehand that they would have to suffer tribulation. So great had been his anxiety for them, however, that he had sent Timothy to see how they were doing; for he feared that the tempter might be too strong for them, and cause them to give up their faith; but now, since he has learned of their steadfastness, he knows not how to praise God enough. He says they are his glory and joy, and should they prove faithful, they will be, at the coming of the Lord Jesus, his crown of rejoicing. He says that although absent in body, his heart is with them, and that he prays day and night for the privilege of visiting them, and perfecting that which is lacking in their faith. He implores the blessing of God upon them, saying, "The Lord make you to increase and abound in love one toward another and toward all men, even as we do toward you."
FROM ANTIOCH TO THESSALONICA.
AFTER the council at Jerusalem concerning circumcision, Paul took with him Silas, one of the men who had been sent with him and Barnabas from Jerusalem to confirm the message to the Gentile brethren, and leaving Antioch, where he had been stopping for some time, he set out to visit the churches which he had raised up during his first mission to the Gentiles. Of these it is not probable that more than some of the most important are named in the Scriptures; so in just what particular cities were "the churches" which he "confirmed" in his journey through " Syria and, Cilicia," we do not know. Leaving Antioch by the bridge over the Orontes, he would cross Mt. Amanus by the gorge, which was anciently called the" Syrian Gates," and is now known
as the Beilan Pass. The old Roman road leads near the coast, and he would soon come to Alexandria, named for the great conqueror, and then to Issue, where he once gained a great victory. There were other cities on his route across the Cilician plain, which we may easily imagine him as visiting, for there must have been Christians in some of them. And one place we may feel quite sure that he did not pass by, -Tarsus, his own native city, where it seems very natural to suppose there was a flourishing church. It must have been indeed a cause of gratitude as he walked the streets so familiar to him, to know that even some families had turned "from idols to serve the living and true God."
The old Roman road from Tarsus led northward through wild ravines, among wooded slopes, and over sunny plains, till it came to the Taurus Mountains, which the travelers must cross to go into Lycaonia, where were the cities of Lystra, Derbe, and Iconium.
There were many passes through the mountains, but the "great pass," described as "a rent, or fissure, in the mountain chain extending from north to south through a distance of eighty miles," and known in ancient times as the "Mid=Gates," is thought to be the one through which their road would lead.
After crossing the mountains, the apostle in his journey along the main road comes first to Derbe; and of this second visit we have as few particulars as of his first. But Lystra he remembers as the place where they were ready to worship him one day and to stone him the next. Here he finds Timothy, who from a child had been taught in the Scriptures by his godly mother and grandmother, and so fitted to be a comfort, support, and companion for the apostle.
We have no mention of Paul's visiting Iconium or Antioch at this time, but it seems hardly probable that he should leave the Christians at these places unvisited, when it would be so little, if any, out of his way to go to them. We know that he next journeyed northward through the rather indefinitely bounded regions of Phrygia and Galatia. Here he also delivered to the churches the message sent by the apostles and elders from Jerusalem, and everywhere established them in the "most holy faith." Paul had it in mind to put forth further efforts in these parts, but God had called him to extend the field of his labors. So they pushed on to Troas, a city of classic interest on the shores of the Aegean Sea.
As the travelers rested here at Troas after their long journey, Paul heard in a night vision that beseeching call, "Come over and help us." And when the morning dawned, and the men of Troas returned to their labors, among those who were busy about the shipping in the harbor were the apostle and his companions, seeking for a passage to Europe. It is easy to follow them in their passage, for they took a straight course to the island of Samothracia, and the second day arrived at Neapolis, a seaport of Macedonia, where they landed. From here they no doubt proceeded on foot to Philippi, a city some ten miles from Neapolis. A ridge of elevated land, which connects the range of Pangreus with the higher mountains in the interior of Thrace, is crossed between Neapolis and Philippi. We can imagine the travelers stopping on this height to take in the extensive and magnificent sea view opened up before their eyes to the south.
The region about Philippi is one of many historic memories. On the plain-of Philippi was fought that famous battle between Brutus and Antony, where dieheartened and defeated, both Brutus and Cassius fell by their own swords. And now the great apostles had come to the same place, to win a greater victory than that of Philippi, and to found a more enduring empire than that of Rome. It was at this place that the apostles were dragged before the authorities, by the masters of the damsel who had a spirit of divination.
Here, while they were thrust in the innermost prison, with their feet fast in the stocks, they sang praises to God; and in that night he wrought great things both for them and the jailer.
Leaving Philippi on the morrow, Paul and Silas set out for Thessalonica by the old Roman road known as Via Egnatia.
On the way, he first stopped at the city of Amphipolis, some thirty-three miles from Philippi; then at Apollonia, some thirty miles farther on, and about thirty-seven from Thessalonica. Both of these stopping places were important towns, and possess much historic interest. The ancient name of Amphipolis was the "Nine Ways," from the great number of Thracian and Macedonian roads, which met at that point. The first part of the Roman Way from Amphipolis to Appollonia led between high cliffs and the sea, and the rest of the way across a beautiful plain. From Apollonia to Thessalonica the road passed through a long valley, or rather, a succession of plains, where the level spaces were richly wooded with forest trees and the nearer hills covered to their summits with olives.
Thessalonica was the capital of a province and "free city," and was a town of no little importance. A sister of Alexander the Great was called Thessalonica, and from her the city was named. It was a city, which from its very situation seemed destined to prosperity, and was a very appropriate place for one of the starting points of the gospel in Europe. No city has had a more distinguished Christian history than Thessalonica, and the apostle well writes to the Thessalonians as those to whom great interests were committed.
E. B. G.
PAUL WRITES CONCERNING THE
RESURRECTION.
IN our last lesson, Paul was rejoicing in the steadfastness of the believers at Thessalonica. After this he exhorted them to purity, and to honest dealing. In these things they were not to follow the example of their Gentile neighbors; but were to be models of chastity, and were to be careful not to defraud another in oily matter. Then, speaking of the crowning virtue, that which should be the motive in all well-doing,--he says: "But as touching brotherly love, ye need not that I write unto you; for ye yourselves are taught of God to love one another. And indeed ye do it unto all the brethren that are in all Macedonia; but we beseech you, brethren, that ye increase more and more; and that ye study to be quiet, and to do your own business, and to work with your own hands, as we commanded you; that ye may walk honestly toward them that are without, and that ye may have lack of nothing."
The latter part of this injunction enforces quiet industry and diligence in business with such earnestness as to imply that some of the brethren were already at fault in this matter. It would seem that, while Paul was preaching to them, their minds took such strong hold upon the doctrine of the second coming of Jesus, and the glorious immortality that was to be given them at his appearing, that they had come to expect him in their day. This undoubtedly led some to neglect their business, and perhaps to consider it a virtue to show the strength of their faith by dropping all labor, and waiting for that great event which they thought must be so near at hand. Paul evidently meant to correct this wrong course of action, and also to show that they were in error in expecting their Lord so soon. They had failed, too, in understanding the doctrine of the resurrection; so that those who had lost friends, mourned without hope, not knowing that they would ever come up from the grave. In view of this, Paul writes: "We would not have you ignorant, brethren, concerning them that fall asleep, that ye sorrow not, even as the rest which have no hope. For if we believe that Jesus died and rose again, even so them also that are fallen asleep in Jesus will God bring with him. For this we say unto you by the word of the Lord, that we that are alive, that are left unto the coming of the Lord, shall in no wise precede them that are fallen asleep. For the Lord himself shall descend from heaven, with a shout, with the voice of the archangel, and with the trump of God; and the dead in Christ shall rise first; then we that are alive, that are left, shall together with them be caught up in the clouds, to meet the Lord in the air; and so shall we ever be with the Lord. Wherefore comfort one another with these words."
After thus instructing them, he says that it is not necessary for him to write to them concerning the times and the seasons; for they already understand that the day of the Lord will come as a thief upon those who do not watch; and at the very time when they shall be crying "Peace and safety," sudden destruction shall come upon them, and they shall not escape.
He then calls those who do watch for the coming of their Lord, "children of light," and "children of the day." He says "But ye, brethren, are not in darkness, that that day should overtake you as a thief. Ye are all sons of light, and sons of the day: we are not of the night, nor of darkness; so then let us not sleep, as do the rest, but let us watch and be sober. For they that sleep, sleep in the night, and they that be drunken are drunken in the night. But let us, since we are of the day, be sober, putting on the breastplate of faith and love; and for a helmet, the hope of salvation. For God appointed us not unto wrath, but unto the obtaining of salvation through our Lord Jesus Christ, who died for us, that, whether we wake or sleep, we should live together with him. Wherefore exhort one another, and build each other up, even as also ye do."
He then begs of them to honor, esteem: and love those who labor among them, and to be at peace among themselves. In conclusion, the anxious apostle adds: "Admonish the disorderly, encourage the faint-hearted, support the weak, be long-suffering toward all. See that none render unto any one evil for evil; but always follow after that which is good, one toward another, and toward all. Rejoice alway; pray with-out ceasing; in everything give thanks; for this is the will of God in Christ Jesus to you ward. Quench not the Spirit; despise not prophesyings; prove all things; hold fast that which is good; abstain from every form of evil.
"And the God of peace himself sanctify you wholly; and may your spirit and soul and body be preserved entire, without blame at the coming of our Lord Jesus Christ. Faithful is he that calleth you, who will also do it."
Then the affectionate teacher and father asks them to pray for him; exhorts them to salute one another kindly and tenderly, charges them to read his letter to all the brethren, and closes with a benediction.