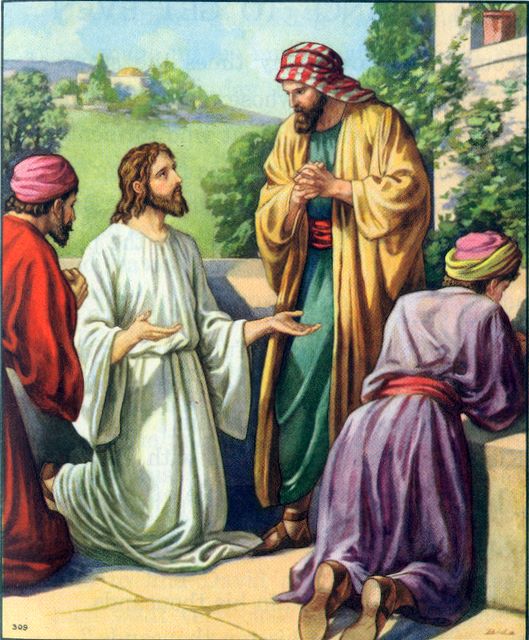 JESUS TEACHES HIS DISCIPLES TO PRAY.
ONE day after Jesus had been praying with his disciples, one of them said to him, "Lord, teach us to pray, as John also taught his disciples. And he said unto them, When ye pray, say, Our Father which art in heaven, Hallowed be thy name. Thy kingdom come. Thy will be done, as in heaven, so in earth.
Give us day by day our daily bread. And forgive us our sins; for we also forgive every one that is indebted to us. And lead us not into temptation; but deliver us from evil."
Jesus then tried to show them how willing God is to hear those who pray to him earnestly, by relating the following parable:-
"And he said unto them, Which of you shall have a friend, and shall go unto him at midnight, and say unto him, Friend, lend me three loaves; for a friend of mine in his journey is come to me, and I have nothing to set before him? And he from within shall answer and say, Trouble me not; the door is now shut, and my children are with me in bed; I cannot rise and give thee. I say unto you, Though he will not rise and give him because he is his friend, yet because of his importunity he will rise and give him as many as he needeth. And I say unto you, Ask, and it shall be given you; seek, and ye shall find; knock, and it shall be opened unto you. For every one that asketh receiveth; and he that seeketh findeth; and to him that knocketh it shall be opened."
And he said further unto them, "If a son shall ask bread of any of you that is a father, will he give him a stone? Or if he ask a fish, will he for a fish give him a serpent or if he ask an egg, will he offer him a scorpion. If ye then, being evil, know how to give good gifts unto your children; how much more shall your heavenly Father give the Holy Spirit to them that ask him?"
And a certain Pharisee who had been listening to Jesus, asked him to go to his house to dinner. And Jesus went with him, and sat down to eat. Now it was a custom among the Pharisees to go through with a long ceremony of washing of the hands several times before eating, and they thought it a sin not to do so.
So it was not strange that this Pharisee wondered when he saw Jesus sit down to eat without first washing. The Saviour knew this man's thoughts, and perhaps, to do, some one at the table said something to call out the remark; for he said, "Woe unto you, scribes and Pharisees, hypocrites! For ye make clean the outside of the cup and the platter, but within they are full of extortion and excess. Thou blind Pharisee! Cleanse first that which is within the cup and platter, that the outside of them may be clean also."
Now we are not to think from this that Jesus meant to forbid the washing of the hands or of dishes before eating; but the Pharisees had many traditions and customs which they were very particular to obey, while in their hearts they were proud and wicked, and made their living by wronging their neighbors. He took this way to show them what he thought of their wicked course, and quite likely he sat down without washing his hands, knowing that they would say something about it, and thus give him a chance to teach a useful lesson.
Jesus then went on to tell the Pharisees that while they had been very careful about doing their duty in little things, they had entirely neglected "the weightier matters of the law, -judgment, mercy, and faith."
"These," said he, "ought ye to have done, and not to leave the other undone." He told them that they had taken care to appear very religious, but this they had done, not because they really wanted to be right, but rather to be seen of men, and because they loved the greetings in the market place, and to be called Rabbi, or Master. And he said to them, "But be ye not called Rabbi; for one is your Master, and all ye are brethren. . . . But he that is greatest among you shall be your servant; and whosoever shall exalt himself shall be abased; and he that shall humble himself shall be exalted."