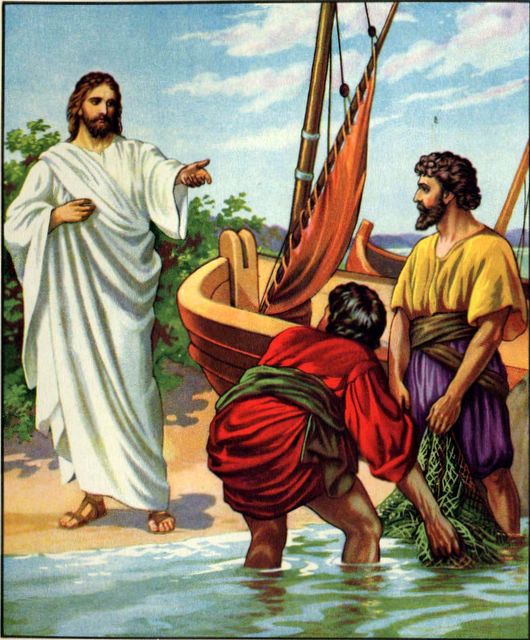 JESUS AT THE SEA OF GALILEE.
WHEN Jesus had, by eating food, convinced the disciples that he was not a spirit, he again said unto them, "Peace be unto you; as my Father hath sent me, even so send I you." After this he breathed on them, saying, "Receive ye the Holy Ghost: whosesoever sins ye remit, they are remitted unto them; and whosesoever sins ye retain, they are retained."
Thomas, one of the twelve disciples, was not present at that time, and when he came in, the other disciples said unto him, "We have seen the Lord."
But Thomas was incredulous, and said unto them, "Except I shall see in his hands the print of the nails, and put my finger into the print of the nails, and thrust my hand into his side, I will not believe."
"And after eight days again his disciples were within, and Thomas with them; then came Jesus, the doors being shut, and stood in the midst, and said, Peace be unto you. Then saith he to Thomas, Reach hither thy finger, and behold my hands; and reach hither thy hand, and thrust it into my side: and be not faithless, but believing. And Thomas answered and said unto him, My Lord and my God. Jesus said unto him, Thomas, because thou hast seen me, thou hast believed; blessed are they that have not seen, and yet have believed."
"After these things Jesus showed himself again to the disciples at the sea of Tiberias; and on this wise showed he himself. There were together Simon Peter, and Thomas called Didymus, and Nathanael of Cana in Galilee, and the sons of Zebedee, and two other of his disciples. Simon Peter said unto them, I go a fishing. They say unto him, We also go with thee. They went forth, and entered into a ship immediately; and that night they caught nothing. But when the morning was now come, Jesus stood on the shore; but the disciples knew not that it was Jesus. Then Jesus said unto them, Children, have ye any meat? They answered him, No. And he said unto them, Cast the net on the right side of the ship, and ye shall find. They cast therefore, and now they were not able to draw it for the multitude of fishes. Therefore that disciple whom Jesus loved said unto Peter, It is the Lord. Now when Simon Peter heard that it was the Lord, he girded his fisher's coat unto him, (for he was naked,) and did cast himself into the sea. And the other disciples came in a little ship; (for they were not far from land, but as it were two hundred cubits,) dragging the net with fishes. As soon then as they were come to land, they saw a fire of coals there, and fish laid thereon, and bread. Jesus saith unto them, Bring of the fish, which ye have now caught. Simon Peter went up, and drew the net to land full of great fishes, an hundred and fifty and three; and for all there were so many, yet was not the net broken. Jesus saith unto them, Come and dine. And none of the disciples durst ask him, Who art thou? Knowing that it was the Lord. Jesus then cometh and taketh bread, and giveth them, and fish likewise. This is now the third time that Jesus showed himself to his disciples, after that he was risen from the dead.
"So when they had dined, Jesus said to Simon Peter, Simon, son of Jonas, lovest thou me more than these? He saith unto him, Yea, Lord; thou knowest that I love thee. He saith unto him, Feed my lambs.
He saith to him again the second time, Simon, son of Jonas, lovest thou me? He saith unto him, Yea, Lord; thou knowest that I love thee. He saith unto him, Feed my sheep. He saith unto him the third time, Simon, son of Jonas, lovest thou me? Peter was grieved because he said unto him the third time, Lovest thou me? And he said unto him, Lord, thou knowest all things; thou knowest that I love thee. Jesus saith unto him, Feed my sheep.
Verily, verily, I say unto thee, When thou wast young, thou girdedst thyself, and walkedst whither thou wouldest; but when thou shalt be old, thou shalt stretch forth thy hands, and another shall gird thee, and carry thee whither thou wouldest not. This spake he, signifying by what death he should glorify God. And when he had spoken this, he saith unto him, Follow me.
"Then Peter, turning about, seeth the disciple whom Jesus loved following, which, also leaned on his breast at supper, and said, Lord, which is he that betrayeth thee? Peter seeing him, saith to Jesus, Lord, and what shall this man do?
Jesus saith unto him, If I will that he tarry till I come, what is that to thee? Follow thou me. Then went this saying abroad among the brethren, that that disciple should not die: yet Jesus said not unto him, He shall not die; but, If I will that he tarry till I come, what is that to thee?
"This is the disciple which testifieth of these things, and wrote these things; and we know that his testimony is true.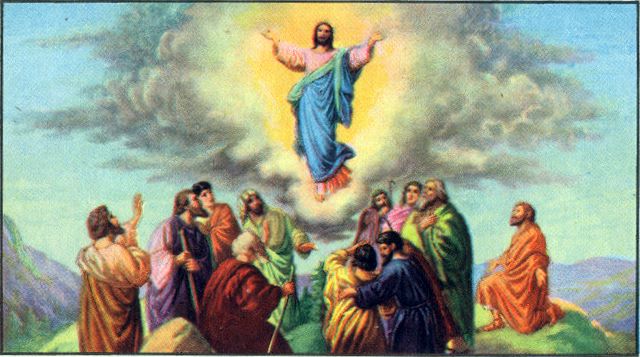 THE ASCENSION.
AFTER appearing to the disciples at the Sea of Galilee, and communing with them there, Jesus made an appointment to meet them on a certain mountain. On coming to him there, they worshiped him; but some still doubted his being the Messiah. In his talk with them, he said, "All power is given to me in heaven and in earth. Go ye therefore and teach all nations, baptizing them in the name of the Father, and of the Son, and of the Holy Ghost; teaching them to observe all things whatsoever I have commanded you: and lo, I am with you alway, even unto the end of the world."
"He that believeth and is baptized shall be saved; but he that believeth not shall be damned. And these signs shall follow them that believe; in my name shall they cast out devils; they shall speak with new tongues; they shall take up serpents; and if they drink any deadly thing, it shall not hurt them; they shall lay hands on the sick, and they shall recover."
As he went on instructing them, he said, "These are the words which I spake unto you, while I was yet with you, that all things must be fulfilled, which were written in the law of Moses, and in the prophets, and in the Psalms, concerning me. Then opened he their understanding that they might understand the Scriptures, and said unto them, "Thus it is written, that Christ should suffer, and rise again from the dead the third day; and that repentance and remission of sins should he preached in his name among all nations, beginning at Jerusalem. Ye are witnesses of these things. And behold I send the promise of my Father upon you: but tarry ye in the city of Jerusalem, until ye be endued with power from on high." "For John truly baptized with water; but ye shall be baptized with the Holy Ghost, not many days hence."
While they were thus together, they questioned him, saying, "Lord, wilt thou at this time restore again the kingdom of Israel'? He said unto them, It is not for you to know the times and seasons, which the Father hath put in his own power; but ye shall receive power, when the Holy Ghost is come upon you; and ye shall be my witnesses, both in Jerusalem, and in all Judea and Samaria, and unto the uttermost part of the earth. And when he had said these things, while they were looking, he was taken up; and a cloud received him out of their sight. And while they were looking steadfastly into heaven, as he went, behold, two men stood by them in white apparel, who also said, Ye men of Galilee, why stand ye gazing up into heaven? This same Jesus, who is taken up from you into heaven, shall so come in like manner as ye have seen him go into' heaven. Then returned they unto Jerusalem from the Mount called Olivet, which is from Jerusalem a Sabbath-day's journey."
"And many other signs truly did Jesus in the presence of his disciples, which are not written in this book: but these are written, that ye might believe, that Jesus is the Christ, the Son of God; and that believing, ye might have life through his name."
Thus we have traced the history of our Lord from his birth to his crucifixion and death on the cross. In childhood and youth his life was so obscure and humble, so seemingly destitute of important events, that even the pen of inspiration gives us but a single incident. He seems to have been engaged in the duties of a common laborer, and did not appear on the stage of public action until he was about thirty years of age.
Born at an inn, cradled in a manger, brought up in a mean city, a member of a poor family, and a carpenter by trade,-he seemed to have nothing to recommend him to public favor.
On being baptized in the Jordan, the Holy Spirit in visible form descended upon him, and a voice from heaven proclaimed him the Son of the Infinite. From this time forward, to his death, his life presents a series of events unparalleled in the record of history.
No persecution or distress could divert him from his work of instructing the people, healing the sick, comforting the sorrowing, and inspiring hope and courage in the hearts of those that were cast down. No difficulty or danger could daunt him; no flattery or success could elate him. He passed through the most intense suffering; withstood the fiercest assaults of Satan; endured the severest trials; giving us an example of a perfect life, end sheaving that by faith in God, it is possible to meet the requirements of his law. If we make his life our study, if we take him for our pattern, drink in of his spirit, and devote our lives to his service, we may have to pass through trials and sufferings, as he did, but we shall finally be glorified with him, and enjoy him forever and ever.
THE RECEPTION OF JESUS.
ALL Heaven was waiting to welcome the Saviour to the celestial courts. As he ascended, he led the way, and the multitudes of captives whom he had raised from the dead at the time when he came forth from the tomb, followed him. The heavenly host, with songs of joy and triumph, escorted him upward.
At the portals of the city of God an innumerable company of angels awaited his coming. As they approached the gates of the city, the angels who were escorting the Majesty of Heaven, in triumphant tones addressed the company at the portals: "Lift up your heads, O ye gates, and be ye lifted up, ye everlasting doors, and the King of Glory shall come in!"
The waiting angels at the gates of the city inquired in rapturous strains, "Who is this King of Glory?"
The escorting angels joyously reply in songs of triumph, "The Lord, strong and mighty! The Lord, mighty in battle! Lift up your heads, O ye gates, even lift them up, ye everlasting doors, and the King of Glory shall come in!" Again the waiting angels ask, "Who is this King of Glory?" and the escorting angels respond in melodious strains, "The Lord of hosts! He is the King of Glory! "Then the portals of the city of God are widely opened, and the heavenly train pass in amid a burst of angelic music.
All the heavenly host surround their majestic Commander as he takes his position upon the throne of the Father.
With the deepest adoration and joy, the hosts of angels bow before him, while the glad shout rings through the courts of Heaven: "Worthy is the Lamb that was slain, to receive power, and riches, and wisdom, and strength, and honor, and glory, and blessing! "Songs of triumph mingle with music from angelic harps, till Heaven seems to overflow with beautiful harmony, and inconceivable joy and praise.
The Son of God has triumphed over the prince of darkness, and conquered death and the grave. Heaven rings with voices in lofty strains proclaiming: "Blessing, and honor, and glory, and power be unto Him that sitteth upon the throne, and unto the Lamb forever and ever!
Spirit of Prophecy.