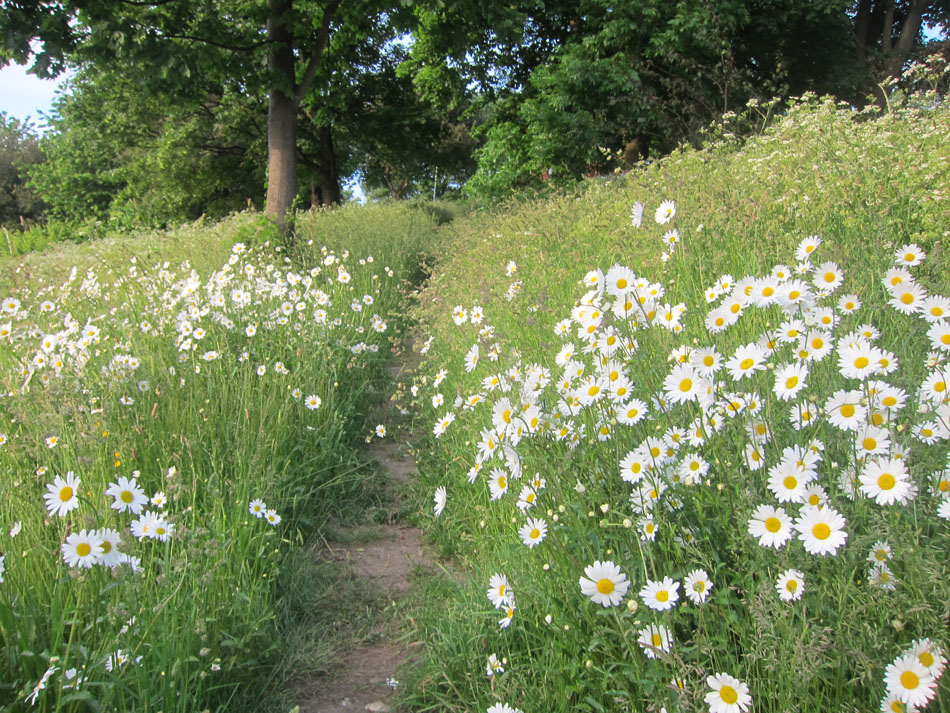 A CROOKED DAY.
IT was a lovely day in mid-summer. Not a cloud was to be seen overhead, nor could a speck of dust be detected upon the streets, as a heavy rain had washed them clean the night before.
Even the little sparrows appeared happier than usual as they twittered on the edge of the roof. Now, when all nature seemed so lovely, is it not strange that Abby should feel that it was a crooked day? See if you can find a reason that does not seem to be known to her.
The night before this day, at half-past eight, which was her usual hour to go to bed, her mother had said to her, "Come, darling, time to go upstairs now.
Hark! The old clock is striking the half-hour."
"Yes, mother," Abby said, "in one moment."
"Abby!" The mother's voice was full of grief because her daughter did not obey at once.
"Abby!"
"Yes, mother dear; do excuse me, the story was so nice, and I was just at a part where I could not bear to leave it."
"That is no excuse for not obeying. Go now, without any discussion; take your book, and put it-into your case. See, you have lost fifteen minutes of sleep."
Abby bade her mother goodnight, and went to her room. Before putting away the book, she opened it just for a peep, which was all wrong.
Probably she did not intend to read any, but when one yields to temptation, it seems very easy to quiet conscience. Thus she reasoned with herself, that, if she were unfastening the buttons of her shoes as she read, there could not be any harm in it. Then, as she unbraided her hair, she glanced over a few lines more; but presently hair and shoes were forgotten, and she was completely absorbed in the story-book. And so much so, that she was only aroused by the striking of the town-clock. Ten o'clock what would her dear mother say! As she, laid her head upon her pillow, she felt very unhappy; but she decided that she would not tell her mother what she had done.
Morning came, and Abby was so sleepy and cross that she would not get up until she had been called several times. Even when she was up, she would not make any haste, so that she was late at breakfast, to which she went without a word of thanks to Him who had kept her through the night. Her tardiness displeased her father, who told her she must retire a half hour earlier than usual.
School-time arrived; her hat had to be looked up, her gloves were missing, and she felt her books continually slipping because she had mislaid her strap. In school she was not much better off; the hour that she had lost in the morning would have helped her to look over her lessons instead of having her mind filled with the storybook.
Even when she returned home, things went no better. Jamie wanted her pet doll, and when she impatiently struck his baby hands, she saw the sweet eyes full of tears.
So the day wore on, until night came, and then, before she went to sleep, she had to talk it all out with her mother. When she had made her confession, she asked, "Mother, what has been the matter with the day? It has been the longest day of my life, and such a very crooked one."
"It is very easy for me to see where the fault lies. Can you not see it also?"
"I know, dear mother, that I was very naughty to read the book," Abby answered gently.
"But what did you omit to do today?" Abby said, " What do you mean, mother? I know everything has gone wrong."
"My darling, did you ask your heavenly Father to forgive your disobedience to me? Did you ask his loving care over you today? Did you ask to be helped through the day?" Abby hung her head, and confessed that she was in such a hurry to get to breakfast that she forgot the prayer.
"Ah! little girl, there is reason enough for a crooked day! and all grown-up folks who love God, have to ask for help all the time, that we may be shown how to take each step as well as to live each moment. And I know you do not forget how the dear Saviour listens to the prayers of even children when they call upon him."
Abby has lived a good many years since she had that talk with her mother; And as she does not forget her morning prayer, she no longer wonders that she has so few crooked days.
Selected
HE NEEDS YOU.
DEAR young friends, do you ever think the Master hath need of you?
Are you striving each day to do something by which you may glorify God? Remember, you must labor not in your own strength. Go in prayer to God daily, as you feel you have need. You remember the beautiful hymn says,
"I need thee every hour."

We cannot do any good thing without God's grace assisting us. He will help you as he has promised, if you will only seek that aid he is ever ready and willing to grant.
Then, again, our blessed Master expects something of us. We must glorify God in all that we do. He hath need of us. We must not be afraid to let our associates know that we are on the Lord's side. Encourage the poor to come to your
Sabbath-school or church by giving them a kind look and word, and they will come again. You remember, whosoever giveth one of the little ones a cup of cold water shall not lose his reward.
Help mother patiently when she is burdened and wearied with work. Do not be afraid to be seen reading your Bible, or to let others know you retire to your closet frequently for secret prayer.
Strive to be more like Christ each day, to have a forgiving spirit, love for all, and a desire to consecrate your lives entirely to God's service.