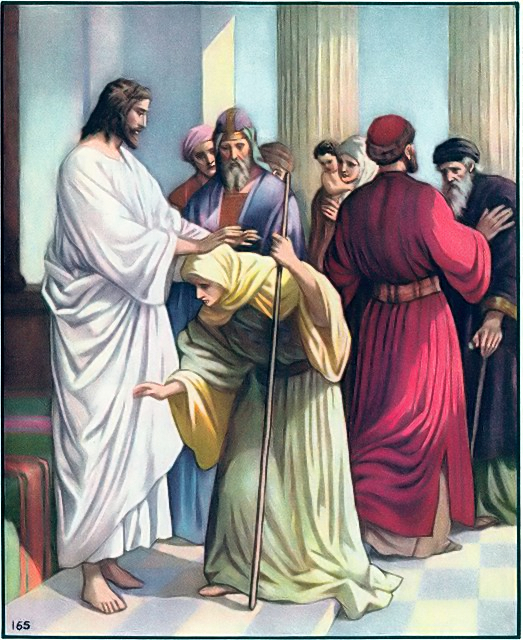 JESUS
AT THE FEAST OF DEDICATION
ONE Sabbath day as Jesus was teaching in one of the Jewish synagogues, there was present a woman that had suffered from an infirmity eighteen years, " and was bowed together, and could in no wise lift up herself. And when Jesus saw her, he called her to him, and said unto her, Woman, thou art loosed from thine infirmity. And he laid his hands on her; and immediately she was made straight, and glorified God. And the ruler of the synagogue answered with indignation, because that Jesus had healed on the Sabbath day, and said unto the people, There are six days in which men ought to work; in them therefore come and be healed, and not on the Sabbath day.
The Lord then answered him, and said, Thou hypocrite, doth not each one of you on the Sabbath loose his ox or his ass from the stall, and lead him away to watering? And ought not this woman, being a daughter of Abraham, whom Satan hath bound, lo, these eighteen years, be loosed from this bond on the Sabbath day? And when he had said these things, all his adversaries were ashamed; and all the people rejoiced for all the things that were done by him." "And it was at Jerusalem, the feast of the dedication, and it was winter. And Jesus walked in the temple, in Solomon's porch. Then came the Jews round about him, and said unto him, How long dost thou make us to doubt? If thou be the Christ, tell us plainly. Jesus answered them, I told you, and ye believed not; the works that I do in my Father's name, they bear witness of me. But ye believe not, because ye are not of my sheep, as I said unto you.
My sheep hear my voice, and I know them, and they follow me; and I give unto them eternal life; and they shall never perish, neither shall any man pluck them out of my hand. My Father, which gave them me, is greater than all; and no man is able to pluck them out of my Father's hand. I and my Father are one. Then the Jews took up stones again, to stone him Jesus answered them, Many good works have I showed you from my Father; for which of those works do ye stone me? The Jews answered him, saying, For a good work we stone thee not; but for blasphemy; and because that thou, being a man, makest thyself God.
Jesus answered them, Is it not written in your law, I said, Ye are gods? If he called them gods unto whom the word of God came, and the scripture cannot be broken; say ye of him whom the Father hath sanctified, and sent into the world, Thou blasphemest; because I said, I am the Son of God? If I do not the works of my Father, believe me not. But if I do, though ye believe not me, believe the works: that ye may know, and believe, that the Father is in me, and I in him. Therefore they sought again to take him; but he escaped out of their hands, and went away again beyond Jordan, into the place where John at first baptized; and there he abode and many resorted unto him, and said, John did no miracle; but all things that John spake of this man were true. And many believed on him there."