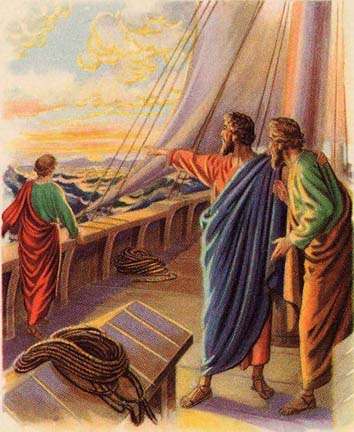 THE FIRST MISSIONARY JOURNEY.
THE twin's Sabbath-school lesson that afternoon had been "Paul's First Missionary Journey." They were so quiet at tea-time that Aunt Clara, fearing they were ill, sent them to bed quite early. No sooner were they left alone than Hettie exclaimed,—
"Nettie, let's you and me be missionaries."
"That will be fun," said Nettie. "Let's start right off tomorrow morning."Hettie thought perhaps the fun would not be just of Nettie's sort, but she only said: "Where shall we go? Paul didn't have to go very far from home, did he?" Nettie, a little troubled at this last idea, slowly said, "I don't know. But can't we be missionaries without going way off? I don't believe I want to go to Africa or Asia. Hettie," raising herself up on her elbow, "that's an awful ways off in the geography."
"That's so," replied Hettie; "but perhaps we won't have to stay away nights, anyway. We'll ask Aunt Clara."
"Yes; and if it's too far off, she won't let us go." And then they dropped to sleep. Aunt Clara, who had returned for something, overheard what they had been saying. She smiled a queer little smile, nodded her head, and tiptoed away.
Now, the twins had a good many faults which Aunt Clara plainly saw. Rather willful and selfish, they did not make themselves useful very cheerfully. They were always rushing headlong into plans, and then as quickly backing out when things went wrong. But their mamma was dead, and so Aunt Clara patiently tried every way to improve them.
The next morning they told her, and she said they might be missionaries, and come home nights for a while. Then, what a busy morning! They had not thought of any place to go, but Hettie said, "We'll have to get ready first, anyway." So they stowed away tracts, old books, toys, and garments; and Aunt Clara put in a feather duster, needle, thread, thimble, some liniment, and flowers.
"Just as if we were going to work," whispered Nettie to her sister. Afternoon came, but how it rained!
"We can't go missionarying today," cried both, dismally.
"As you are not expected anywhere today," said Aunt Clara, "you might play missionary, and visit the family."
Their faces brightened; and, a few minutes later, two little figures, bearing a basket, stood at grandma's door.
"We are missionaries," Hettie began. "How is your rheumatism today, ma'am?"
"Very bad, dear," replied grandma. "Now, if I only had some liniment, it might help me." As Hettie pulled out the bottle, she remembered that she had frowned, when asked to go after it before dinner.
"Perhaps you'd like some tracts," said Nettie.
"So I would, dear; but my old eyes could not read them, and I get right lonesome here all alone, just thinking." Nettie blushed, for she always spouted when sent to read to grandma, and hastily broke in with, "Missionaries always read to people." And she read it aloud.
"Now, that has done me so much good," exclaimed grandma, while vainly trying to thread her needle. Hettie, who had been soberly watching her, and who usually called grandma's needle a bother, rose softly, took it and threaded it ;while Nettie took out the flowers, which she remembered that grandma dearly loved, and placed them in a vase on the mantel.
"How your bright eyes have cheered me up Come often, dearies," she said, as they left.
"Yes, ma'am," they replied, with faces uncomfortably flushed. Brother Bob's room was next; and what a room! Bed unmade, ashes, brooms, shoes, and garments all over, and Bob in the midst, without jacket or stockings, wearing his shabbiest pair of trousers, and mending.
"How do you do!" exclaimed Bob, looking up at them, as they entered the room. "On a missionary trip are you? Why, of course, you can do something," he replied in answer to Hettie's question.
"Here is my coat with a rip, and all my trousers want a button, and my socks—just look at them," said Bob, as he held a very ragged pair up to the light. Hettie took the coat out of his hands; and Bob, fishing out a handful of buttons, piled them, with several pairs of trousers, into Nettie's lap.
"Just excuse the looks of my room," continued he; "for my sisters have gone missionarying among the heathens, and there is nobody to clean up." The girls glanced at each other, as they remembered that they had not done their upstairs work that morning, and how often they refused to mend for Bob. Now they worked with a will, and soon straightened all things, finding Aunt Clara's contributions quite useful, and tucked the ragged garments in the basket. On leaving, Bob said, gratefully, "'Tisn't every boy that's blessed with two sisters to missionary to him." They laughed a little outside, and started for Aunt Clara's room. "Well, how do you like being Missionaries?" she said.
"Its fun," cried Nettie; "and we did missionary some."
"Yes," 'broke in Hettie, "and I guess they missionaried some to us, too. Aunt Clara," added she, "I guess we ought to stay home and be real home missionaries."
And Aunt Clara smiled that same queer smile, and replied, "That is the best kind of missionaries for little girls to be."
The Well-Spring.