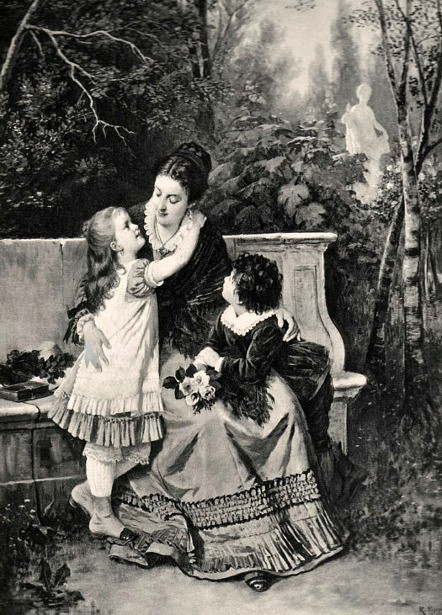 TELLING MOTHER.
A CLUSTER of young girls stood about the door of the schoolroom one afternoon, when a little girl joined them, and asked what they were doing.
"I am telling the girls a secret, Kate, and will let you know, if you will promise not to tell any one," was the reply.
"I won't tell any one but my mother," replied Kate. "I tell her everything, for she is my best friend."
"No, not even your mother, no one in the world."
"Well, then I cannot hear it; for what I cannot tell my mother is not fit for me to hear."
After speaking these words, Kate walked away slowly, and perhaps sadly, yet with a quiet conscience; and if she continues to act on that principle, I am sure she will become a virtuous and useful woman. No child of a pious mother will be likely to take a sinful course, if Kate's reply is taken for a rule of conduct. If you have no mother, do as the disciples did; go and tell Jesus.
"Blessed is the man that walketh not in the counsel of the ungodly, nor standeth in the way of sinners, nor sitteth in the seat of the scornful; but his delight is in the law of the Lord; and in his law doth he meditate day and night."
Young Pilgrim.
-------------------
A PLACE FOR EVERYTHING.
ALWAYS have a place for your own things, and take time to put them in it.
Hang your hat upon its proper nail, and pile your books and slate in their own corner on the table. Some children can never find their pencils and pens, and are going about begging and borrowing. It is "lend me this, please," or "have you seen that?" from morning to night. Now it is often inconvenient to lend, yet your friends do not want to appear disobliging, and they give what you ask them for, with many doubts and fears. They know that those who are so careless as to lose their own possessions will not be very safe holders of those of other people.
A verse in the Bible says that the borrower is servant to the lender. You will find out the meaning of that verse if you ever let borrowing become a habit.
A boy can save his mother much work and many steps by simply taking care of those things in the house, which belong to him, and never letting them lie around in a promiscuous manner.
A little girl can be a very great help by determining to keep her own room and her own closet in nice order. A little care every day is better than confusion for a fortnight, and then a grand "clearing up."—
Selected.
As we turn water into a dry pump when we desire to obtain more, so we must have the love of Christ imparted to the heart before we can feel any uprisings of delight in him.