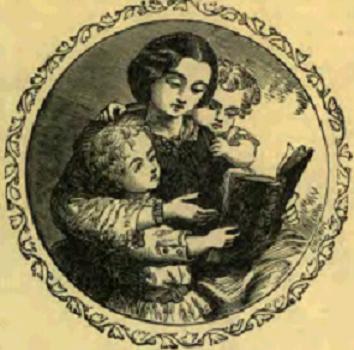 BIBLE LESSONS.
IT was the children's hour—between the twilight and the dark, —that quiet time when a hush seems to fall on the balmy summer air, the birds twitter softly, and the flowers begin to fold themselves up, as if they too were going to sleep. The little folks were tired of play. Ball and hoop were thrown aside, and they crept nearer to mamma's chair as to a haven of rest and peace.
Tired of play, but not too tired to listen to the loving voice that read to them sweet Bible stories, or sang with them the hymns that children love.
Even two-year-old Tot, fresh and rosy from his afternoon sleep, climbed up over her shoulder, and begged for the "bestest" story, about Jesus being once "an 'itty baby like Tot."
Then was told again that history of the wondrous birth in Bethlehem, which never wearies or grows old by the telling —how the wise men saw the star in the east, and came, and worshiped the infant Saviour, and how the shepherds were abiding in the field, keeping watch over their flocks by night, and the angel of the Lord brought them those tidings of great joy which were to be to all people. Afterward the children must hear about Jesus taking young children in his arms, putting his hands upon them, and blessing them. Then when the Bible lesson hour was over, they sang with their sweet little voices,—
"Though now he is not here below,
But on his heavenly hill,
To him may little children go,
And seek a blessing still."
Thus was this good mother fulfilling the divine command: "And thou shalt teach them diligently unto thy children, and shalt talk of them when thou sittest in thine house, and when thou walkest by the way, and when thou liest down, and when thou risest up."
Child's World.
"Behold, He cometh!"—Rev. 1:7.
DOES this seem a terrible verse? Do you wonder why it should be one of the "little pillows," and wish a different one had been given you to go to sleep upon tonight? Look at it again: "He cometh!" Who? Jesus himself, the "same Jesus" who said, "Come unto me." You thought it would be so nice to come if you could only see him. But you will see him, for he is coming.
Think of seeing him come, so beautiful, so glorious, so "altogether lovely"—him, the very same dear, kind Saviour who loves the little children, who loves you and has called you. Seeing his very face, the very brow that was crowned with thorns, the very eyes that looked on Peter, the very lips that said such wonderful and gracious things! No longer thinking about him, and trying to believe on him, and praying to him, and wishing for him, but really seeing him! Is this terrible? Does it not rather seem something to look forward to very much?
Only one thing would make it terrible, and that is, if you will not come to him now, and will not let him wash away your sins in his precious blood, then it would indeed be terrible, for he would never any more say to you, "Come!" but only "Depart."
But you want him to wash you clean, do you not? And you did try to come to him? And you believe he means what he says, and really died to save you?
Then, oh, shall you not be glad to see him? What if now the cry were heard, "Jesus is coming!" Your heart would beat quick, but I think it would be with gladness, not with terror.
Jesus is coming! Would you not go forth to meet him? Jesus is coming! Could anything be happier news? I think we shall not think much about the sound of the trumpet, and the clouds of glory, and all the holy angels that come with him; we shall "see Jesus" and hear his own voice, and that will fill our eyes and our hearts forever.
"Thou art coming, O my Saviour!
Thou art coming, O my King!
In thy beauty all-resplendent,
In thy glory all-transcendent;
Well may we rejoice and sing."
—Frances Ridley Havergal.
Good Morning
DON'T forget to say "Good-morning!" Say it to your parents, your brothers and sisters, your schoolmates your teachers,— and say it cheerfully and with a smile; it will do you good, and do your friends good There's a kind of inspiration in every "Good-morning" heartily spoken, that helps to make hope fresher and work lighter. It seems really to make the morning good, and to be a prophecy of a good day to come after it. And if this be true of the "Good-morning," it is also true of kind, heartsome greetings; they cheer the discouraged, rest the tired one, and somehow make the wheels of life run more smoothly. Be liberal with them, then, and let no morning pass, however dark and gloomy it may be, that you do not at least help to brighten by your smiles and cheerful words.
WE are to let conscience and experience decide what is doubtful, and the self-denial will be found a grand training for a life of higher spirituality.
If we are in doubt, it is better to err on the side of self-denial than on the side of self indulgence.
In addition to the suppression of evil, there must also be the cultivation of good. It is not sufficient to root out the weeds, but you must sow the good seed in their place.