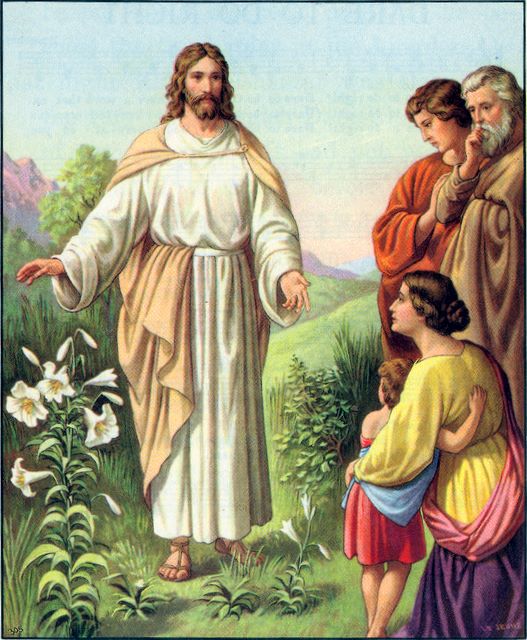 JESUS HEALS
THE SYROPHENICIAN WOMAN'S DAUGHTER
WHEN the people who were with Jesus on the other side of the sea found that he had crossed over, they took boats and followed him. On finding him at Capernaum they said," When wentest thou hither?"
Jesus, turning toward them, said, "Verily, verily, I say unto you, Ye seek me, not because ye saw the miracles, but because ye did eat of the loaves, and were filled. Labor not for the meat which perisheth, but for that meat which endureth unto everlasting life, which the Son of man shall give unto you."
Then Jesus went on teaching many things that were so hard to believe that many of his disciples forsook him, and followed him no longer. "Then said Jesus unto the twelve, Will ye also go away? Then Simon Peter answered him, Lord, to whom shall we go? Thou hast the words of eternal life. And we believe and are sure that thou art that Christ, the Son Of the Living God.
"Then came to Jesus scribes and Pharisees, which were of Jerusalem, saying, Why do thy disciples transgress the tradition of the elders? For they wash not their hands when they eat bread. But He answered and said unto them, Why do ye also transgress the commandment of God by your tradition?
For God commanded, saying, Honor thy father and mother; and, He that curseth father or mother, let him die the death. But ye say, Whosoever shall say to his father or his mother, It is a gift, by whatsoever thou mightest be profited by me; and honor not his father or his mother, he shall be free. Thus have ye made the commandment of God of none effect by your tradition.
Ye hypocrites, well did Esaias prophesy of you, saying, This people draweth nigh unto me with their mouth, and honoreth me with their lips; but their heart is far from me. But in vain they do worship me, teaching for doctrines the commandments of men."
Then our Lord went on to show that it is not what we eat that makes us bad, but that it is by our evil thoughts, words, and deeds that we make ourselves corrupt." Then Jesus went thence, and departed into the coasts of Tyre and Sidon. And, behold, a woman of Canaan came out of the same coasts, and cried unto him, saying, Have mercy on me, O Lord, thou son of David; my daughter is grievously vexed with a devil. But he answered her not a word. And his disciples came and besought him, saying, Send her away; for she crieth after us. But he answered and said, I am not sent but unto the lost sheep of the house of Israel. Then came she and worshiped him, saying, Lord, help me. But he answered and said, It is not meet to take the children's bread, and to cast it to dogs. And she said, Truth, Lord; yet the dogs eat of the crumbs, which fall from their masters' table.
Then Jesus answered and said unto her, O woman, great is thy faith: be it unto thee even as thou wilt.
And her daughter was made whole from that very hour."