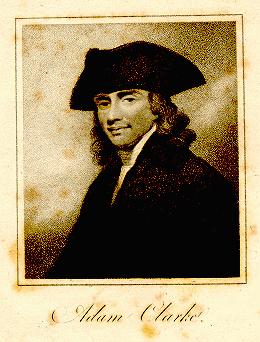 SEEK GOD EARLY.
WHEN Dr. Adam Clarke was a small boy going to his father's school, reports came in the papers and in other ways of a new religious sect which was just then starting up, called Methodists.
The Methodists of those early days were a very earnest, simple-hearted people. Finally a preacher came to the village where Adam lived, and preached in a barn. The boy went to hear him, and was very much interested. He would follow the preacher home nights, and walk in the good man's steps, close behind him. But he was so small that no one noticed him, till one night the preacher turned about, and laying his hand on Adam's head, said, "Lad, the Lord says, 'They that seek me early shall find me."
The preacher then walked on, but Adam began to turn the words over in his mind something like this: "What does it mean by seeking the Lord early? Does it mean early in the morning? I get up early; but, no, it does not mean that; it means early in life. If the young seek him early in life, they shall find him; others may seek, and not find; but the young shall find." He decided to seek the Lord, and this he did with all his heart.
History tells us the result. God blessed him wonderfully; and he became an earnest, humble Christian, and an instrument in the hands of the Lord for doing a great and good work. This man was the author of "Clarke's Commentaries," so familiar and so useful to every Bible student.
It would seem that God has special blessings for those who seek him in youth, before they have wasted years in sin and folly. "A flower when offered in the bud, is no vain sacrifice."
J. R. CALKINS.
"IT WILL LIGHT YOU HOME."
GOING two miles into a neighborhood where very few could read, to spend an evening in reading to a company who were assembled to listen, and about to return by a narrow path through the woods, where paths diverged, I was provided with a torch of light wood, or "pitch pine." I objected; it was too small, weighing not over a half pound. "It will light you home," answered my host. I said, "The wind may blow it out." He said, "It will light you home." "But if it should rain?" I again objected.
"It will light you home," he insisted. Contrary to my fears, it gave abundant light to my path all the way home, furnishing an apt illustration, I often think, to the way in which doubting hearts may be led safely along the "narrow way."
If they would take the Bible as their guide, it would be a lamp to their feet, leading to the heavenly home. One man had five objections to the Bible. If he would take it as a lamp to his feet, it would "light him home.'
Another told me he had two faults to find with the Bible. I answered him in the words of my good friend who furnished the torch, "It will light you home."
IMPROVE the odd moments. It is surprising how much may be done by using a few moments at a time. There are many kinds of light labor, and many subjects of study, which may be followed successfully by taking a few moments at a time. Let our young friends try the experiment.