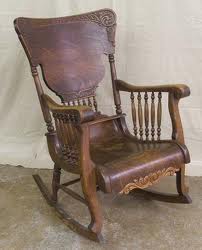 GATHER UP THE FRAGMENTS.
IT was Kathie's birthday; and she stood in her own little chamber, with her arms full of treasures.
"So many new things, it will be quite like a new room!" she exclaimed gleefully, pulling off the slightly faded bureau cover and tossing it scornfully on the floor. The new one, of linen momie-cloth, bordered with Kate Greena-way figures, was Cousin Nellie's gift; and Aunt Nell had added a jewel case covered with violets, so natural you could almost smell their fragrance. This took the place of a small Japanese box, and the pile on the floor grew rapidly. The letter-ease of silver cardboard with blue trimmings, which Kathie had heretofore thought so beautiful, yielded its place to one of carved holly wood. Two pretty chromos, papa's gift, were hung in the room of some plainer prints.
The shell mamma's fairy fingers had painted, crowded a little glass vase from its bracket; and mamma's own dear face, framed in crimson velvet, occupied the little round stand instead of the small ebony easel, which, however, was transferred to the mantel instead of the floor. "It crowds some; but I want it to hold this beautiful birthday card," said Kathie, as mamma came in, bringing the little Wakefield rocker, which had come all the way from Uncle Daniel's store, in Boston. "See how nicely everything fits in, mamma; and my cane rocker can go up garret with these other old duds."
"You certainly have no further need of them," said mamma, smiling. " But remember to 'gather up the fragments that nothing be lost," she added, before closing the door.
"What can she mean?" thought Kathie, looking rather dubiously at the pile on the floor. "They might as well be lost as tucked away up garret; but I don't need them, mamma said so herself: the mantel is all filled up, now."
"Kathie!" called mamma. "Suppose you carry this basket of fruit and jelly to Mrs. Wilbur. Clara will enjoy seeing some of her young friends, now her mother is better."
Mrs. Wilbur was a widow lady who did fine sewing, and her daughter Clara was Kathie's schoolmate; but Kathie herself had never been inside the small cottage where they lived. She liked Clara: all the girls did; but, somehow, they seldom thought of her out of school. Perhaps her plain dresses and shy manners were to blame. Kathie went rather reluctantly; but, when she saw how pale and thin the sweet face had grown beside the mother's sickbed, her heart went out to the young girl who welcomed her so warmly, and she willingly accepted her invitation to enter the sickroom. How bare and forlorn the little room looked, in contrast with the one she had just left! Plain white window curtains, a plain muslin cover on the old-fashioned dressing table, and two hanging shelves holding a few books, were all the attempt at ornament. The pine stand by the bedside had no cloth; the four bare walls showed all the ugliness of the wall-paper; there was not even one little rocker.
"Oh, dear, how could I ever sleep in such an ugly little room?" thought Kathie; and then, suddenly a bright light flashed into her eyes, and, hardly waiting to inquire after the invalid's welfare, she rushed away home.
"Mother! Mother! Would they like—did you mean—could we fix up that old bedroom?" she exclaimed eagerly. "There's the pictures, and lots of cards, and the bureau cover for the little stand, and the Japanese box, and that vase, and the letter-case, and—yes, she shall have the easel to put on the mantel: it crowds mine, and—I do suppose there are more books than I really need."
The pile of "old duds," suddenly grown precious again, was soon ready for removal; and the next day the hired man, taking them on his wheel-barrow, rocker and all, followed Kathie and her mother to Mrs. Wilbur's, giving them time, first, to send Clara out for a walk. What a different room they soon made of it! The invalid looking on, through a mist of glad, thankful tears. And the pleased surprise on Clara's face when she came back, amply repaid the little self-denial which had covered 'the bare shelves with interesting books.
"How did you make it look so nice and cheerful?" she exclaimed. "The very things I wanted, too: pictures, and a vase, and a table cover,—oh, and books, and that dear little rocker for mother to sew in. Oh, you can never, never know how happy you have made us!" she added, hiding 'her own tear-wet face on the invalid's shoulder.
"And it would all have been lost up in our attic but for you, mamma dear," said Kathie, as they walked home. "How much more happiness there might be in the world, if everybody remembered to
`gather up the fragments'!"
—Well-Spring.