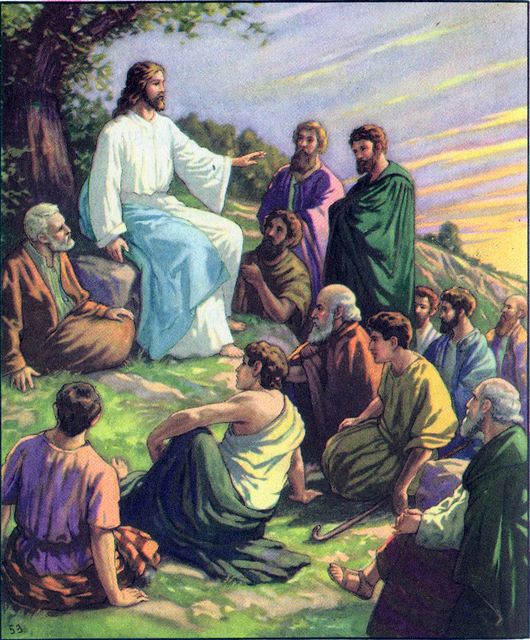 Instruction
IN our last lesson Jesus was reproving the Pharisees and lawyers. While exposing their hypocrisy, he said, "Woe unto you, scribes and Pharisees, hypocrites! For ye compass sea and land to make one proselyte, and when he is made, ye make him twofold more the child of hell than yourselves. Woe unto you, ye blind guides, which say, Whosoever shall swear by the temple, it is nothing; but whosoever shall swear by the gold of the temple, he is a debtor Ye fools and blind; for whether is greater, the gold, or the temple that sanctifieth the gold? And, Whosoever shall swear by the altar, it is nothing; but whosoever sweareth by the gift that is upon it, he is guilty Ye fools and blind; for whether is greater, the gift, or the altar that sanctifieth the gift Whoso, therefore, shall swear by the altar, sweareth by it, and by all things thereon. And whoso shall swear by the temple, sweareth by it, and by him that dwelleth therein. And he that shall swear by heaven, sweareth by the throne of God, and by him that sitteth thereon." "And as he said these
things unto them, the scribes and the Pharisees began to urge him vehemently, and to provoke him to speak of many things: laying wait for him, and seeking to catch something out of his mouth, that they might accuse him."
In the meantime, when there were gathered together an innumerable multitude of people, insomuch that they trode one upon another, he began to say unto his disciples first of all, Beware ye of the leaven of the Pharisees, which is hypocrisy.
"For there is nothing covered, that shall not be revealed; neither hid, that shall not be known." "What I tell you in darkness, that speak ye in light; and what ye bear in the ear, that preach ye upon the housetops. And fear not them, which kill the body, but are not able to kill the soul; but rather fear him, which is able to destroy both soul and body in hell. Are not two sparrows sold for a farthing? And one of them shall not fall on the ground without your Father.
But the very hairs of your head are all numbered. Fear ye not therefore ye are of more value than many sparrows. Whosoever, therefore, shall confess me before men, him will I confess also before my Father which is in heaven. But whosoever shall deny me before men, will I also deny before my Father which is in heaven."
"He that receiveth you receiveth me, and he that receiveth me receiveth him that sent me. He that receiveth a prophet in the name of a prophet shall receive a prophet's reward; and he that receiveth a righteous man in the name of a righteous man shall receive a righteous man's reward." "But beware of men; for they will deliver you up to the councils, and they will scourge you in their synagogues; and ye shall be brought before governors and kings for my sake, for a testimony against them and the Gentiles. But when they deliver you up, take no thought how or what ye shall speak; for it shall be given you in that same hour what ye shall speak. For it is not ye that speak, but the Spirit of your Father which speaketh in you."