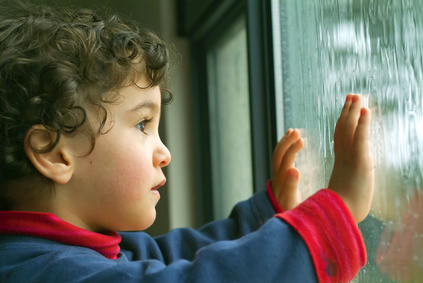 ONE RAINY DAY
FOUR more disconsolate-looking boys I think you never saw. They were all in the dining-room; Ned at the window, looking out into the pouring rain, Will on the lounge, Joe on the floor, with his feet on the window sill; as for Ted, he was curled up in papa's big chair, if anything, the most forlorn looking of the lot." I don't believe it's rained harder since the flood," said Ned.
"And to think it should have come today!" came from Joe.
"It's always so when we lot on anything, something up and happens;" and Will turned his face to the wall. There was a suspicious moisture in his eyes, and his lips would tremble; and he was a boy, consequently all such demonstrations must be suppressed and hidden. For two whole weeks they had looked forward to this day, almost counting the minutes as they passed; for was not this Ned's birthday, and was not papa going to take them to Shaker Pond fishing. And the very first thing they heard in the morning, you may be sure it was early, was the rain beating against the window. Instantly the spirits of each fell below zero, and remained there. Papa, mamma, and all offered consolation, but they refused to be comforted. There might be other days, but they would not be this day.
Gussie was going through the hall singing merrily. Why shouldn't she. It was not her birthday, and being a girl, she would shed no tears over the delay of a fishing excursion. For just a moment I am not sure but each of the four wished that they were girls so they could go through the halls singing merrily, too. They could hardly remember how it felt to be bright and happy, it seemed so long since they got up.
A minute later the door opened, and Gussie came in, looking for her hat. She had on her waterproof and rubber boots, and was going over to Addie Grant's to spend the day. She knew they would have just a splendid time. She could hardly wait to get there; for, really, she had not seen Addie for two whole days, and she had "so much" to tell her. As she looked around upon the four boys, she stopped and laughed. It seemed so foolish to be so miserable about such a little disappointment, though to be sure she had felt very much the same only a short time before, because—well, because mamma wanted her to stay home and help her, instead of going off with Addie.
"Why, boys, you look as glum as if you had lost all your friends and relations." Instantly three pairs of shoulders shrugged ominously. They were not disposed to endure much ridicule. As for Ted, his tears flowed a little faster, if possible. Gussie found her hat, and went out; but somehow she did not sing again. She went to the door, opened it, opened her umbrella also, stood still a minute, then stepped out, and then back again, closed the door, and went slowly upstairs to her own room. There she sat down in the first chair, and considered.
"Oh, dear me!"
Well, you would hardly believe it, but her face, which only a few minutes before had been brimming over with sunshine, looked almost as forlorn as any of her brothers'. What could have come over her?
"Oh, dear" she sighed, more dolefully than before. "If I had done as mother tells me to, and hung my hat up where it belongs, I wouldn't have gone in there, and then I wouldn't have known or thought." It was a trying thought. Gussie twitched off the offending hat, and sent it flying over to the bed.
"I suppose they are dreadfully disappointed," she said, rather more calmly. She sat still a long time; then she went over to the window, and took up her little "Daily Food." Mamma had given each of them one, and expected them to learn the verses regularly. That morning Gussie's had been, "For even Christ pleased not himself." Of late she had been trying to be like him. Even he pleased not himself; why should she? Two minutes after, her waterproof hung in the closet, her boots stood side by side in the hall, and Gussie herself stood in the dining-room door with a smiling face, but just the least bit of an ache in her heart, for you know she had meant to have such a "splendid time."
"I concluded not to go, after all," she said, in answer to Ned's dreary look of surprise. "So come on; let's have some games."
"Now, generally speaking, the boys considered it the greatest treat to have Gussie play with them; for was she not just the merriest, jolliest play-fellow? And who knew more games than Gussie? But today they did not wish to be amused; in fact, they would not be amused if they could help it.
Having put her hand to the plow, Gussie did not propose withdrawing it; but if she had not been very courageous and persevering, she would have left them to their own devices after all. As it was, she smothered all thoughts of desertion, put all her energy into her play, laughed merrily at her own (talk,) but not a bit of notice did she take of long faces and funereal manners. Suddenly, somehow, none of them knew how, they all caught themselves looking at one another. Gussie laughed outright, the boys puckered and twisted, and finally exploded into a good, hearty laugh. Half an hour after, if you had asked them anything about going fishing, they would have looked at you in surprise, for they actually forgot all about it. The ice once broken, what a merry time they had that long, rainy day!
"I aren't a goin' to c-r-y again when I don't have fings I want," said sleepy Ted that night,
"'cause may be I'm goin' to have sumpin' better." Gussie had kissed mamma "good night," and was just about to shut her own door, when Ned appeared.
"I say, Gus," he said, twisting about uneasily,
"mother told us about your staying at home, and you were just grand; the boys wanted I should tell you so."
"Oh, that's all right," laughed Gussie, with such a happy feeling in her heart. Suppose after all she had not staid? Still Ned lingered. Evidently there was something else he wished to say. He had turned to go, when all at once he wheeled around, came back, and putting his arms around Gussie's neck, with a rough caress said:—
"We won't forget it of you, Gus; and—me and Joe thought maybe you'd like to know we meant to try, too." He was off before Gussie could say a word.
"Why didn't you come over yesterday, Gussie?" asked Addie, when they met the next day. Oh, the boys were so disappointed because they couldn't go fishing, I staid home to amuse them."
"I'd have let them amuse themselves," said Addie. But Gussie was very thankful just then that she had not yielded to the temptation to do so.—
Kate Sumner.