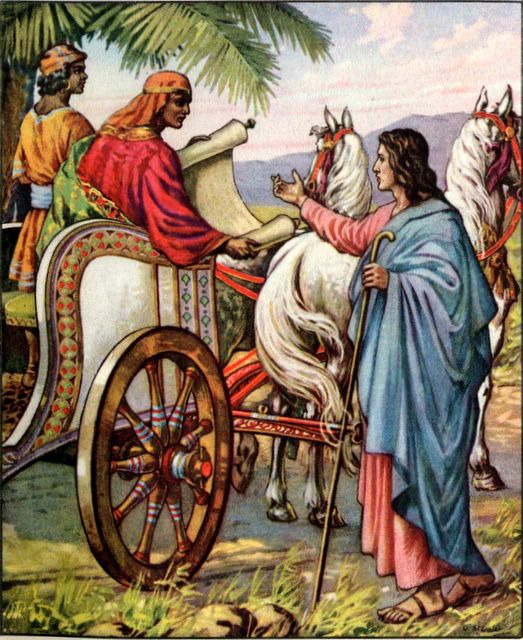 PIIILIP PREACHES IN SAMARIA.
WHEN Stephen was arraigned and tried before the Sanhedrim, the witnesses who testified against him were obliged by law to take the lead in putting him to death. In order to be the better prepared for their cruel work; they took off their outer garments, and left them in the care of a young man whose name was Saul. In thus keeping the clothing of the executioners, Saul consented to their deed, and really took part in the martyrdom of this holy man.
After Stephen's death, devout men carried him away and buried him, making great lamentation over him.
The violent murder of Stephen, sanctioned as it was by the Sanhedrim, the highest tribunal among the Jews, was but the signal to such a persecution of the church at Jerusalem as scattered the disciples abroad throughout the provinces of Judea and Samaria.
Wherever they went, "they preached the word," and thus they spread in every direction the gospel of salvation through Christ. Among the persecutors of God's true people, Saul seems, at this time, to have been chief; for he went from house to house, and seizing both men and women, hurried them away to prison.
As the Samaritans were more willing than the Jews to hear the preaching of Jesus, so they were more ready to listen to his disciples; for Philip, on going down to the city of Samaria, found its inhabitants eager to hear his words, glad to behold the miracles which he wrought, and willing, with one accord, to heed his teaching. Perceiving that these people were sincere in their professions of faith in Christ, and that they were ready, not only to believe, but to obey, the gospel, he baptized them, both men and women.
Among the converts was one Simon, who had been a sorcerer, and had bewitched the people, making them believe that he had the power of God. After he was baptized, this man remained with Philip, wondering at the great miracles, which were performed in the name of Jesus.
When the apostles at Jerusalem knew that Samaria had received the word of God, they sent them Peter and John, who, when they had come down, prayed for the converts, and laid their hands on them, that they might receive the Holy Ghost. Now when Simon saw that the gift of the Holy Ghost was bestowed upon those on whom the apostles laid their hands, he became very anxious to have power to do as they did, and offered them money, saying, "Give me also this power, that on whomsoever I lay hands, he may receive the Holy Ghost." But Peter, moved with indignation, said, "Thy money perish with thee, because thou hast thought that the gift of God may be purchased with money. Thou hast neither part nor lot in this matter; for thy heart, is not right in the sight of God. Repent therefore of this thy wickedness, and pray God, if perhaps the thought of thy heart may be forgiven thee for I perceive that thou art in the gall of bitterness, and in the bond of iniquity."
Then said Simon, "Pray ye to the Lord for me, that none of these things which ye have spoken come upon me."
When Peter and John had finished their work in the city of Samaria, they returned to Jerusalem, but either on their way, or soon after their return, they preached the gospel in many villages of the Samaritans. Perhaps they preached to some of the very people on whom they once wanted to call down fire; but what a different spirit they now possessed! Philip probably remained in the city of Samaria till an angel called him, and told him to go away southward to a certain road leading from Jerusalem to Gaza. On reaching the place, Philip saw an Ethiopian eunuch riding along in his chariot. This Ethiopian was a man of high rank under queen Candace, having charge of all her treasures. He had now been to Jerusalem, and was returning home, reading, as he rode along, from the book of Isaiah.
And the Spirit of God said to Philip, "Go near, and join thyself to this chariot." Philip obeyed; and as he heard the eunuch reading, he said to him,
"Understandest thou what thou readest? "And the eunuch said, "How can I, except some man should guide me? "Then he invited Philip to come up and sit with him in the chariot. The eunuch had just been reading these words from the fifty-third chapter of Isaiah:-
"He was led as a sheep to the slaughter;
"And as a lamb before his shearers is dumb,
So he opened not his mouth:
In his humiliation his judgment was taken away:
His generation who shall declare?
For his life is taken from the earth "
When Philip had taken a seat by him, the eunuch said, "Of whom speaketh the prophet this? Of himself, or of some other man?" Then Philip told him the meaning of the passage, and preached to him salvation through Christ. Philip's words so affected his hearer that, as they came to a body of water, the eunuch exclaimed, "See, here is water; what doth hinder me to be baptized?" And Philip said, "If thou believest with all thy heart, thou mayest." The eunuch replied, "I believe that Jesus Christ is the Son of God." Then the chariot was stopped, and Philip and the eunuch both went down into the water, and Philip baptized him.
When they came up out of the water, the Spirit of God caught away Philip, and the eunuch saw him no more; yet he was so happy in the truth he had just received, and in the satisfaction of obeying it, that he went on his way rejoicing. But Philip was next seen at Azotus; and passing on from that place, he preached in all the cities till he came to Caesarea.
Man of Ethiopia,
In its largest sense the term Ethiopia was applied to all the African lands south of Egypt; more definitely, it included the modern Nubia, Senaar, Kordofan, and part of Abyssinia. Its inhabitants were black in color and large in stature. Their land appears to have been one of wealth, and to have maintained some commercial relations with Palestine. The Hebrew equivalent for Ethiopia is Cush, and by this name it is designated in Genesis.
-Abbott.
This man was not, as some have suggested, a Jew who lived in Ethiopia, but most probably was a heathen convert to Judaism, and now was returning home from a pilgrimage to the chief shrine of his adopted religion. We know that at this time there were many Jews in Ethiopia.
-Schaff.
Under Candace. Candace is said to have been the common name of the queens of Ethiopia, as Pharaoh of the Egyptian rulers, and Caesar of the Romans.