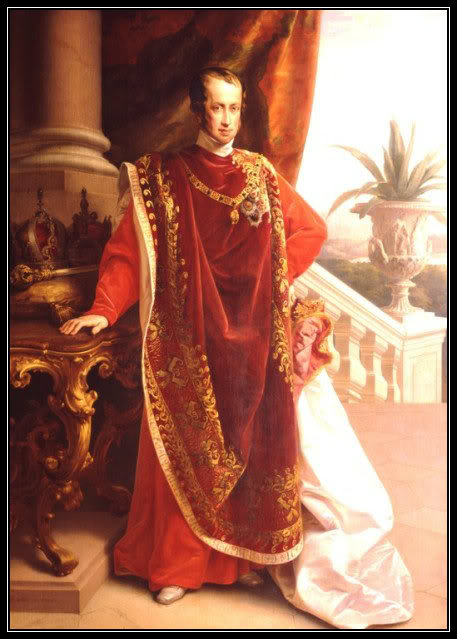 THE EMPEROR'S DAUGHTER.
ON the morning of Dec. 20, 1881, the royal family of Austria, while at breakfast, were busy in making plans for the holidays. Marie, the youngest daughter, aged thirteen years, on being asked what she most desired for a Christmas present, surprised every one, and brought tears to her father's eyes, by asking permission to adopt one of the children made orphans by the Ring Theater fire. Noble girl! I seem to see the look of pardonable pride on the father's face, and to hear his tender •tones, as he grants his little daughter's request.
Doubtless the child thus rescued from suffering and poverty, will joyfully receive the news, and will make every effort to please her kind benefactors, and show them all the honor which a grateful and loving heart can bestow. At least, this is what they ought to expect from her in return for their kindness. But what would we think of that poor unfortunate child, if when the emperor's servants, commissioned by His Majesty, bring her the glad tidings, and show her the beautiful garments sent to clothe her, she should turn a deaf ear to their message, and refuse to put on the rich robes? And as the messengers still plead with her, and tell her of the king's lovely daughter, who asks her to come and live with her in her beautiful palace home, the child of want will not listen, but again scorns the proffered kindness.
What would you think of all this? I think I hear you all cry out, "
Ungrateful child, she deserves to suffer hunger and cold."
Now Jesus, the Son of the great King of Heaven, is daily beseeching his Father to adopt into the royal family those who are suffering from sin. The
Father's heart is melted to tenderness by his earnest requests, and he commissions his servants to offer the "robes of righteousness," a "crown of glory," and heir ship with his Son in an eternal inheritance, to the sorrowing children of earth.
Surely they will gladly accept so precious a gift! But sad to say, thousands daily turn in scorn and derision from these gracious offers of love and mercy; and yet we hear no cry of surprise uttered at their folly and ingratitude. What wonder that angels veil their eyes, and weep at the sight!
MRS. R. WEATHERBY.