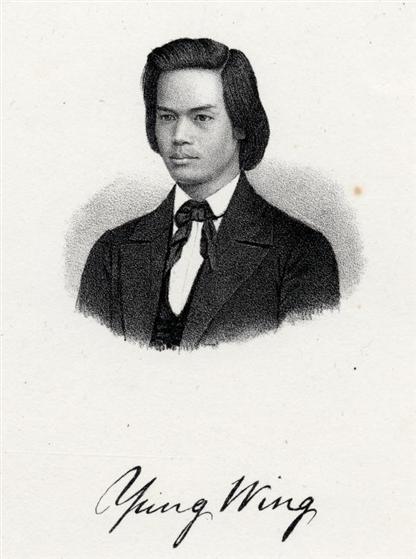 A REMARKABLE HISTORY
A heathen is usually forced to make sacrifices of friends and property and prospects when he forsakes paganism and accepts the Christian religion. But to any who have fresh in mind the Saviour's promise that those who follow him shall have "an hundred-fold in thispresent time," as well as eternal life beyond biography of Yung Wing, a Chinese, will be interesting. This Chinese lad was one of three brought to America thirty-two years ago by Rev. S. R. Brown,, D. D., then Principal of the Morrison School at Hong Kong. Placed in the family of Dr. Brown's mother, in Monson, Mass., Wing began a thorough course of study at the Academy in the town. He not only made rapid advances in scholarship, but became so impressed with the faith and Christian excellence of his friends and the land lady, that he renounced his heathenism and embraced the religion of the cross.
He entered Yale College after his graduation, being when the writer knew him, a fellow student, though not in the same class. His religious character was a rebuke to many of his fellows born and nursed amid the gospel blessings he had but lately come to know. His progress, too, was such in the studies of a language and people wholly foreign to him, that he repeatedly won prizes over many American competitors.
On receiving his college degree (in 1854), Yung Wing returned to his native country, burning with a patriot's love and a missionary's zeal. He had enjoyed the advantages of a Christian education, and knew their worth He longed to secure the same to other boys of his own nation to other boys of his own nation, and determined to engage the Chinese Government, if possible in a scheme for sending native lads to school in the United States. This purpose he kept steadily in mind, and sought employment, which he thought would yield him the best opportunities.
For a time, he was engaged as Secretary in the diplomatic service. He studied law, and made himself acquainted with public affairs He entered the Custom service; and finally traveled as a commercial agent.
Seven years passed, and he was apparently NO nearer his grand object. But he persevered. Before the end of another year he made the acquaintance of one of the Imperial Viceroys, Commander in-chief of the Army, who became his friend, and took him into the Government service, where he was retained, and made a mandarin. His learning and ability soon secured him higher promotion, and he found himself on intimate terms with the most powerful statesmen of the realm. He pressed upon their attention the plan so dear to him in behalf of the youth of. his race, and though they were slow to move in the matter, he gained their respectful hearing. Yung Wing proved himself valuable to the Government in many ways, and the time came when he was wanted more than ever.
It was when the great investigation took place, over the affairs of the Tientsin massacre. Foreign representatives must be present, and there was international law to be discussed, and interpreting to be done. The magnates saw as they never saw before that for the Empire's service no one was equal to a talented Chinaman educated in America.
The Educational Mission was soon after organized, and Yung Wing was made its principal agent. Four or five years ago he came to this country bringing the first company of Chinese boys, to be placed in American schools. They still look to this noble man, the Christian mandarin, as their best friend. In addition to his other honors, Yung Wing holds a provincial office at home, and is now Associate Minister of the Empire to the United States, with a salary that in itself is wealth. He resides in Washington and is fifty years old. His wife is an American, and his oldest son is named Brown, after Dr. Brown, his early teacher, and Dr. Brown's mother, the lady with whom he lived in Monson. She was the author of the well-known hymn, "I love to steal awhile away," and her memory is another record of the far-reaching influence of humble piety.—
Youth's Companion.
ALL cannot become great scholars, but all may be wise unto salvation. All cannot acquire wealth, but all may gain the unsearchable riches of Christ.
All cannot walk upon the high places of the earth, but all may be great in the sight of the Lord.
A LITTLE Negro girl in a missionary school was once asked. "Who are the meek?" the child answered, " Those who give soft answers to rough questions."