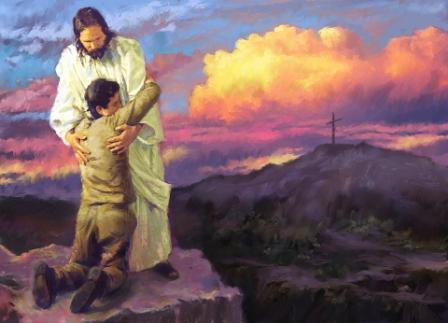 FORGIVENESS.
"THEN came Peter to him, and said, Lord, how oft shall my brother sin against me, and I forgive him? Till seven times? Jesus saith unto him, I say not unto thee, Until seven times; but until seventy times seven.
"Therefore is the kingdom of heaven likened unto a certain king, which would take account of his servants. And when he had begun to reckon, one was brought unto him, which owed him ten thousand talents. But forasmuch as he had not to pay, his lord commanded him to be sold, and his wife, and children, and all that he had, and payment to be made. The servant therefore fell down and worshiped him, saying, Lord, have patience with me, and I will pay thee all.
Then the lord of that servant was moved with compassion, and loosed him, and forgave him the debt.
But the same servant went out, and found one of his fellow servants which owed him a hundred pence; and he laid hands on him, and took him by the throat, saying, Pay me that thou owest. And his fellow servant fell down at his feet, and besought him, saying, Have patience with me, and I will pay thee all. And he would not, but went and cast him into prison, till he should pay the debt. So when his fellow servants saw what was done, they were very sorry, and came and told unto their lord all that was done. Then his lord, after that he had called him, said unto him, O thou wicked servant, I forgave thee all that debt, because thou desiredst me; shouldst not thou also have had compassion on thy fellow servant, even as I had pity on thee? And his lord was wroth, and delivered him to the tormentors till he should pay all that was due unto him. So likewise shall my Heavenly Father do also unto you, if ye from your hearts forgive not every one his brother their trespasses."
"Now the Jews' feast of tabernacles was at hand. His brethren therefore said unto him, Depart hence, and go into Judea, that thy disciples also may see the works that thou doest. For there is no man that doeth anything in secret, and he himself seeketh to be known openly. If thou do these things, show thyself to the world. (For neither did his brethren believe in him.) Then Jesus said unto them, My time is not yet come; but your time is alway ready. The world cannot hate you; but me it hateth, because I testify of it that the works thereof are evil. Go ye up unto this feast; I go not up yet unto this feast, for my time is not yet fully come. When he had said these words unto them, he abode still in Galilee. But when his brethren were gone up, then went he also up unto the feast, not openly, but as it were in secret." And he sent messengers before him; and they, going forward, entered into a village of the Samaritans, to make ready for him. But the Samaritans would not receive
him, because his face was as though he would go to Jerusalem. "And when his disciples, James and John, saw this, they said, Lord, wilt thou that we command fire to come down from heaven, and consume them, even as Elias did? But he turned, and rebuked them, and said, Ye know not what manner of spirit ye are of. For the Son of man is not come to destroy men's lives, but to save them. And they went to another village.
"And it came to pass, that, as they went in the way, a certain man said unto him, Lord, I will follow thee whithersoever thou goest. And Jesus said unto him, Foxes have holes, and birds of the air have nests; but the Son of man hath not where to lay his head. And he said unto another, Follow me. But he said, Lord, suffer me first to go and bury my father. Jesus said unto him, Let the dead bury their dead; but go thou and preach the kingdom of God.
And another also said, Lord, I will follow thee; but let me first go and bid them farewell, which are at home at my house. And Jesus said unto him, No
man, having put his hand to the plow, and looking back, is fit for the kingdom of God."