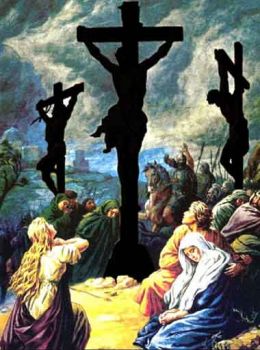 JESUS LED FORTH TO BE CRUCIFIED.
AFTER scourging him, the soldiers of Pilate took Jesus into the common hall, called Praetorium, and calling together all their band, proceeded to clothe him in a purple robe, putting a reed in his hand, and a crown of thorns on his head. Then they bowed the knee before him mockingly, and said, "Hail, king of the Jews!" Then they spit upon him, and smote him with a reed.
Then Pilate went forth again to the Jews, saying, "Behold, I bring him forth to you, that ye may know that I find no fault in him." And as Jesus came forth, wearing a crown of thorns and the purple robe, Pilate said, " Behold the man!" But when the chief priests and the officers saw him, they cried out, "Crucify him, crucify him." Pilate said, "Take ye him and crucify him; for I find no fault in him." Then said the Jews,
"We have a law, and by our law he ought to die, because he made himself the Son of God."
When Pilate heard that Jesus called himself the Son of God, he was all the more afraid, and taking Jesus again into the Judgment Hall, he said to him,
"Whence art thou?" and on receiving no answer, he said, "Speakest thou not unto me? Knowest thou not that I have power to crucify thee, and have power to release thee?" But Jesus replied, saying, " Thou couldest have no power at all against me, except it were given thee from above: therefore he that delivereth me to thee hath the greater sin."
From that time forward Pilate used his best endeavors to release Jesus; but the Jews insisted on his death, saying, "If thou let this man go, thou art not Caesar's friend: whosoever maketh himself a king, speaketh against Caesar."
"When Pilate therefore heard that saying, he brought Jesus forth, and sat down on the judgment seat, in a place that is called. the Pavement, but in the Hebrew, Gabbatha. And it was the preparation of the Passover, [that is, the preparation day of the Passover week, Friday], and about the sixth hour; and he said unto the Jews, Behold your king! But they cried out, Away with him, away with him, crucify him."
Pilate then said unto them, Shall I crucify your king?" Then the chief priests made answer, saying, "We have no king but Caesar." Then Pilate delivered Jesus unto them to be crucified.
Then they took Jesus, and when they had mocked him, and replaced the purple robe by his own clothing, they led him forth to crucify him.
So Jesus went forth, bearing the cross on which he was to be crucified; but when they had gone a little way out of the city, they met a man by the name of Simon, and compelled him to bear the cross.
There followed him a great company of people, and many of them bewailed him, especially the women.
When Jesus heard it, he said, "Daughters of Jerusalem, weep not for me, but weep for yourselves, and for your children." He said that the days would come when the childless would be regarded as blessed, and when the people would cry for the mountains and hills to fall on them and to cover them from the majesty of the Son of God, as he should be revealed from heaven.
There were also two malefactors led forth with him to be crucified. And when they had come to a place called Golgotha, which means a place of a skull, they gave him wine to drink, mingled with myrrh; but when he had tasted, he refused to drink it. A learned writer says, "The drink offered was the acid, drugged wine, ordinarily given to those about to be crucified to dull the sense of pain." Knowing this, our Lord rejected it, choosing to trust in God to sustain him.
THE JOURNEY TO CALVARY.
BY this time the news of the condemnation of Jesus had spread through all Jerusalem, striking 'terror and anguish' to thousands of hearts, but bringing a malicious joy to many who had been reproved by the teachings of the Saviour. The priests had been bound by a promise not to molest any of his disciples if Jesus were delivered up to them; so all classes of people flocked to the scene of outrage, and Jerusalem was left almost empty. Nicodemus, and Joseph of Arimathea, had not been summoned to the Sanhedrim council, and their voices had nothing to do with condemning Jesus. They were present at his crucifixion, but were unable to change or modify his terrible sentence.
Jesus had scarcely passed the gate of Pilate's house when the cross, which had been prepared for Barabbas was brought out and laid on his bruised and bleeding shoulders. Crosses were also placed upon the companions of Barabbas, who were to suffer death at the same time with Jesus. The Saviour had borne his burden but a few rods, when from loss of blood and excessive weariness and pain, he fell fainting to the ground. As he lay beneath the heavy burden of the cross, how the heart of the mother of Christ longed to place a supporting hand beneath his wounded head, and bathe that brow that had once been pillowed upon her bosom. But, alas, that mournful privilege was denied her.
When Jesus revived, the cross was again placed upon his shoulders and he was forced forward. He staggered on for a few steps, bearing his heavy load then fell as one lifeless to the ground. He was at first pronounced to be dead, but finally he again revived.
The priests and rulers felt no compassion for their suffering victim; but they saw that it was impossible for him to carry the instrument of torture farther. They were puzzled to find any one who would humiliate him-self to bear the cross to the place of execution. The Jews could not do it because of defilement, and their consequent inability to keep the coming Passover festival.
While they were considering what to do, Simon, a Cyrenian, coming from an opposite direction, met the crowd, was seized at the instigation of the priests, and compelled to carry the cross of Christ. The sons of Simon were disciples of Jesus, but he himself had never been connected with him. This occasion was a profitable one' for him. The cross he was forced to bear became the means of his conversion. His sympathies were deeply stirred in favor of Jesus; and the events of Calvary, and the words uttered by Jesus, caused him to acknowledge that he was the Son of God. Simon ever after felt grateful to God for the singular providence. which placed him in a position to receive evidence for himself that Jesus was the world's Redeemer.
When Jesus was thought to be dying beneath the burden of the cross, many women, who, though not believers in Christ, were touched with pity for his sufferings, broke forth into a mournful wailing.
When Jesus revived, he looked upon them with ten-der compassion. He knew they were not lamenting him because he was a teacher sent from God, but from motives of common humanity. He looked upon the weeping women and said, " Daughters of Jerusalem, weep not for me, but for yourselves, and for your children."
Jesus did not despise their tears, but the sympathy which they expressed wakened a deeper chord of sympathy in his own heart for them. He forgot his own grief in contemplating the future fate of Jeru-salem. Only a short time ago the people had cried out, "His blood be on us and on our children." How blindly had they invoked the doom they were soon to realize! Many of the very women who were weeping about Jesus, were to perish with their children in the siege of Jerusalem. A great multitude followed the Saviour to Calvary, many mocking and deriding ; but some were weeping and recounting his praise. Those whom he had healed of various infirmities, and those whom he had raised from the dead, declared his marvelous works with earnest voice, and demanded to know what Jesus had done that he should be treated as a malefactor. Only a few days before, they had attended him with joyful hosannas, and the waving of palm-branches, as he rode triumphantly to Jerusalem. But many who had then shouted his praise, because it was popular to do so, now swelled the cry of "Crucify him! Crucify him!"
Spirit of Prophecy.
JESUS ON THE CROSS.
AT the third hour, which was about nine o'clock in the forenoon, our Lord was crucified. The two thieves that were led out with him were also crucified, one on his right hand, and the other on his left. Then Jesus, full of compassion and tenderness, cried out, "Father, forgive them; for they know not what they do."
As Jesus was hanging upon the cross, Pilate wrote a superscription and placed it over his head. It consisted of these words, JESUS OF NAZARETH, KING OF THE JEWS; and it was written in Hebrew, in Greek, and in Latin, so that the people, of whatever nation, might read it. When the chief priests saw so many people reading the inscription, they came to Pilate, and said, "Write not, The King of the Jews, but that he said, I Am King of the Jews." But he refused to change it, saying, "What I have written, I have written."
When the soldiers had crucified Jesus, they began to divide his clothing among them, giving each a part; but his coat was all one piece, woven from the top throughout, so when they came to it, they said, "Let us not rend it, but cast lots for it." Thus was fulfilled the scripture, which said, "They parted my raiment among them, and for my vesture they did cast lots." Then the soldiers sat down and watched the victims they had crucified.
"And they that passed by reviled him, wagging their heads, and saying, Thou that destroyest the temple, and buildest it in three days, save thyself. If thou be the Son of God, come down from the cross." The chief priests and the rulers also derided him, and mockingly said, "He saved others; himself he cannot save. If he be the king of Israel, let him now come down from the cross and we will believe him.
He trusted in God; let him deliver him now, if he will have him; for he said, I am the Son of God."
And one of the malefactors that were crucified with him said, "If thou be the Christ, save thyself and us."
But the other rebuked him, saying, "Dost not thou fear God, seeing thou art in the same condemnation?
And we indeed justly; for we receive the due reward of our deeds: but this man hath done nothing amiss."
Then turning to Jesus, he begged to be remembered when Jesus should come to take possession of his kingdom. The faith of this man seems remarkable.
The disciples were disheartened, and had forsaken their Lord, feeling that the hopes they had entertained with respect to him could never be realized;
but this man had faith in the coming kingdom of Jesus, even when its king was suffering the agonies of crucifixion. Jesus gave the dying man the sweet assurance that his request should be granted, and that he should have a home in paradise.
Now there were standing by the cross four women, -the mother of Jesus with her sister; Mary, the wife of Cleophas; and Mary Magdalene. When Jesus saw his mother standing there, and John, the beloved disciple, standing near her, he said, "Woman, behold thy son;" and to John, "Behold thy mother."
From that time John took her to his own home. "And when the sixth hour was come, there was darkness over the whole land until the ninth hour." That is, it was dark from noon till three o'clock in the afternoon. "And at the ninth hour Jesus cried with a loud voice, saying, Eloi, Eloi, lama sabachthani which is, being interpreted, My God, my God, why hast thou forsaken me? And some of them that stood by, when they heard it, said, Behold he calleth Elias."
"After this Jesus knowing that all things were now accomplished, that the Scripture might be fulfilled, saith, I thirst." Then one of the men who stood by took a sponge, and having dipped it in vinegar, put it on the end of a reed, and pressed it to the lips of Jesus, saying, "Let alone; let us see whether Elias will come to take him down."
Then said Jesus with a loud voice, "It is finished."
After this he bowed his head, saying, "Father, into thy hand I commend my spirit." "And having said thus, he yielded up the ghost."
THE DESCENT FROM THE CROSS.
WHEN Jesus bowed his head and died, the veil of the temple was rent in two from top to bottom; "And the earth did quake, and the rocks rent; and the graves were opened." The veil of the temple was rent to show that the most holy place of the earthly sanctuary was no longer sacred. The ministry was to be transferred to the most holy place in heaven. See Hebrews 8. "The most holy place, that had been sacredly entered by human feet only once a year, was revealed to the common gaze. God had ever before protected his temple in a most wonderful manner, but now its sacred mysteries were exposed to curious eyes.
No longer would the presence of God overshadow the earthly mercy seat.
The Saviour was henceforth to officiate as Priest and Advocate in the Heaven of heavens. From henceforth the blood of beasts offered for sin was valueless; for the Lamb of God had died for the sins of the world."
Spirit Of Prophecy.
"Now when the centurion, and they that were with him, watching Jesus, saw the earthquake, and those things that were done, they feared greatly, saying,
Truly, this was the Son of God." "And all the people that came together to that sight, beholding the things which were done, smote their breasts and returned. And all his acquaintance, and the women that followed him from Galilee, stood afar off, beholding these things."
"The Jews, therefore, because it was the preparation, that the bodies should not remain upon the cross on the Sabbath-day (for that Sabbath-day was an high day), besought Pilate that their legs might be broken, and that they might be taken away. Then came the soldiers and brake the legs of the first, and of the other which was crucified with him. But when they came to Jesus, and saw that he was dead already, they brake not his legs; but one of the soldiers, with a spear pierced his side, and forthwith came there out blood and water. And he that saw it, bare record, and his record is true, and he knoweth that he saith true, that ye might believe. For these things were done that the scripture might be fulfilled, A bone of him shall not be broken. And again, another scripture saith, They shall look on him whom they pierced."
Among the Jewish counselors was a man know as Joseph of Arimatha. This man, being acquainted with the prophecies, had been looking for the coming of the Messiah, and was really a believer in Jesus, though he had kept it a secret, for fear of the Jews.
He held an honorable position in the Jewish council, but it appears from the narrative that neither he nor Nicodemus took any part in the deliberations when Jesus was condemned. It is highly probable that they were not called on that occasion, because of their favorable attitude toward Jesus, as their sentiments were better known than they supposed.
Before the Sabbath drew on, Joseph went to Pilate, and begged the body of Jesus. When Pilate heard this request, he wondered that Jesus was so soon dead; so he called the centurion, and inquired of him. Having thus assured, himself, Pilate granted Joseph's request, and the body of our Lord was taken down from the cross, wrapped in a linen cloth, and placed in a new tomb that Joseph had hewed out in the rock.
Then they rolled a great stone against the door, or opening, of the sepulchre, and departed.
"And the women, also, who came with him from Galilee, followed after, and beheld the sepulchre, and how his body was laid. And they returned, and prepared spices and ointments; and rested the Sabbath-day, according to the commandment."
"Now the next day, that followed the day of the preparation, the chief priests and Pharisees came together unto Pilate, saying, Sir, we remember that that deceiver said, while he was yet alive, after three days I will rise again. Command, therefore, that the sepulchre be made sure until the third day, lest his disciples come by night and steal him away, and say unto the people, He is risen from the dead; so the last error shall be worse than the first. Pilate said unto them, Ye have a watch; go your way, make it as sure as ye can. So they went and made the sepulchre sure, sealing the stone, and setting a watch."