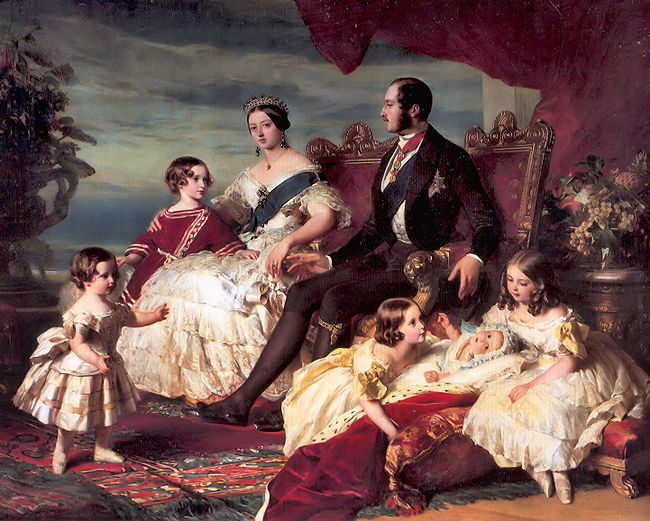 GOING TO SEE THE QUEEN.
A LITTLE boy who lived in Scotland, wanted very much to see Her Majesty, Queen Victoria.
He was an orphan boy, and had no one to care for him; and he thought if he could only see the Queen,
she would pity him and send him to a school where he might learn to read and writeand thus be able to work for his bread afterward. Little Jamie, for that was his name, started in the morning to Balmoral, to talk to the Queen as he said.
Those who heard him thought he was a very foolish, ignorant little boy, to think her Majesty would have anything to say to such a little ragged and poor boy as he was; but Jamie did not mind what they said.
He was quite determined to see the Queen, and tell her all his wants.
Well, when Jamie came to the castle gate,
he was going to walk right in; but a great soldier stepped out and said crossly,—
"You cannot go in there!
What do you want?"
And Jamie answered, "Please, soldier, I want to see the Queen. But the soldier only laughed, and told him to"to be gone;" that such ragged boys as he could not go into the beautiful palace; and so the poor little boy drew back with a heavy heart, and sitting down on a stone some few yards in front of the gate, began to cry piteously.
Just then a young gentleman came near, and hearing Jamie sob, went up to him, and said kindly
"Well, my little man, what is the matter?
He spoke so gently, and looked so very good, as Jamie glanced at him through his tears, that he regained confidence and told his trouble to the young gentleman who, when he had heard it all, only smiled and said,—
"So, my little man, you want to see the Queen, do you?"
And Jamie said, "Yes, sir."
"Well," said the gentleman, "will you come with me and I will bring you in."
But Jamie answered doubtingly, "Oh, but, sir, yon big soldier mon will-na let ye by neither."
"O yes, he will," said the young gentleman; "only try him now.
Just put your hand in mine, and trust me, and I will get you in; for he must let me through"
Half doubtingly Jamie took another good look at the young gentleman, and then checking his sobs,
he boldly put his dirty little hand into that of his kind conductor and walked off with him to the gate.
Here the soldier stepped out and moved his gun, and little Jamie thought he was going to shoot him;
but he was not, for he very respectfully presented arms to the young gentleman, and did not mind the
little lad at all.
Jamie jumped for joy when he got inside the gate; but he soon began to be troubled again, for he saw another great soldier near the palace door; so he turned to the young gentleman and said, as he looked down upon his rags, that the other soldier would not let them pass; but the young gentleman replied,—
"Don't fear, Jamie, my lad; only hold my hand and trust me. I'll bring you to the Queen."
And the little boy asked, "Gentleman, who are you that is so kind to poor Jamie?"
The young gentleman said, "Oh, I am the Queen's son; so you see you need not fear."
The little lad did not fear after that, but boldly walked past the soldier at the door, who wondered how it was that the prince would walk with such a very poor-looking boy.
And by-and-by the prince walked into a beautiful large room, and left Jamie alone for a bit, whilst he went and told Her Majesty; and "presently he was brought in to the Queen, who was so kind to him, and pitied him so much, that she sent him to a good school, where he was looked after, and taught to read and write.
"Now, my dear little children," said a Sabbath school teacher, who told this story to the school,
"tell me how it was that poor, ragged Jamie got into the Queen's palace?"
"Because the Queen's son took him in," said a hundred little voices.
"And," continued the teacher, "did the soldier try to stop him?"
"Yes, at first!" said the children; "but not when the gentleman was with him."
"And did the Prince say what the soldier said, 'that he was too ragged and dirty a little boy to go inside Queen Victoria's palace?"
"No, teacher; he pitied him, and kindly took him by the hand, and led him in."
"Now, my dear children," said the teacher, with a smile, "who wants to go to the beautiful, bright
heaven where God is?"
"I do! I do! And I do!" answered many little ones who seemed to mean what they said.
"But you have wicked, sinful hearts, and you have done many naughty things, and how can you hope that God will let you in?"
There was silence for a few moments, when a little one said, "Please, teacher, if we trust Jesus, he will take us in safe, too, the way the Prince of Wales did Jamie."
Was not that a sweet answer for one so very young?
Remember, my dear children, what the little child said; and if you will put your hand in that of Jesus, and trust him fully, he will save you, and bring you home to heaven.
—Band of Hope Review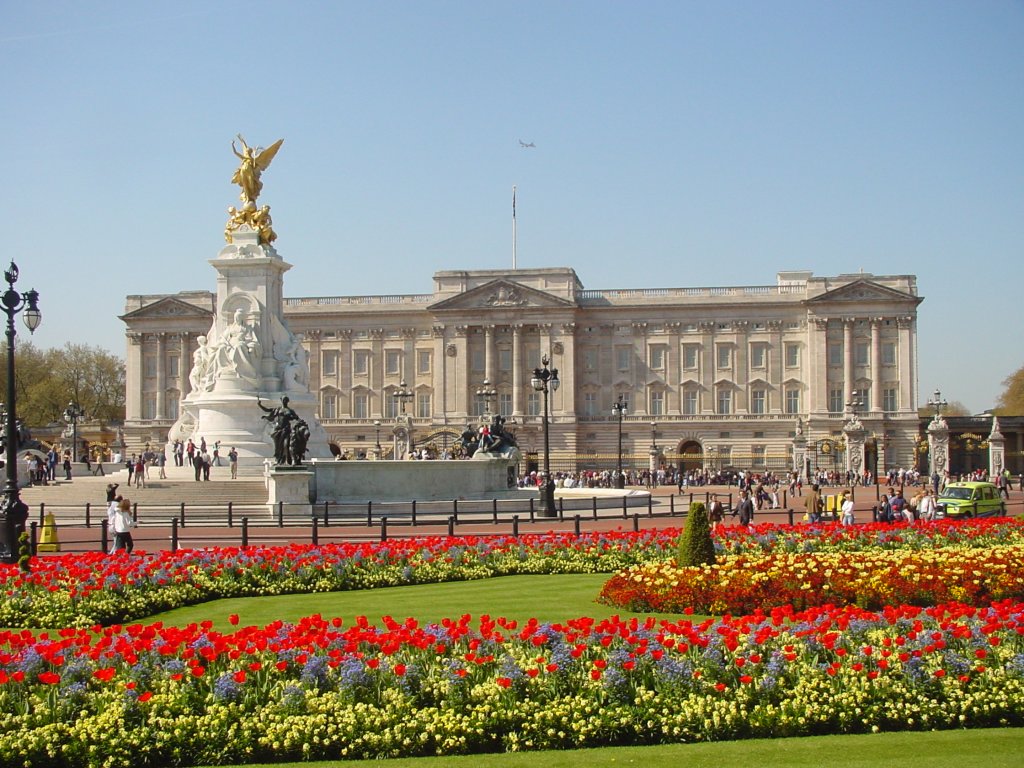 BUCKINGHAM PALACE.
BUCKINGHAM Palace, the eastern side of which is shown in our picture, is the London residence of Queen Victoria. It was built in the reign of George IV., and is considered by architects to be a very inartistic structure. There are seven distinguished apartments in the palace, known as—the Green Drawing-room, the Throne Room, the Picture Gallery, the Yellow Drawing-room, the Saloon, the Ballroom, and the State Dining-room.
The Picture Gallery is well worth visiting, as its walls are covered by rare paintings from numbers of the old masters. When the Queen is absent at Windsor Castle or others of her residences, travelers are allowed to visit this room and spend hours in feasting their eyes on the grand old paintings. The Throne Room is said to be the richest in the palace. Its walls are of plate glass, the pavement and pint of polished marble, and the furniture gorgeous. All these, with the light that is thrown so artfully over all as to bring out every feature of the richness, combine to make this a very dazzling room.
The Queen has another palace in London known as St. James's Palace, where she holds her balls,
parades, and other public entertainments, but Buckingham is the domestic home of the royal family when in London, where they live for several Months of the year. The Queen's favorite residence, however, is said to be the Osborne House, on the Isle of Wight.
E. B.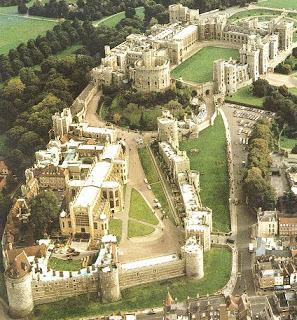 WINDSOR CASTLE, LONDON.
THERE is much to interest the visitor of the ancient castles of England.
This is emphatically true, if he has in mind the history of their origin, their royal occupants, and the important events which have transpired there.
Windsor Castle is the country residence of Her Majesty, Queen Victoria, while at London, and is
twenty-five miles from the city.
The castle is easily reached from the city either by the Great Western or South-western railways.
It was when seated in her carriage, with Princess Beatrice, at Windsor Station, a few weeks since, as she was starting for the castle, that she was fired upon by an insane wretch.
This castle is kept in a good state of repair, and is, undoubtedly, the most attractive of the royal palaces, far exceeding Balmoral, Scotland, where the queen spends most of the summer, or Osborn, Isle of Wight, where she passes much of the time during the winter.
At the latter place she is sure to spend her Christmas, to distribute, with her own hands, presents to her numerous train of servants, a custom which serves greatly to bind them to her motherly heart.
The history of Windsor Castle reaches back to the time of the Norman conquest.
At Old Windsor—two miles away—the Anglo-Saxon kings had a palace, centuries before that time.
The first castle on the present site was erected by William the Conqueror.
Other kings have made additions, and strengthened its fortifications. Henry III. fortified it against his turbulent barons, into whose hands it finally fell.
Edward III., called Edward of Windsor, was born there, and did much to improve and beautify his birthplace. ' Henry VII., Henry VIII., and Elizabeth, all made Windsor a favorite residence.
In 1648, Charles I. was imprisoned in the castle.
During the civil war it was garrisoned for the Parliament, and ineffectually attacked by Prince Rupert.
After the restoration, Charles II. having repaired and richly furnished the castle, made it his summer residence.
A few additions and repairs have been made by some of the rulers since Charles's time, and some of the kings and queens have frequently resided there.
The external portions, and those which most impress the visitor, are the Round Tower, St. George's Chapel, and Queen Elizabeth's Terrace.
In the interior are courts, dungeons, armories, richly furnished State Apartments, and numerous works of art, and numerous relics.
These afford both instruction and amusement.
It was at this castle, on April 27 of this year, that Prince Leopold, Duke of Albany, the youngest son of Queen Victoria, was married to the Princess Helen Frederick of Waldeck-Pyrmount.
At the castle apartments for State entertainments, the Queen gave a luncheon and evening dinner to the numerous wedding guests.
On the side-boards and screens was displayed the massive gold plate, worth thousands of dollars, and which is said to excite the envy of all foreign potentates save the Czar of Russia.
In the midst of all this, grinned the famous golden tiger heads taken from Tippo Sultan.
In one of the drawing-rooms was also displayed the great gold vase, sometimes used as a font for christening the royal children.
J. N. LOUGHBOROUGH.