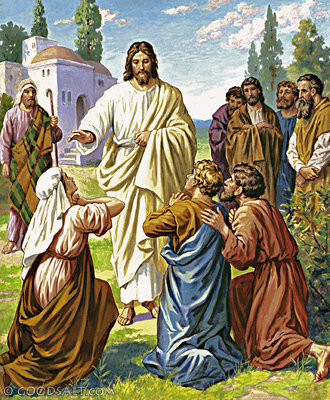 AMBITION REPROVED.
"THEN came to him the mother of Zebedee's children with her sons, worshiping him, and desiring a certain thing of him. And he said unto her, What wilt thou? She saith unto him, Grant that these, my two sons may sit, the one on thy right hand, and the other on the left, in thy kingdom. But Jesus answered and said, Ye know not what ye ask. Are ye able to drink of the cup that I shall drink of, and to be baptized with the baptism that I am baptized with?
They say unto him, We are able. And he saith unto them, Ye shall drink indeed of my cup, and be baptized with the baptism that I am baptized with; but to sit oh my right hand, and on my left, is not mine to give, but it shall be given to them for whom it is prepared of my Father. And when the ten heard it, they were moved with indignation against the two brethren. But Jesus called them unto him, and said, Ye know that the princes of the Gentiles exercise dominion over them, and they that are great exercise authority upon them. But it shall not be so among you; but whosoever will be great among you, let him be your minister; and whosoever will be chief among you, let him be your servant; even as the Son of man came not to be ministered unto, but to minister, and to give his life a ransom for many.
"And as they departed from Jericho, a great multitude followed him. And, behold, two blind men sitting by the wayside, when they heard that Jesus passed by, cried out, saying, Have mercy on us, O Lord, thou son of David. And the multitude rebuked them, because they should hold their peace;
but they cried the more, saying, Have mercy on us, O Lord, thou son of David. And Jesus stood still, and called them, and said, What will ye that I shall do unto you? They say unto him, Lord, that our eyes may be opened. So Jesus had compassion on them, and touched their eyes; and immediately their eyes received sight, and they followed him."
"And Jesus entered and passed through Jericho.
And, behold, there was a man named Zacchaeus, which was the chief among the publicans, and he was rich.
And he sought to see Jesus, who he was; and could not for the press, because he was little of stature.
And he ran before, and climbed up into a sycamore tree to see him; for he was to pass that way. And when Jesus came to the place, he looked up, and saw him, and said unto him, Zacchaeus, make haste, and come down; for today I must abide at thy house.
And he made haste, and came down, and received him joyfully. And when they saw it, they all murmured, saying, That he was gone to be guest with a man that is a sinner. And Zacchaeus stood, and said unto the Lord; Behold, Lord, the half of my goods I give to the poor; and if I have taken anything from any man by false accusation, I restore him fourfold. And Jesus said unto him, This day is salvation come to this house, forasmuch as he also is a son of Abraham. For the Son of man is come to seek and to save that which was lost."