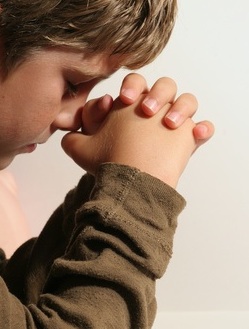 THE BOY'S PRAYER.
IN April of 1860, the brig Helen Jane, bound from St. Domingo, when well advanced on her course in the southern latitude, was one day confronted by a huge waterspout—sometimes so dangerous a foe to ships at sea—which was bearing down upon the vessel with great rapidity.
The sails—for there was little or no wind—afforded no means of escape, and the firing off of a pistol, in the absence of any larger gun, could not produce a concussion of the air sufficient to bring down the mighty column of uplifted water.
All now was consternation and confusion on board, among both crew and passengers, of whom there were several, including three or four young children and their parents, persons of culture and education from a Massachusetts city.
One of their little group—a boy of about ten years—noticing the captain's pale and terrified look, and his pious mother, with the rest, in tears, with despair depicted on their faces, came up to her who had taught him from infancy to pray to the great God as "our Father in heaven "and our only helper in time of trouble, exclaiming in earnest yet composed voice, "Mamma, why don't you pray? Why don't you pray?" and then, without waiting for a reply, he knelt down in the midst of the trembling cabin corn-parry, and in a few simple words besought that God whom winds and waves and the whirlwind obey, to turn away the awful waterspout, and mercifully preserve them from the impending danger.
After his prayer the child seemed to feel sure that the Lord would hear it and grant deliverance. Nor was he mistaken in his expectation of relief from the power of an overruling Providence.
In a few moments the dark, seething, hissing, cloud crested mass of waters passed harmlessly by, not touching, yet so almost grazing the vessel's side as to cause all to regard their escape as marvelous, and to realize that to God the Lord belonged all the praise.
From that mother's still fresh memories of the scene we have received the narrative given above.
Her dear son's life-voyage ended in his early manhood, but not without honor and the crowning grace of true religion.
What has been here recorded is a just tribute to his memory and a true story of a boy's great faith in God.
—American Messenger.