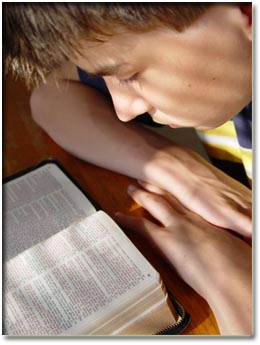 A CONSCIENTIOUS CHILD.
WHO does not love conscientious boys and girls? I am sure they are beloved of God and of angels. A little boy once anxiously asked, "Don't the Bible say anything about children?" It certainly does, and we are thankful for it, too. In Mark 10:13-16, we learn that little children were brought unto the Saviour, that he might bless them. Of them he said: "Suffer little children to come unto me, and forbid them not; for of such is the kingdom of God." "And he took them up in his arms, put his hands upon them, and blessed them."
And the Bible says too: "Even a child is known by his doings, whether his work be pure, and whether it be right." Proverbs 20:11. Now we hope the little children will think of these things, and ever try to do what is right.
But I wanted to say a word about a conscientious little boy whom I know. He kept the Sabbath with his mother and younger brothers. When he could earn a few pennies or received any money, he was strict to tithe it, or give a tenth to the Lord. Things which he could have bought with his money, had he not tithed it, he would deny himself of till he could get more, not allowing himself to borrow his tithes to use.
This boy belongs to the family, and on one occasion he commenced a letter for the "Budget." When it was partly finished, he began to reason about his feelings, words, and ways, like this: Now do I live as well as my letter would seem to imply? Is my life what one might infer from what I write?
And here he laid aside his pen to further consider these questions. Dear boy, I hope he has as good or better a conscience today, and that he is serving God, remembering his Creator in the days of his youth; for, since the time referred to, he has been baptized and joined the church.
Now allow me to ask: Will each one of the children who may read these lines, aim to cultivate and to preserve a good and pure conscience by always doing right, and by bearing in mind at all times, "Thou God seest me"? It may help your good resolutions to commit to memory the following verses:—
"I'm not too young for God to see:
He knows my name and nature too;
And all the day he looks at me,
And sees my actions through and through.
"He listens to the words I say,
He knows the thoughts I have within;
And whether I'm at work or play,
He's sure to know it if I sin.
"So when I want to do amiss,
However pleasing it may be,
I'll always strive to think of this—
'I'm not too young for God to see.'"
A. S. HUTCHINS.