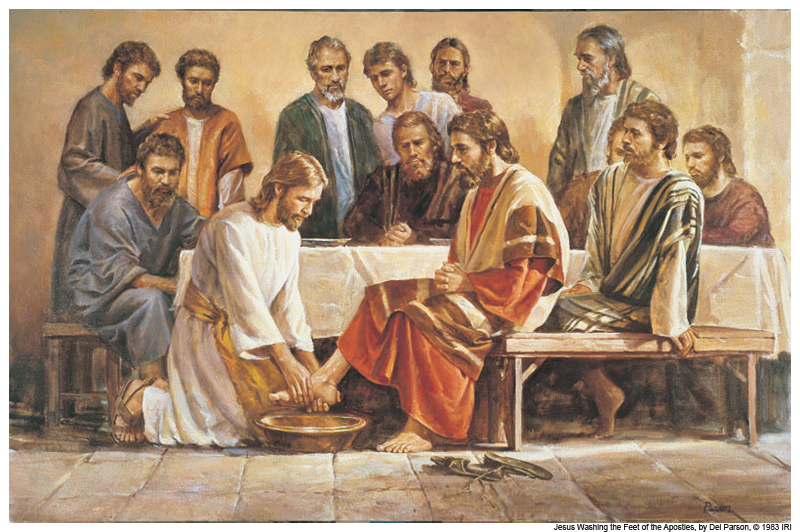 THE PASSOVER SUPPER.
IT is supposed that Jesus spent the day on Wednesday in Bethany, and that it was on this day that the chief priests and the elders held their council, and hired Judas to betray his Lord. On Thursday the disciples asked Jesus where they should make ready to eat the Passover; for it was at the close of this day that the lamb was to be slain, and the Passover was to begin.
He told them to go into the city, and they would there meet a man bearing a pitcher of water; and that if they should follow him, he would show them a large upper room where they might eat the Passover. The disciples did as their Master told them, and found everything as he had said.
When the proper time had come, Jesus and the twelve apostles assembled in this room to eat the paschal lamb, as it was called. As they were gathered about the table, and before the meal began, Jesus said unto them, "With desire have I desired to eat this Passover with you, before I suffer; for I say unto you, I will not any more eat thereof, until it be fulfilled in the kingdom of God." Then, taking a cup of wine, he gave thanks, and said," Take this, and divide it among yourselves; for I say unto you, I will not drink of the fruit of the vine, until the kingdom of God shall come."
And there was a contention among the disciples as to which of them should be greatest. Then Jesus said unto them, "The kings of the Gentiles exercise lordship over them, and they that exercise lordship over them are called benefactors. But ye shall not be so; but he that is greatest among you, let him be as the younger; and he that is chief, as he that doth serve. For whether is greater, he that sitteth at meat; or he that serveth? Is not he that sitteth at meat?
But I am among you, as he that serveth. He promised them, that since they had continued with him in his temptations, and had been faithful, he would appoint them a kingdom, as his Father had appointed him a kingdom; that in his kingdom they might eat and drink at his table, and sit on thrones, judging the twelve tribes of Israel.
While they were eating supper, Jesus rose, laid aside his garments, and girding himself with a towel, poured water into a basin, and began to wash the 'disciples' feet, wiping them with the towel. Peter was not willing to have his- Lord condescend to wash his feet; but when Jesus made him understand that this ceremony was necessary, he submitted, saying, "Not my feet only, but my hands and my head." Then Jesus said unto them, "Ye call me Master and Lord: and ye say well; for so I am. If I then, your Lord and Master, have washed your feet; ye also ought to wash one another's feet. For I have given you an example, that ye should do as I have done to you. Verily, verily, I say unto you, The servant is not greater than his Lord; neither is he that is sent, greater than he that sent him. If ye know these things, happy are ye if ye do them."
Then Jesus was troubled in spirit, and said to the disciples, "One of you shall betray me." The disciples looked one upon another, and-began to be sorrowful, saying unto him, one by one, "Is it I?" Then Peter requested John, who was leaning on the breast of Jesus, to ask him who it was. And Jesus said, "He it is to whom I shall give the sop, when I have dipped it."
When Jesus had dipped the sop, he gave it to Judas Iscariot, the son of Simon. Then Judas said, "Master, is it I?" And Jesus answered, "Thou halt said."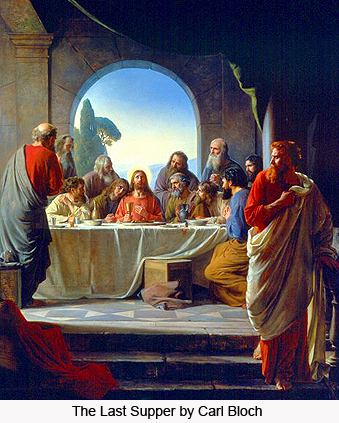 Then Satan entered into Judas. And Jesus said unto him, "That thou doest, do quickly." When Jesus spoke these words, Judas, having received the sop, went immediately out; and it was night. After Judas had gone, Jesus talked with the disciples, telling them that he should be with them but a little while, and that he was going where they could not follow him. Then said he, "A new commandment I give unto you, that ye love one another: as I have loved you, that ye also love one another. By this shall all men know that ye are my disciples, if ye have love one for another."
THE LORD'S SUPPER.
WE have been noticing what took place at the Passover supper. As Jesus and his disciples sat down to this supper, he told them how much he had desired to partake of it with them, and that this would be the last time that he would celebrate the 'Passover with them, on the earth. He warned them against striving among themselves for the highest honors. During the supper, Jesus rose up, and washed the disciples' feet, telling them that as he now did to them, they should hereafter do to one another.
After this, he was troubled in spirit, and said that one of the disciples should betray him. On being questioned, he gave a sign by which his betrayer might be known. Judas, having taken the sop, went immediately out, and after he had gone, Jesus gave the commandment that his disciples should love one an- other as he had loved them, declaring that by this sign all men should know who were his disciples indeed.
Before they had finished their meal, Jesus instituted what is known as the Lord's Supper. He took bread, 'and when he had blessed, he took it and gave it to his disciples, saying, "Take, eat, this is my body which is given for you: this do in remembrance of me." Then he took a cup of wine, and 'blessed it, and passed it to his disciples, telling them to all drink of it; "For," said he, "this is my blood of the new testament, which is shed for many for the remission of sins."
Thus we see that the bread and wine of the Lord's supper, or the Holy Sacrament, as it is sometimes called, are meant to represent the body and blood of Jesus, who gave himself as a sacrifice for us; and as often as we keep this supper, we do it in remembrance of his death.
Then Jesus said unto his disciples, "All ye shall be offended because of me this night; for it is written, I will smite the shepherd, and the sheep of the fold shall be scattered abroad. But after I am risen again, I will go before you into Galilee."
Peter was greatly perplexed at this saying of Jesus; for he could not understand what it meant. Hardly knowing what question to ask, he said, "Lord whither goest thou?" Jesus said, "Whither I go thou canst not follow me now; but shalt follow me afterward." Peter said, "Lord, why cannot I follow thee now?"
Then said Jesus, "Simon, Simon, behold, Satan hath desired to have you, that he might sift you as wheat? But I have prayed for thee, that thy faith fail not; and when thou art converted, strengthen thy brethren." Peter was very ardent, and said, "Lord, I am ready to go with thee, both into prison, and to death. I will lay down my life for thy sake." Then Jesus spake solemnly, saying, "Wilt thou lay down thy life for my sake? Verily, verily, I say unto thee, The cock shall not crow, till thou hast denied me thrice." But Peter knew that he loved his Lord, and was very confident that he could prove faithful under all circumstances. He said, "Though I should die with thee, yet will I not deny thee!" Then all the disciples joined with Peter in protesting that they would be faithful unto death.
OUR SAVIOUR'S LAST DISCOURSE
BEFORE HIS CRUCIFIXION.
AFTER the supper was all over, Jesus had a long talk with his disciples. He tried to comfort, encourage, and strengthen them, so that they might be prepared to meet the trials that were just before them.
Some of the things, which he said to them are recorded in the fourteenth, fifteenth, sixteenth, and seventeenth chapters of St. John's Gospel. He said, "Let not your heart be troubled; ye believe in God, believe also in me. In my Father's house are many mansions; if it were not so, I would have told you.
I go to prepare a place for you. And if I go and pre-pare a place for you, I will come again and receive you unto myself; that where I am, there ye may be also."
When Philip asked how they might find the way to those heavenly mansions, Jesus said, "I am the way, the truth, and the life." He encouraged them to come to him in prayer, saying, " If ye shall ask anything in my name, I will do it." Of course, if we should ask for anything that is not good for us to have, he would not be likely to grant it; but if we ask in faith, and with right motives, he may give us something far better than we ask.
Then he said, "If ye love me, keep my commandments. And I will pray the Father, and he shall give you another Comforter, that he may abide with you forever; even the Spirit of truth; whom the world cannot receive, because it seeth him not, neither knoweth him; but ye know him; for he dwelleth with you, and shall be in you." He told them that he would soon have to leave them; but that they should not be comfortless; for if they would be obedient, they should have the Holy Spirit to be with them forever.
By a beautiful figure, Jesus showed how necessary it is that we should love him continually, in order that we may have help from him to do right. He compared himself to a vine, his disciples to the branches, and his Father to a husbandman. He said, "Abide in me, and I in you. As the branch cannot bear fruit of itself, except it abide in the vine; no more can ye, except ye abide in me."
Then said Jesus, "If ye keep my commandments, ye shall abide in my love; even as I have kept my Father's commandments, and abide in his love. . . .
This is my commandment, That ye love one another, as I have loved you. Greater love hath no man than this, that a man lay down his life for his friends. Ye are my friends, if ye do whatsoever I command you."
"If the world hate you, ye know that it hated me before it hated you. If ye were of the world, the world would love his own; but because ye are not of the world, but I have chosen you out of the world, therefore the world hateth you."
At the close of his discourse, our Lord made a most touching and earnest prayer. He asked the Father to accept him and glorify him. He said, "I have glorified thee on the earth; I have finished the work which thou gayest me to do." Then he prayed for his disciples, that they might be one, and that they might be kept from the evil.
After praying for the disciples that already believed on him, he said, "Neither pray I for these alone, but for them also who shall believe on me through their word; that they all may be one; as thou, Father, art in me, and I in thee, that they also may be one in us; that the world may believe that thou host sent me." "Father, I will that they also, whom thou hast given me, be with me where I am; that they may behold my glory, which thou hast given me; for thou lovedst me before the foundation of the world."