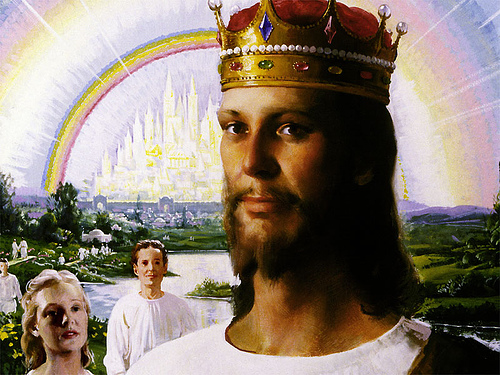 THE HISTORY LESSON.
"OH! Ho! Hum!" yawned Rufus, and he stretched himself on the sofa at full length, and then spoke: "I say, Louise, have you got your lesson? I don't begin to know mine; it's an awful lesson!" Louise was in one of the easy chairs, hook in hand, an amused smile on her face, and she laughed outright as Rufus spoke.
"Almost," she said, in answer to his question.
"What a queer man the Emperor Joseph was!"
"Queer? I don't know. Why?"
"Oh, I think it was fun to travel as he did, not letting people know who he was, and surprising them."
Seven-year-old Stevie left his blocks, and came and hung on his sister's chair.
"How could he do it?" he asked her.
"He dressed in plain clothes and rode on alone; and stopped at common-looking hotels and ate sausages for dinner. Once he offered to be the godfather of a child who lived in a dreadful little hut; they seemed to like him, and decided that he should be their child's godfather, if he would come the next day. So he came—but it was in his elegant dress, with his sword flashing by his side, and the Emperor's crown on his head. Another time he took supper with a very poor man, who had ten children of his own, but who had
adopted a poor orphan. They didn't know they-were eating supper with the Emperor, and they did not find it out until the next day, when he sent a present of money to each of the eleven children. I should have just enjoyed doing such things; it must have been real fun. Still, he wasn't very happy; he tried to make better laws, but the people didn't like them; I guess he was better at planning than at doing for he said himself that they ought to put over his grave, 'Here lies a man who, with the best intentions, never carried out a single plan.'" "Look here, Louise," said Rufus, rising on one elbow, "where did you find all that?"
"Why, in our history lesson, of course."
"I haven't seen a word of it."
"Why, Rufus Smythe! Then you haven't half studied your lesson; it is all there."
"It isn't so nice as my lesson," declared Stevie.
"Mine is about a man that the people didn't know who he was, and he met a funeral, and he stopped it and spoke to the dead man, and he got right up, and was alive and, well. Your Emperor
Joseph couldn't do that."
"No," said Louise, stooping to kiss Stevie.
"Your story is a great deal the nicest; it is about the greatest King who ever lived."—
The Pansy.