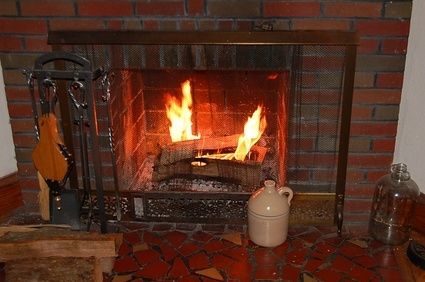 DOING THINGS THOROUGHLY.
LAURA came into the disorderly sitting room, put a sweeping-cap on her head, and began listlessly drawing a broom over the dirty carpet. In a few moments a goodly pile of dirt was swept out of the door, when she took a duster and looked around, quite puzzled where to begin.
"I almost wish I'd never been to Aunt Sarah's," she said, dropping down on the lounge with a more discontented look than before. "It's all very well for her to talk about keeping things in order, but her children seem different from ours.
Just look here!" It was rather discouraging. On one chair lay some crusts of bread and molasses; on another, a torn picture-book and some paints over which the glass of water used with them had been spilt. On the table, mother's ever-filled work-basket was running over, some spools of thread tangled among broken toys. The ashes from _the grate were widely scattered, and every corner seemed to have its separate litter.
"Who sweeps a room well, does God's service."
Something like this Laura had heard said while at her aunt's house.
"I don't believe God has much to do with such a room as this," she said, fretfully, to herself.
"And it don't make much difference how it's swept, I'm sure." But her eye noted rather uneasily the untouched Corners, and the dusty patch under the table, which her lazy broom had not reached. Aunt Sarah's cheery watchword: "Thorough, my dear, thorough," seemed to sound in her ears, as she remembered how she had come home with a firm determination to institute a better order of things.
"I'll try it, anyway." She dusted and carried out every movable article of furniture, sprang to her broom again, and this time. wielded it with an energy which left little chance of peace to the seldom disturbed dust. And into the fire went many a fragment of broken playthings that would surely never be missed. Aunt Sarah believed in a judicious keeping down of worthless trash.
The dirt being gathered this time in a dustpan and sent after the trash, Laura straightened and dusted the pictures, then the curtains. Books not needed were carried away, the others piled neatly in order. Newspapers were sorted, and those not to be saved taken to the kitchen for kindling. A basket was found for the toys, And the rubber shoes and a slate which had lain under the lounge were put away in the closet. There was not time for a thorough cleaning of finger-marked windows, but a quick rub with some soft paper brightened them amazingly. Then she washed up the oil-cloth before the grate, and, when the furniture was back in place, sat down with the work-basket, glad of a rest.
"I do think it's the most hopeless snarl I ever saw, but I'll try what 'thorough' will do here."
A number of pieces for chance mending were rolled into a bundle, the thread untangled as far as it could be, wound and fastened. Needles were placed in the needle-book, and buttons in a box by themselves. A jumping-jack and tin horse on wheels were rescued from a woeful entanglement in a skein of darning yarn, which was wound up and laid with the stockings, mated ready for mending.
Almost everything went back into the basket, which had been there before, but it was not half full.
Lastly, Laura went to the parlor, and brought out a gay-colored tidy for the large chair, and a worsted mat for a vase, which she hastily filled with flowers. "I'm not going to keep all the pretty things out of sight," she said, so and I'm going to have a cretonne cover for this old lounge.
It won't cost much, and will lighten up the room."
Even baby gave a crow of delight as he came into the room on mother's arrival; then scrambled down and laughed aloud as he crept toward his tin horse, which had been lost for a week. And mother looked around the room with a brighter smile than Laura had seen on her face for many a day.
"Why, my daughter, have your hands done all this? Why, I didn't know the old carpet could look so fresh, and what a cheery-looking, pleasant room it is after all. What a comfort you are, my darling!"
Laura looked around the tidy room with great satisfaction.
"I've tried to do it thoroughly, mother," said she.
Try it, girls. Try, what satisfaction there is in bringing order and sweetness out of confusion.
Try what a joy there is in lightening mother's cares, and in making dear faces brighter because the dear home is brighter. And be sure that the Master who has said, "Whatsoever thy hand findeth to do, do it with thy might," will tenderly bless even a smaller service, conscientiously and heartily performed, than that of a "room well swept."
New York Observer.