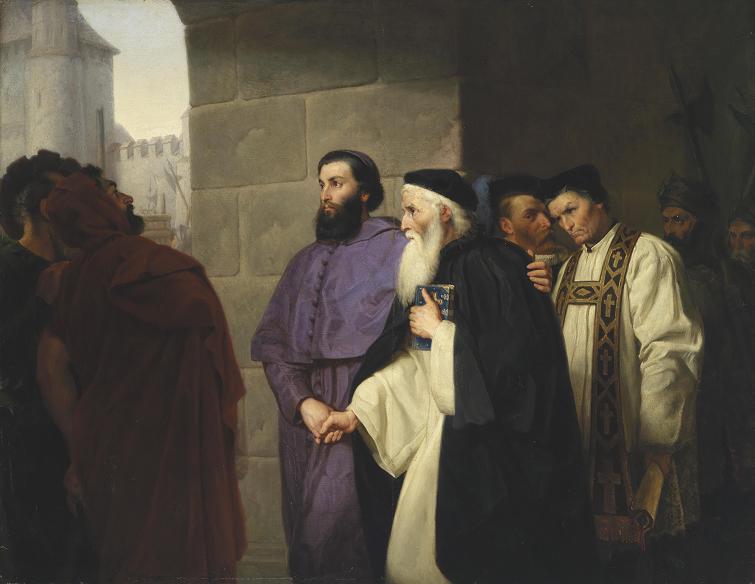 HOW ENGLAND WAS REFORMED.
HUGH Latimer, who was mentioned some weeks ago as one of the Reformers during King Edward's time, was born in 1472, and during his youth made such progress in his studies that at the age of fourteen he entered Cambridge University. During the first years of his stay at the University, he was a zealous Catholic, and felt very bitter toward any in the University who did not think the doctrines and practices of the Romish church were perfect. But he finally made the acquaintance of a man named Bilney, who had given the Scriptures much study, and who convinced Latimer that many of his beliefs and practices were contrary to the word of God. These two men spent much time together, and the place in the fields where they were the most accustomed to walk, was known long afterward as the Heretics' Hill.
After receiving his degree, Mr. Latimer remained in Cambridge, where he became a public preacher.
He soon became very famous for his eloquence, and the people thronged to hear him. But he was not afraid to tell them what he thought was truth, or to show them how different the lives of their priests and bishops were from that of Christ, their pattern. Of course he made many enemies by preaching these things, although they who hated him most, envied his eloquence. He was arraigned for heresy several times before the bishops, but he so confounded them by his eloquence that he was discharged with the admonition to preach no doctrines contrary to the church. But he was not to be frightened by their threats, and was finally arrested and imprisoned in the Tower of London.
Here he remained until the time of King Edward VI., when he was released. During the six years of this king's reign, though past seventy-five years of age, Latimer worked incessantly, preaching every morning throughout the year, and twice on Sunday. Soon after Mary came to the throne, his enemies procured his arrest, and he was again committed to the Tower, where, though in extreme feebleness of health, he was treated very cruelly, even being denied the comfort of a fire.
After suffering this confinement for a long time, he was taken to Oxford to dispute with a large gathering of 'bishops. You may have some idea of the treatment he there received, by the following words which he addressed to the conductor of the meeting: "O,. sir, you may chance to live till you come to the age and weakness that I am of. 1 have spoken in my time before two kings more than once, two or three hours together, without interruption. But now I could not be suffered to declare my mind before you, no, not by the space of a quarter of an hour, without snatches, revilings, checks,' rebukes, taunts, such as I have not felt the like, in such an audience, all my life long."
It would seem that the age and feebleness of this venerable servant of God, would have spared his life;
but the same spirit that caused the bones of John Wyckliffe to be dug up and burned, thirsted for the blood of Hugh Latimer, and at the age of eighty-four the same council with whom he disputed sentenced him to be burned alive.
When informed of his fate, he said: "I thank God most heartily, that he has prolonged my life to this end, that I may in this cause glorify God by that kind of death."
The same council that condemned Mr. Latimer, passed a like sentence of death upon Dr. Ridley.
This man was twenty-eight years younger than Mr. Latimer, and was educated at the same place. After serving as chaplain to the king for some time, he was made bishop of London.
While Latimer was best known for his piety and eloquence, Ridley was famous for his deep learning.
He wrote much, and was especially loved by those under his care.
When Mary became Queen, he too was imprisoned in the Tower during the same time that Latimer was there; and after defeating all the arguments of his enemies, at their council in Oxford, he was sentenced to suffer with Latimer.
Both men were bound to the same stake.
As they stood there waiting for the man to fasten the chain, Ridley exclaimed, "O Heavenly Father, I give unto thee the most hearty thanks, for that thou hast called me to be a professor of thee, even unto death; I beseech thee, Lord God, take mercy upon this realm of England, and deliver the same from all her enemies."
As the lighted fagot was brought and touched to the pile, Mr. Latimer turned and said to his fellow martyr, "Be of good cheer, Mr. Ridley, and play the man: we shall this day light such a candle, by God's grace, in England, as, I trust, shall never be put out."
Death came quickly to Latimer, but Ridley suffered long and terribly, the flames not reaching his vitals until his limbs were burned to a cinder.
By their death these men gave to the world a more telling sermon in favor of the truth of God than any they had preached during life; and their enemies by thus showing themselves destitute of all humane feeling, injured their cause far more than they helped it.
C. H. G.