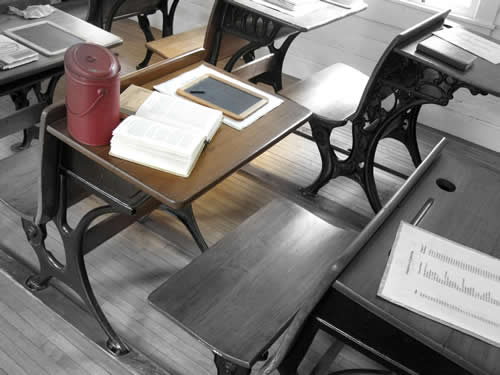 PHIL HARMON'S CROSS.
THERE was a bustle of putting away books and arranging desks in preparation for the closing bell at school in the little, square, red schoolhouse with its four-roofed, pointed top, looking just for all the world as if it had been dropped down sometime by the hand of some mighty giant between the two hills that lifted themselves proudly upon either side of it.
By the way, what capital hills they were for sliding in the sharp winter days when childhood's young blood ran so warmly through the veins that Jack Frost and all his attendants were defied. Jennie Green's dinner pail sat beside her, ready to be taken home, and the teacher himself was putting away books, cleaning chalk marks from the black-board and arranging his own desk. Nellie Cashman's mittens lay meekly in her lap beneath the folded hands that were ready to take them as soon as the bell should sound!
So also were Phil Harmon's books and slate lying on the top of his desk as if to be taken home, and many eyes turned his way as if by intuition they understood that something sad was going to happen. And sure enough there was, for Phil's father was very ill, unable to work, and his mother had been obliged to decide to take time from school to assist her. Phil was a great favorite at school, as elsewhere, and all the day had seemed a sober one, not only to scholars but teacher, because it was to be Phil's last with them.
He was very sorry to leave, for he loved his books, was an excellent scholar, and hated to get behind his mates in his studies; but he had something to help him bear his disappointment, for only a month ago the Saviour had called him, and he had given himself to Him, and this had brought a joy to his heart that lightened and brightened everything.
He had been praying that the Lord would make him useful, and had thought that perhaps, if he got on well with his studies, the way might by-and-by open for him to be a preacher and a teacher of heavenly things, like dear old Parson Blethen, who had pointed him to the Saviour. But duty and usefulness seemed to lie in another pathway just now, and he felt that it should be a pleasure to him to aid his dear parents in their time of need.
And yet he longed to do something for his Saviour right here among his mates before he left them. He had been thinking it over and over, and his plans were as yet very indefinite.
He thought he would like to have a meeting of prayer there after school, but something said to him, "Everybody will laugh to see little Phil Harmon start a prayer-meeting." How he wished the teacher would happen to suggest just this thing he wanted so much.
Another voice seemed to say, "You wanted to work for Jesus, and do you refuse to do this little thing to help him?" That settled it. He folded his hands tighter, and firmly pressed his lips together, as much as to say, Nothing shall tempt me again. Just now the bell rings, and he hastens to the teacher's side, and with tremulous lips, asks him if he would object to their having a little "good-bye meeting," as he called it, and a season of prayer, and if the teacher approved of it, if he would be so kind as to ask the scholars to remain for a few minutes.
The teacher entered heartily into the arrangement, for he was a good Christian himself, and seeing how great was the cross dear little Phil was taking, he introduced the matter for him, and prayed and talked with them, singing also some old, familiar pieces that all could join in; then he asked others to pray, and Phil took the precious opportunity in a few words to present his mates to the dear Saviour he so much loved.
He seemed to forget himself and his embarrassment, and prayed as if he knew the answer would come.
And how else should a Christian pray, to whom the promise is, "Whatsoever ye shall ask the Father in my name, he will give it you?" Many tears' were shed, and some hearts taught to pray, who had never before prayed in very truth.
At the close, the teacher asked any to rise who wished to be Christians, and ten stood upon their feet. The interest was so great that the teacher decided to appoint another meeting, and another, and another, and the little fire spread until it reached all the churches in town, and many learned to love the Saviour.
Three of these afterward became ministers of the gospel, as did also little Phil, whose father at length recovered, and was able to help him to a liberal education.
Eternity alone can measure the result of that first meeting. Who can tell how much would have been lost to Heaven had Phil listened to the tempter, and refused to bear the cross that night for his Heavenly Father?
The Little Star.
Go, labor on; spend and be spent,
Thy joy to do the Father's will;
It is the way the Master went,
Should not the servant tread it still?