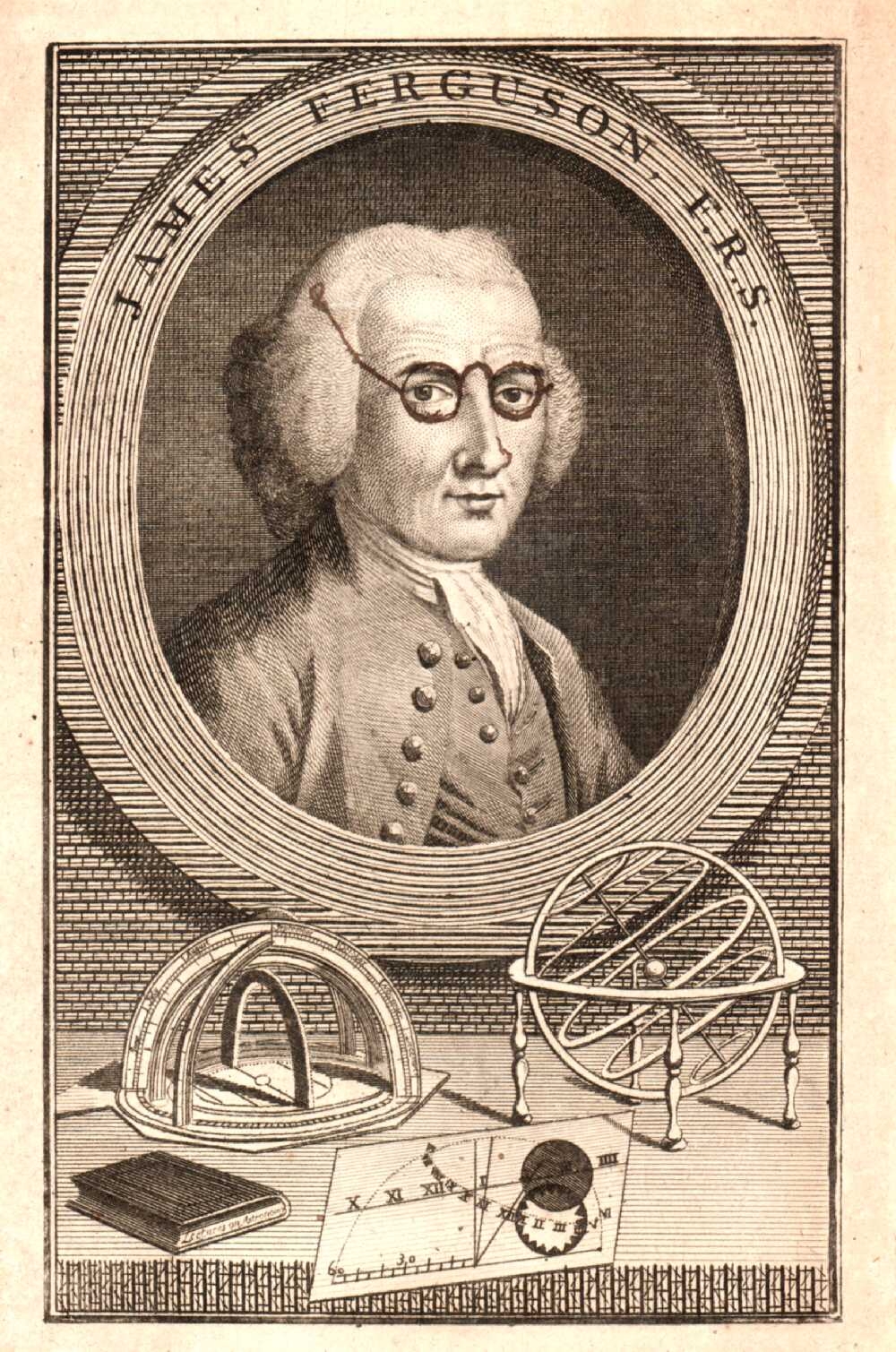 THE BOY WHO
MEASURED THE STARS.
IN a humble cottage in Scotland, a little boy sat eagerly listening while his father taught an elder brother to read from his catechism, parts of which he often repeated, in order to commit them to memory. In this way Jamie, who was thought too young to read, learned a great part of the catechism, as well as the spelling of words. This was James Ferguson, the celebrated astronomer, who was born near Keith, in Banffshire, in 1710.
After each lesson learned, as above mentioned, he might be seen trudging off to the cottage of a neighbor, where an old woman kindly listened to his tale, which was that he wanted to learn to read, but could not bear to tax his overworked father, who was obliged to labor on a farm, and also to teach his large family of children, for which task he had scarcely time, in addition to his out-door labors; for there were no free schools in those days. So the dame helped her little friend in learning to read, and he advanced rapidly, very far beyond her expectations.
Greatly surprised was his father, one day, as he entered a room, to behold Jamie correctly reading a book, which was thought to be far above his comprehension. "Can it be possible? Is that my boy?" thought the gratified man. As a reward for this achievement, his father soon taught him the use of the pen, and, finding him so apt a scholar, he contrived to raise means sufficient to pay for his tuition for a few months at a school in a neighboring town.
About this time Jamie employed the hours given by other children to play, in making models of various objects which came under his notice, mills, spinning-wheels, etc. With no other tools than the turning-lathe and knife belonging to his father, and with no instruction whatever, he made almost incredible advancement in the knowledge of mechanics. The discoveries which he made he thought were original, and committed the results of his study to paper. It was, in reality, a treatise upon the principles of mechanics; nor did he know till some time after, that any book upon the subject had ever been written. When, however, through the kindness of a gentleman to whom he had been introduced, he obtained a book upon these themes, he compared his paper with it, and had the satisfaction to find it entirely correct as far as it went.
His father's circumstances were such that his talented boy was obliged to be placed in a situation to earn his own living. He was therefore apprenticed to a farmer at some distance from his home. It was here that, the day's duties being over, he would employ his evening hours in studying the heavens, committing to paper the result of his observations relative to the comparative distances of the stars from each other. He measured these distances by means of beads strung upon a piece of thread. His master at first laughed at the young astronomer's star-gazing; but upon seeing his papers and hearing him talk, he greatly encouraged him, and would even sometimes relieve him of a part of his farm work in order to give him more time for these studies. "I shall always have respect for the memory of that man," said Ferguson, in after years.
One day, being at the minister's, Jamie showed his papers, and was kindly encouraged by commendations of his work. Some maps were loaned to him, of which the boy made excellent copies.
They were so well done as to elicit great praise from a gentleman whom he afterward met at the minister's. He was a squire who lived a short distance from the manse. He invited young Ferguson to reside at his house for a time, in order to receive suitable instruction from a person competent to give it. James thanked him for this offer, and said he would gladly avail himself of it as soon as his term of engagement with his master had expired. "I will obtain a lad to fill your place there," said the squire; but the boy's gratitude to his kind master would not admit of this. "I will serve out my term," said he, " for he has often taken the flail from my hand to enable me to go on with my studies and drawings." Was not this noble in James?
At the appointed time he went to the house of his newly found friend, and there made rapid progress in scientific studies, under the direction of a master. About this time he made a globe, from a description contained in a book, although he had never seen one. He made the sphere of proper form with his turning-lathe, and, covering it with paper, drew upon it a map of the world. He also made and graduated the ring and the horizon of the globe. But he could not always continue to give his whole time to pursuits so congenial, for his circumstances required that he should earn money to support himself and enable him to prosecute his studies. It is worthy of note that, while laboring for this, he studied diligently, improving every moment; and so well did he succeed that, while yet in early manhood, he became a Fellow of the Royal Society. He was also greatly esteemed, and had the deserved reputation of being a good as well as a great man.
Christian Union.