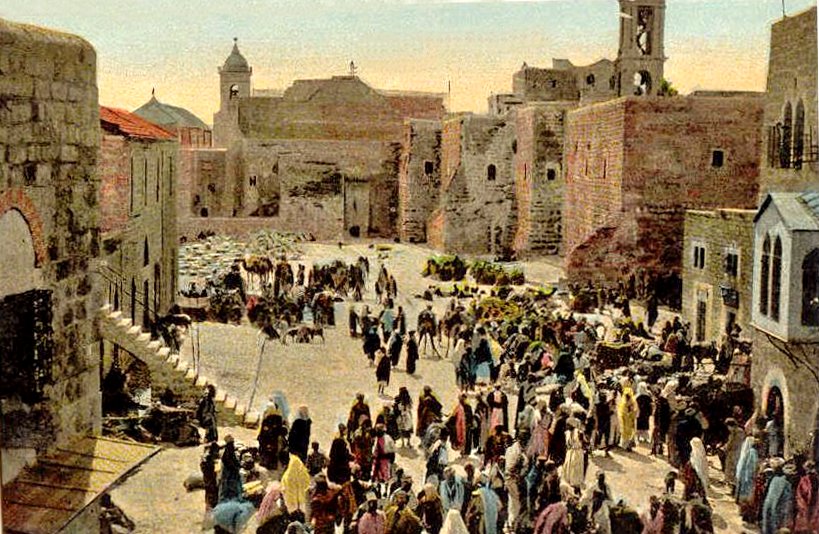 BETHLEHEM.
GOING south from Jerusalem five or six miles over a winding road, you come to the little village where Jesus was born. It is called Bethlehem, and it is this town that we have a picture of on this page.
It is built on a hill, and has but one street, which is about half a mile long.
On each side of the street are white stone houses, which look very pretty through the green olive-trees, which are planted around them.
The country about Bethlehem is very pleasant. On the hillsides are terraces, and on these are planted grape vineyards. On the plains below are fields, where grain is raised, and sheep and cattle are pastured. On some of these very fields it was that Ruth, the grandmother of King David, gleaned after the reapers of Boaz, so long ago. Here, too, the company of shepherds were keeping watch by night when a great light shone about them, and the angels came bringing them "good tidings of great joy, which shall be to all people," because that a Saviour, Jesus the Christ, was born in the city of David, which is the same as Bethlehem. Then when the shepherds had gone up into the village, they found the child Jesus in a manger, just as the angels had told them.
Now this was the greatest joy the world has ever known, that God should send his only Son to earth to save us from our sins; and it is to keep this in mind, that we celebrate Christmas every year. And although we do not know that Christ was born on the 25th of December, it will do us no hurt to keep the day in memory of his birth. It is all right to be happy on this day, and to show our good-will by giving and receiving presents; but amid all our joy we should remember "the good tidings of great joy" that came to the shepherds that night on the plains of Bethlehem. And as we look over the presents given us by our kind friends, we must not forget to thank our Father in Heaven for the great gift of Christ his Son, for whose sake all Christmas gifts are hallowed.
E. B.