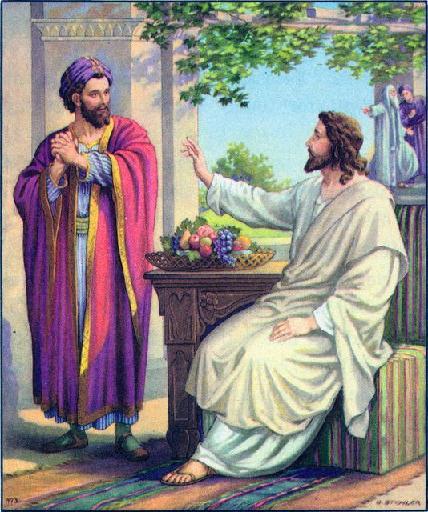 ZACCHAEUS.
IT must be remembered that immediately after our Lord raised Lazarus from the dead, the chief priests and the Pharisees held a council, and decided to put Jesus to death.
"Jesus therefore walked no more openly among the Jews, but went thence into a country near to the wilderness, into a city called Ephraim, and there continued with his disciples." While in this place, he gave parables; spoke of his second coming; blessed little children, and said that all who enter the kingdom of, heaven must become like them,--must be as pure and innocent, as trusting and submissive, as they are.
When the time of the Passover drew near, Jesus and his disciples left the city of Ephraim, and traveled
slowly toward Jerusalem, going by the way of Jericho.
It was on this journey that Jesus reproved James and John for wanting to be exalted above their brethren.
One day when they were near Jericho, and a great multitude was with them, they passed two blind men who sat by the way-side begging. When these men heard so many people walking, one of them, whose name was Bartimeus, asked what it meant, and some one said, "Jesus of Nazareth passeth by." When they heard this, they cried out, saying, "Have mercy on us, O Lord, thou son of David." The multitude, fearing that these men would annoy Jesus with their cries, rebuked them, and charged them to hold their peace, but they cried out the more, saying, "Thou son of David, have mercy on us." When Jesus heard them, he sent some of the disciples to call them to him.
As the blind men came near, he said, "What will ye that I shall do unto you'?" They said, "Lord, that our eyes may be opened." And Jesus had compassion on them, and touched their eyes, telling them that their faith had made them whole. When he had done this, they immediately received their sight, and followed him; and all the people who saw it gave praise unto God. By this we may learn that our Lord will not be displeased with us for being very earnest and persistent in our prayers. Jesus can hear us as well now as he could hear those blind men when he was upon the earth. He has the same compassion for those who call on him, and the same power to help them. If we are obedient and faithful, every heart-felt prayer will be answered, either by granting what we ask, or by giving us something better.
In Jericho, or near it, there was a rich man, named Zacchaeus, who was chief among the publicans. This man was very anxious to see Jesus, but could not, be-cause he was so little of stature that he could not make his way through the crowd of people that pressed around our Lord. So he ran before and climbed up into a sycamore tree, and as Jesus passed by, he looked up, and said, "Zacchaeus, make haste, and come down; for today I must abide at thy house."
Then Zacchaeus, hastening down from the tree, received the Lord with great joy. When some of the people saw what Jesus had done, they murmured because Jesus had gone to be the guest of a man that was a sinner. "And Zacchaeus stood, and said unto the Lord; Behold! Lord, the half of my goods I give to the poor; and if I have taken anything from any man by false accusation, I restore him fourfold. And Jesus said unto him, This day is salvation come to this house, forsomuch as he also is a son of Abraham. For the son of man is come to seek and to save that which was lost."