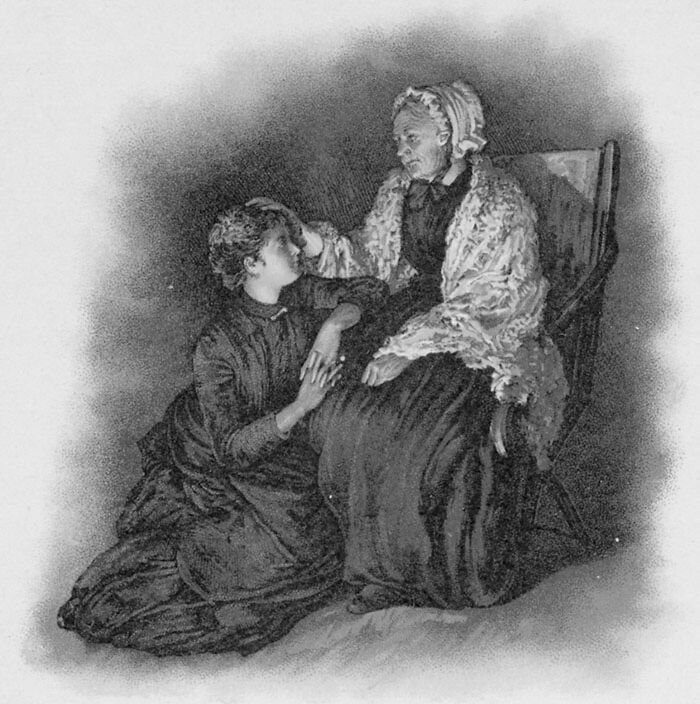 LIVE IN GOD'S SUNSHINE.
"WELL, Aunt Polly, here you are again on the doorsteps. It seems to me you almost live on them." Old Polly raised her faded eyes to the face of her friend, and laughing, said,—
"Yes, dear, dat's jus' so! Jim says 'We mought build a house all doo' steps, and nothin' else fo' granny, 'cause she lives dar an' nowhar else.'"
"I suppose you like to see the people, and hear the children prattle as they go by to school," said the lady.
"Well, yes, I likes to see folks, 'cause my Fader up dar made 'em all; but its most fo' de sunshine dat I stays out here. Oh, God's sunshine's a powerful blessin', dear. When I's cold, I comes out and sits in it, and I grows warm; when I's hungry, and Jim's wife's got nothin' to eat, I comes out here and 'pears like I'd had my dinner; when I's in pain, and 'scruciated all over wid de rheuma-tiz, I comes out into de sunshine, and de pain skulks off; when Jim don't be good, and 'pears like he was goin' to 'struction, and my heart is burstin' like, I comes out, and sits in God's sunshine, and peace comes through his beam into my soul; when old Death comes and stares in my face, and say, ' I cornin' after ye soon to take ye into de dark grave,' den I comes out into God's sunshine and dar him to frighten my soul! Says I to him,'
'Ye hasn't power in ye to throw one shadow onto my pillow; for my Blessed Jesus, de Sun of Righteousness, he been down dar before me, and he left it full, heaped up, an' runnin' over wid God's sun-shine. I shall rest sweet in dat warm place, for de 'ternel sunshine dat shall magnify and glorify all as loves the shinin' Jesus.' "
"Auntie," said her friend, who always felt that she could sit at the feet of, this humble saint, and learn of Jesus, "that is very pleasant. But there come days when there is no sunshine—when the clouds gather, and the rains fall, and the snows come, and the winds blow. What do you do then?"
"O honey, by the time de storms come, I've got my soul so full ob sunshine dat it lasts a heap o' time. Dem times Jim scolds, and his poor wife's 'scouraged, and de child'n are cross, and the stove smokes, and the kittle won't bile; but I never knows it. God's sunshine is in my soul, an' I tries to spread it round, and sometimes Jim's wife feels it, and she says—Oh, she's a good daughter-in-law—
'Long's I keeps close to granny, 'pears like my heart's held up.' "
"Well, well, dear, you can teach me somethin', an' ye can fetch me nice things to make mo' sunshine; but I can teach you what ye never thought on—dat God's sunshine's 'nough for rich and poor, and dem dat thank him for it, and sit in it, or work in it, and let it into dar heart, will soon go whar it's all sunshine. Try to make folks live in God's sunshine, and get it into dar hearts, honey.'
Selected.
HIDDEN TREASURES.
In the "green-room" at Dresden, where, for centuries, the Saxon princes have gathered their gems and treasures, until they have become worth millions of dollars, may be seen a silver egg, a present to one of the Saxon queens, which, when you touch, opens, and reveals a gold yolk. Within the yolk is a chicken. Press the wing, and the chicken flies open, disclosing a splendid, gold crown studded with jewels. Nor is this all. Touch an-other secret spring, and you find hid in the center a magnificent diamond ring!
So it is with every truth and promise of God's Word,—a treasure within a treasure. The more we examine it, the greater riches do we find. But how many neglect to touch the spring!—
S. S.