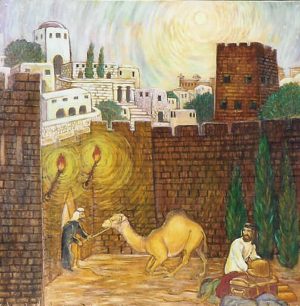 OUR SAVIOUR'S LAST JOURNEY.
"AND the disciples were astonished at his words. But Jesus answereth again, and saith unto them, Children, how hard is it for them that trust in riches to enter into the kingdom of God! It is easier for a camel to go through the eye of a needle, than for a rich man to enter into the kingdom of God. And they were astonished out of measure, saying among themselves, Who then can be saved? And Jesus looking upon them, saith, With men it is impossible, but not with God; for with God all things are possible." As it would require a miracle for a camel to pass through the eye of a needle, so it requires a miracle as great, or even greater, to make a sinful man fit for the kingdom of heaven. We cannot save ourselves, without the help of God, any more than a camel could pass through the eye of a needle. But with the help that God freely offers to give, all may be saved who will believe in Jesus, submit to him, and be obedient. The spirit of God working upon the heart can cause a rich man to think less of his money than of his God, and his fellowmen, and to use it in doing good.
"And they were in the way, going up to Jerusalem, and Jesus went before them; and they were amazed; and as they followed, they were afraid. And he took again the twelve, and began to tell them what things should happen unto him, saying, Behold, we go up to Jerusalem; and the Son of man shall be delivered unto the chief priests, and unto the scribes; and they shall condemn him to death, and shall deliver him to the Gentiles: and they shall mock him, and shall scourge him, and shall spit upon him, and shall kill
him; and the third day he shall rise again." Plain as were these words of our Saviour, the disciples did not understand what he meant. It seems that it was
not best for them to understand these things until they should come to pass. When our Saviour's words were fulfilled, then the disciples remembered that he had spoken them, and their meaning was plain.
It was on this same journey that James and John, the sons of Zebedee, were so anxious to know that they were to have a place of honor when Jesus should set up his kingdom. "Then came to him the mother of Zebedee's children with her sons, worshiping him, and desiring a certain thing of him. And he said unto her, What wilt thou? She saith unto him, Grant that these my two sons may sit, the one on thy right hand, and the other on the left, in thy kingdom. But Jesus answered and said, Ye know not what ye ask.
Are ye able to drink of the cup that I shall drink of, and to be baptized with the baptism that I am baptized with? They say unto him, We are able. And he saith unto them, Ye shall drink indeed of my cup, and be baptized with the baptism that I am baptized with; but to sit on my right hand, and on my left, is not mine to give, but it shall be given to them for whom it is prepared of my Father. And when the ten heard it, they were moved with indignation against the two brethren. But Jesus called them unto him, and said, Ye know that the princes of the Gentiles exercise dominion over them, and they that are great exercise authority upon them. But it shall not be so among you; but whosoever will be great among you, let him be your minister; and whosoever will be chief among you, let him be your servant; even as the Son of man came not to be ministered unto, but to minister, and to give his life a ransom for many."
It always makes trouble when people get anxious to be placed above others, and besides this, God is very much displeased with such a spirit, either in men or in children. Instead of following the example of the wicked world, we should look to the life of Jesus, and learn of him who was meek and lowly in heart.