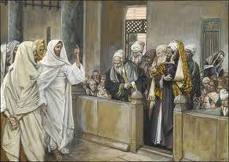 THE JEWS COUNSEL AGAINST JESUS
TO PUT HIM TO DEATH.
MANY of the Jews who witnessed the raising of Lazarus were convinced that Jesus was sent of God, and they believed on him as the Messiah; but others went to the Pharisees, and told them what Jesus had done. "Then gathered the chief priests and the Pharisees a council, and said, What do we? For this man doeth many miracles. If we let him thus alone, all men will believe on him; and the Romans shall come and take away both our place and nation. And one of them, named Caiaphas, being the high priest that same year, said unto them, Ye know nothing at all, nor consider that it is expedient for us, that one man should die for the people, and that the whole nation perish not. And this spake he not of himself; but being high priest that year, he prophesied that Jesus should die for that nation; and not for that nation only, but that also he should gather together in one the children of God that were scattered abroad. Then from that day forth they took counsel together for to put him to death. Jesus therefore walked no more openly among the Jews; but went thence unto a country near to the wilderness, into a city call Ephraim, and there continued with his disciples."
While Jesus was still on the further side of Jordan, before he came to Bethany at the call of Mary and Martha, the apostles said unto him, "Lord, increase our faith." In answer to this request, Jesus immediately replied, "If ye had faith as a grain of mustard seed, ye might say unto this sycamore tree, Be thou plucked up by the roots, and be thou planted in the sea; and it should obey you." It may be that our Lord discovered in this request an element of pride,-a desire for the honor that they would receive through the working of miracles; for he immediately gave them a lesson of humility in the following words: "But which of you, having a servant plowing, or feeding cattle, will say unto him by-and-by, when he is come from the field, Go and sit down to meat? And will not rather say unto him, Make ready wherewith I may sup, and gird thyself, and serve me, till I have eaten and drunken; and afterward thou shalt eat and drink?
Doth he thank that servant because he did the things that were commanded him? I trow not. So likewise ye, when ye shall have done all those things which are commanded you, say, we are unprofitable servants; we have done that which is our duty to do." It is possible, too, that he meant to intimate that their time for working miracles would be more especially after his death.
The exact time and place of some of our Lord's discourses cannot be determined with certainty, but it is supposed that the one recorded in Luke 17:20-37, was given after he went to "the city called Ephraim." Some parts of it are strikingly similar to portions of the discourse recorded in the twenty-fourth chapter of Matthew.
"And when he was demanded of the Pharisees, when the kingdom of God should come, he answered them and said, The kingdom of God cometh not with observation; neither shall they say, Lo here! Or, lo there! For, behold, the kingdom of God is within you.
And he said unto the disciples, The days will come, when ye shall desire to see one of the days of the Son of man, and ye shall not see it. And they shall say to you, See here; or, see there; go not after them, nor follow them. For as the lightning, that lighteneth out of the one part under heaven, shineth unto the other part under heaven; so shall also the Son of man be in his day. But first must he suffer many things, and be rejected of this generation.