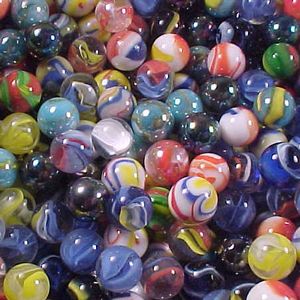 MINDING.
"CHARLIE, come in, I want you," said a sweet, womanly voice to a little boy who was playing-marbles on the sidewalk in front of a nice brick house.
Now Charlie was very busy, and in the midst of a delightful game. He was as happy as could be. To quit his play then was like quitting the table when half through dinner. Would he obey? We looked with interest to see what he would do.
What would you have done? Charlie replied, "Yes, mother," and picking up his marbles, started off with a smiling face and a bounding step up the side yard and in at the end door of the house. A fine boy that, I thought, as I looked after him. I wonder who he is? What a beautiful thing it must be to have a little boy or girl that will mind at once, and with a happy, loving heart! I wondered what would become of that boy, and wished to see more of him, and learn his history.
I used to walk past that house every week, and always thought of that blue-eyed, light-haired boy.
The thought of him made me happy. I saw a great many naughty children. Once I spent two or three days in trying to find a naughty boy who ran away from his home, and overwhelmed his parents with grief; and when I found him, some one had stolen his coat and hat, and bundle of clothes, and all the money he had. A boy that minds is a jewel.
I had been in business a year or two, and in that time had had several boys; but it was next to impossible to find one that would mind. At last I was quite out of patience, and I determined that I would have no one who could not bring the best recommendation, and stand the closest test. Several applied for the place, but no one suited us.
At last came a blue-eyed, flaxen-haired youth of twelve years, with a bright, honest face. There was something engaging in his looks. Had I seen him before "What is your name'?" "Charlie Warren, sir. I live in Franklin street.
My father is a carpenter, but is lame now, and cannot work; and I have got mother's consent to go into a store, if I can find a place."
It was the very Charlie whom I had seen playing at marbles. I remembered the circumstance, and knew that he would mind. I did not need a recommendation for him, but gave him the place. Charlie came to work on Monday morning. It seemed hard for him, the first week of work, but he behaved like a man. The boys in the next store came in, and made his acquaintance. One morning I heard two of them trying to coax Charlie to go off with them down on the wharves in the forenoon, and see a boat race that was to come off. "No," said Charlie, "mother told me to mind my business, and I am paid for staying here, and don't think it right to go off without my employer's knowing it."
That was a brave word, and I thought more of Charlie than ever. That was ten years ago. He has been with me ever since, and proved to be the best clerk I ever had. Yesterday we put up a new sign, and on it, in large gilt letters, was Charlie's full name. The store is his own. He is now a prosperous, promising young man, and if he lives, will be a rich and honored man. And all this because one bright morning he minded his mother when she called him. From such little things do great results come. Always mind, and it will be well with you.
Selected.
WE shall find difficulties in all great enterprises; but if we are sure we have begun them from God, we may securely cast all events upon his providence, which knows how to dispose and how to end them.