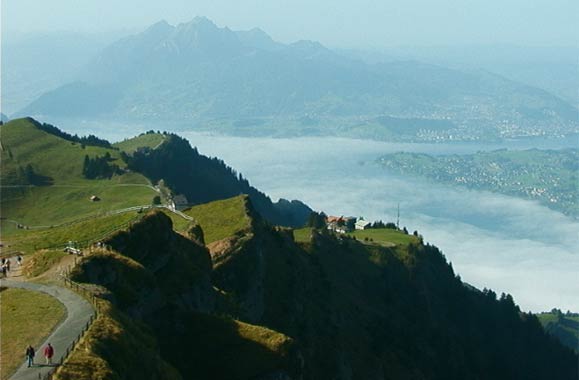 CASTING ALL YOUR CARES UPON HIM.
IN the summer of 1878 I descended the Rhigi with one of the most faithful of the old Swiss guides. Beyond the service of the day, he gave me unconsciously a lesson for life. His first care was to put my wraps and other burdens upon his shoulder. In doing this he asked for all, but I chose to keep back a few for special care. I soon found them no little hindrance to the freedom of my movement; but still I would not give them up until my guide, returning to me where I sat resting for a moment, kindly but firmly demanded that I should give him every thing but my Alpine stock. Putting them with the utmost care upon his shoulders, with a look of intense satisfaction he again led the way. And now, in my freedom, I found I could make double speed with double safety.
Then a voice spoke inwardly, "Oh, foolish, willful heart, hast thou indeed given up thy last burden? Thou hast no need to carry them, nor even the right." I saw it all in a flash; and then, as I leaped lightly from rock to rock down the steep mountain side, I said within myself, "And even thus will I follow Jesus, my Guide, my Burden-bearer. I will cast all my care upon him, for he careth for me."—
Sarah P. Smiley.
VALUE OF ONE LEAF.
THERE was once a caravan crossing, I think, the north of India, and numbering in the company a godly and devout missionary. As it passed along, a poor old man was overcome by the heat and labors of the journey, and, sinking down, was left to perish on the road. The missionary saw him, and, kneeling down to his side when the rest had passed along, whispered into his ear, " Brother, what is your hope?" The dying man raised himself a little to reply, and with great effort succeeded in answering, "The blood of Jesus Christ cleanseth from all sin;" and • immediately expired with the effort. The missionary was greatly astonished at the answer, and in the calm and peaceful appearance of the man he felt assured he had died in Christ. "How or where," he thought, "could this man, seemingly a heathen, have got this hope?" and as he thought of it, he observed a piece of paper grasped tightly in the hand of the corpse, which he succeeded in getting out. What do you suppose was his surprise and delight when he found it was a single leaf of the Bible, containing the first chapter of the First Epistle of John, in which these words occur! On that page the man had found the gospel..
No one can ask honestly and hopefully to be delivered from temptation, unless he has himself honestly and firmly determined to do the best he can to keep out of it.