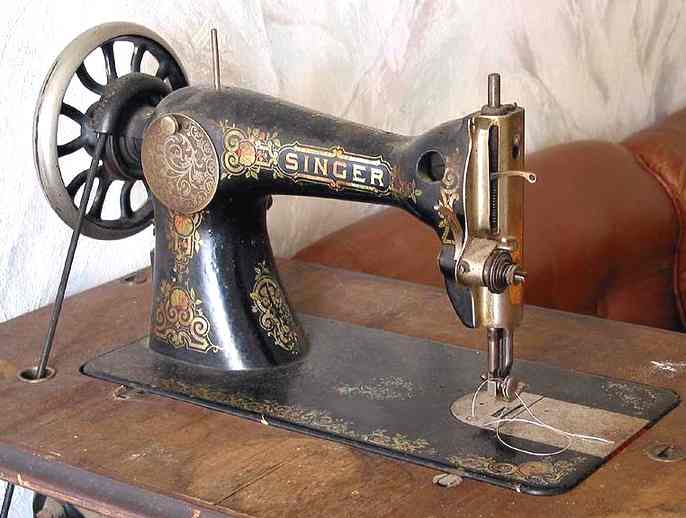 A DROP OF OIL.
THE sewing machine went hard. Brother Will came and looked over Amy's shoulder and knit his brow, as was his custom when in a puzzle. At last, turning back the machine, he glanced over the works, and said,—
"Do you oil it here, Amy?"
"Why, no, I never thought of that."
A drop of oil was supplied, and in another minute the slender needle was flying through the work like a fairy. It was now easy to turn the wheel.
That drop of oil on a dry spot in the machinery made all right.
There are many other places where a drop of oil works just as great wonders. For cold mornings, when tempers are apt to get frosted as well as toes and fingertips, there is no magic like a few sweet, cheery words. So when one is angry, and ready to do or say rash things, just give him a "soft answer," and you will see how it can cheer and brighten the way for yourself and all about you.
Young Reaper.
FLOWERS AND FAITH.
A GARDENER met in the street one of the children of a family he had heard were in trouble.
Calling the little one, he put into his hand a bunch of flowers, saying, "Take them to your mother, and tell her to have faith in God." The child did so, when all the blessedness of this text filled the mother's soul: "If God so clothe the grass of the field, which today is, and tomorrow is cast into the oven, shall he not much more clothe you, O ye of little faith?" Have we but one talent,—nay, have we but half a talent,—let us use it. Are we ever so weak and poor in our own eyes, let us do what we can.
Selected
BE GENTLE
ONE of the noblest men who ever lived was a man who was not ashamed to be gentle and tender, This was President Lincoln. When he was at the head of our country, there were troublous times; war was taking many men away, from their homes and leaving many lonely women and children behind. President Lincoln found many ways to show his gentleness, and it is said of him that no one ever asked of him in vain for kindness, where the good of the country did not compel him to refuse.
But do you suppose this great and good man became so great and good after he became a man? It is the little things of every day which children think and do which make up the character of the grown men. And in nothing is this truer than in the matter of gentle and kindly behavior. We cannot think of the childhood of Christ, our great example, as being other than gentle in every word and way. No rough or unkind manner could ever have been his, and we have only to "follow his footsteps," in this, as in everything else.
THE WASTED PIN.
A LITTLE girl picked up a pin, which she threw into the fire. Half an hour after, a lady's carriage
came to take her to ride. She was all ready, only she wanted a pin,—only one pin, to pin her shawl.
She raced here and there for it and searched the carpet, and tried everywhere to find a pin, until the lady got tired of waiting and drove away; and so she lost her ride in the park by simply wasting a pin.
The proverb says, "Waste not, want not "; and Jesus said, "Let nothing be lost."