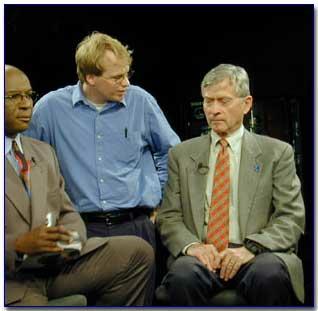 A CHAT WITH YOUNG MEN

ON FIXED PRINCIPLES.
MY brother Ransalaer has some noble boys,—strong, stalwart, industrious, upright, jolly, clear-eyed fellows as ever made glad a father's heart. Dick, the eldest, has just gone off to college, and, while he is engaged with his books, and out of sight of home, I want to take him for a text for this chat with the young.
We had said good-bye to Dick not two hours before, and his father, wandering restlessly about with homesick heart for the lad, found his way to my study, so that when I had put by pen and paper, and established myself opposite him, in an easy chair by the grate, I knew that his full heart would find vent.
"I can't tell you how easy I feel about Richard," he said, his voice lingering lovingly over the proper name. "I wish I was as sure of all the rest of my boys. It's not because he's such a good boy—they are all that. But years ago, when a mere child, he seemed to settle the great questions of right and wrong, and I do not believe the fires of the stake would move him to commit a mean, dishonest, or pernicious act. And yet I know that he has many a conflict with temptation; but he will not dally with evil. He will avoid the tempter when he can, and has manhood enough to resist him when he cannot. He learned very young the art of self-government, and often puts me to shame by his strict adherence to principle. I expected he would chew and smoke, because I did; but when he was fifteen years old, he came to me one day, telling me that some of his mates wanted him to try tobacco.
" 'It is a very useless habit, Dick,' said I.
" 'Will it do me any harm, father?'
" 'Yes; it is bad for your health, soils your teeth and mouth, and will be very annoying to your mother and sisters.'
"Does it cost much?'
" 'Not much for a day, but in the long run a great deal. Why, my boy, I've smoked and chewed up money enough to buy you a farm.'
"'Should I be any more of a man for doing either, father?'
"No, indeed, Dick. True manliness is shown in those habits which conduce to health, cleanliness, self-control, the right use of money, and appropriate regard for the feelings and rights of others.'
"Why do you smoke, father?' he asked, after a thoughtful pause.
"Sue, that was a poser. Why, indeed? If I were to say, 'Because I like it,' that would be admitting to my boy that I was governed by mere animal instinct or passion instead of principle. So I pondered, and choked, and wiped my eyes, and finally threw away my pipe, and giving Dick my hand, cried,
'With God's help and yours I never will again, my son!'
"Dick looked very much pleased, and being thoroughly convinced now, it was the last of tobacco in our house. I commenced laying by, every week, the amount hitherto consumed in tobacco, which, to my astonishment, amounted to seventy-five dollars at the end of the year. To this I added double for what Dick might have spent if he had chosen to go that road, and the day he was twenty-one I put nine hundred dollars into his hands as the result.
"Well, it has been the same way with all other serious questions, whether of habits, amusements, or belief. There has ever been an earnest, honest inquiry as to what was right and best, both for himself and others, and then a fixed determination to do it at all hazards.
Liquors have no temptation for him, because he believes them injurious, and he thinks it un-manly to indulge in that which will obscure his intellect, and weaken his powers of self-control. He values his time and money too much to play at games of chance, and says he cannot afford to soil his mind with the impurities of the stage.
"So, when he came to me last winter, and said: God has been so good to me, father, that I want to live to please him. I am going to enlist under his banner,' I felt that the great problems of life were solved for my Dick, and that I need have no more fears for him, because he was girt with invincible armor."
Brother Ransalaer wiped his eyes, and took up his newspaper as I turned back to my desk and manuscript; but his wife, who had slipped in to hear the talk, dropped the stocking she was knitting, 'to put her arm around his neck and whisper, "A wise son maketh a glad father.' What a blessing to have such a good boy."
"Yes, indeed," thought I, lifting my pen; and then my mind wandered off to other boys and young men, and I thought if they could realize the joy they might bring to their homes by choosing the right and firmly adhering to it, they would feel it a powerful motive to good actions, and would be ready to "right about face" without delay.
But here we have the whole matter in a nutshell It was not enough that Dick knew the right way, but he chose to walk in it, and determined to stick by it, whatever came. Neither was it sufficient that he possessed a good natured willingness toward duty. He anxiously inquired the why and the wherefore, and fortified himself with facts, so that what he did was done with a clear conviction of its propriety and benefit.
Now, my dear lads, while you are yet sheltered by the home-roof, and encircled by the warm hands of father and mother, settle those questions that belong to right and wrong. Let social, political,
moral, and religious problems, as they come before you, have a hearing. Question, study, ponder; do not dally; do not try to compromise, but decide honestly with your own soul, and then adhere to your convictions from a strong purpose and will. Your prosperity and happiness depend upon this; your usefulness, your position in the world, your influence, and your eternal welfare. The possibilities of your manhood hang trembling on your decision. The hearts of men and angels await your choice and action, and a world is to be made better or worse by the result. Shun evil.
"Touch not, taste not, handle not," "avoid it, pass not by it, turn from it, and pass away." Do not waver; remember, "he that wavereth is like a wave of the sea, driven with the wind and tossed."
Are you discouraged by the magnitude of the work? Do unwholesome influences beset you? And are natural tendencies drawing you down-ward? Do not falter, boys, for one, even the Most High God, has said, "I will help thee."
Yours for the right,
AUNT SUE.
Arthur's Magazine.